Snow season is upon us, presenting downtown Twin Cities' residents with the looming quandary: Where do you eat when the food trucks are packed up for the year, it's well below freezing outside, and you'd rather just stay curled up under a blanket? Savvy Minnesotans know you don't go outside at all. Instead, stay up in the air and traverse the skyway system. 
 
For the uninitiated, think of skyways as human-sized hamster tubes that allow people to traverse between the second floor of buildings across busy downtown streets during any kind of inclement weather. In downtown Minneapolis, you can walk nearly 13 miles of skyway system; downtown St. Paul has almost five miles of its own. Although you can find any kind of business in this urban ecosystem -- seriously, anything from chiropractors to nail shops to tailors to clothing stores and pharmacies -- we winnowed through the hundreds of culinary options for the top food destinations when it's just too damn cold to be outside.
Recommended Video
Send Foodz: New York City Wine & Food Festival
Starring the Indian burrito of your dreams
Originally launched as a food truck, Hot Indian Foods' skyway location is a great way to sample the best it has to offer. Although the rice bowls are a more traditional offering, spring for the more creative options like a flight of roti tacos or stuffed induritto (an Indian version of a burrito). All the roti is house made, as are the delicious stuffings like the 11-spice rubbed lamb leg or vegan aloo gobi. Slather your induritto with cool and tart tamarind chutney -- and top it all off with the fresh, crunchy hi-slaw made of mangoes, apples, carrots and cabbage dressed in coconut milk. Don't leave without a package of the completely addicting crispy fried chickpeas.
The Chipotle of African food you never knew you needed
AfroDeli has been a staple of downtown St. Paul dining for a few years now, and within the last month it finally crossed the river into downtown Minneapolis. Think of AfroDeli as the Chipotle of African food, allowing you to build your own bowls, pitas, salads, or japati wraps (essentially a burrito). Fillings range from the traditional lamb cooked gyro style to flavorful marinated chicken, Somali steak or vegetarian options. Whatever you order, don't neglect the sides -- the sambusas (meat or vegetarian filled) are spectacular, and the veggie platter (starring fresh falafels and tahini) is one of the top vegetarian entrees in the Twin Cities right now.
The skyway's answer to your pho craving 
It's an ill-kept secret that the Twin Cities has a superb Vietnamese dining scene, but options are a little more limited in the skyway system. Never fear, because BEP Eatery has you covered with its quickly expanding fast-casual empire. Build customizable takeaways of banh mi, spring rolls, vermicelli salad, or -- our pick -- a steaming bowl of pho. Diners can choose from seven kinds of protein (including vegan marinated tofu), fresh chopped veggies and herbs, and flavorings like citrus soy dressing or crunchy crushed peanuts. All options are priced starting under $10 and are sure to leave you feeling full and satisfied.
Classic burgers with a Minnesota twist
Sometimes you need comfort food to warm you up. If that's the case, look no further than MyBurger. A Minnesota founded, family-run business, MyBurger has a rotation of classic drive-in style fare, with a solid selection of burgers, malts, and fries. Every month has a new featured burger or you can choose to customize your own. Swap regular fries for jerk fries or fresh fruit, slather your burger in teriyaki sauce or avocado, or soup up your patty to a jalapeño king or smoke jumper flavor for an umami lunch bomb you won't soon forget.
Score brownie points at the office by picking up a dozen donuts to share
Once in a while, it's nice to not just #treatyoself, but treat others, as well. Swing by Cardigan Donuts for a baker's dozen of the freshest fried dough options the skyway system has to offer. Any of the options is sure to please, but try premium flavors like the churro roll, bourbon apple fritter, or the Blackeye cake made with locally produced coffee. Cardigan has healthier options too, with seven yogurt and oatmeal options including poached pear with mascarpone or maple bacon pecan. Either way, make sure to pre-order online for an easier pickup process.
Have your happy hour in the sky(way)
Because the skyways tend to experience high traffic during business hours, there aren't many evening dining options. Sphere is a rare exception, serving not only happy hour and dinner, but cocktails from a full bar. Many cocktails feature locally distilled booze, such as the Apricot Gimlet with Duluth-founded Vikre spruce gin, Bailoni apricot liqueur, and cinnamon orange syrup, or the Rhu Collins with Minneapolis's Tattersall Gin, rhubarb shrub, and fresh lemon juice. Order off the simple shareables menu if you have a group, or splurge on a filling entree like a signature skewer and salad or camembert burger slathered in maple-bacon aioli.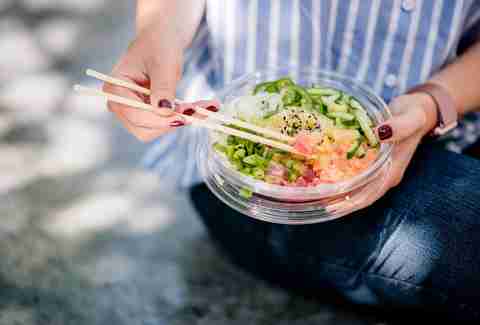 Fresh raw fish that is perfect for your Instagram feed
The poke/sushirito trend took quite a while to finally hit the Twin Cities, but it finally hit with a bang. Bibuta is the homegrown option, with a limited house menu of sushi burritos, sushi bowls and salads packed with fresh flavors. One standout is the Adventure of the Ocean salad that includes two kinds of raw fish, pickled carrots, seaweed salads, and fresh veggies. If you'd rather customize a bowl yourself, hit up Aloha Poke, the Chicago chain that arguably brought the raw fish bowls to Minnesota in the first place. Diners select the base (rice or salad), five kinds of naked or marinated protein, 12 seasonings (like Maui onion, pineapple or seaweed) and seven sauces, meaning you have dozens of flavor combinations to test. 
The cheapest fresh lunch you'll find anywhere
Truth be told, I'm reluctant to share Sushi Takatsu because its lunch special is such a spectacular deal that I'd love to keep it a secret. But I'm feeling generous today. For only $7, diners can order a fresh sushi bowl (very similar to a poke bowl) and flavorful miso soup; even with the upcharge of additional fish, it clocks in under $10. You can also order customizable sushi rolls, fresh squeezed juices, and piping hot udon soup for a quality that is far above the bargain level prices, which explains the long lines winding from their door throughout the skyway system once the lunch hour hits.
Korean barbeque meets Mexican food
Minneapolis's answer to Roy Choi's famous Kogi truck is Vellee Deli. Diners can select from a curated selection of baguette sandwiches, burritos, tacos, and quesadillas packed with flavor. Our recommended order would have to start with the duck confit banh mi or the Korean barbecue burrito stuffed with boneless beef short ribs. Note that all food is seasoned with Minnesota-grown, sun-dried Thai chili peppers, so choose your spice levels (which come in simmer, sizzle or scorch) wisely when ordering.
For the detox juice cleanse in between holiday indulgences 
Sometimes you crave a light snack made from clean ingredients you trust. If that sounds like you, So Good, So You has just what the doctor ordered. Sturdier fare stars signature salad bowls, plant-based protein and grain bowls, or avocado toast. The standouts, however, are undoubtedly the flavorful smoothie bowls and cold-pressed juices. Treat yourself to an acai bowl topped in chia pudding, dragonfruit bowl topped with fresh tropical fruits, creamy matcha smoothie, or order a set of the detox or radiance juices to get your glow from the inside out.
Healthy hot and cold bowls to make your macros
It can be tempting in the dark, frigid winter days to indulge in calorie-heavy comfort foods. If you're watching your waistline, check out one of Greenfield Natural Kitchen's locations for breakfast or lunch. Midday is where Greenfield Natural Kitchen really shines, with bowl options ranging from crisp salads (we recommend the smoked salmon asparagus with basil tomato dressing) to protein bowls (start with the cilantro lime tofu with chili-lime vinaigrette) to even broth bowls (get the California quinoa with vegetable curry broth).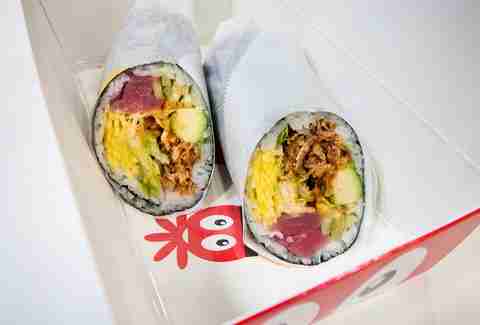 Indulgent Japanese specialties when you need something warm
Filling a slightly different niche is One, Two, Three Sushi -- one of the first purveyors of customizable sushi (which it still offers), the best options actually lie on the other half of the menu. All of the ramen options are excellent (especially the pork belly) and the rice bowls featuring similar toppings are another filling, affordable option. Splurge on a side of chewy steamed buns, a unique offering you won't find on any other skyway menus. 
Pizza by the slice when you need a quick, filling meal 
Although Minneapolis has plenty of good pizza spots, there are weirdly very few where you can order by the slice. Ginelli's Pizza is the answer for those who want to indulge in a moderate manner, with prices peaking at $3.25 for a slice and under $20 for a full pie. Six flavor options are available by the slice daily, or if you want to fully splurge, spring for a full pie in one of their trademark flavors like chicken Caesar or bacon double cheeseburger. And don't be afraid to add some extra toppings on either a slice or full pie. Ginelli's offers 21 options ranging from fresh basil to sauerkraut, leaving something for every palate.
Serving up salads to rule them all 
Ask Minneapolitans where they go for a crisp, fresh salad during lunch and they are likely to guide you to a Green and the Grain location. The global range of flavors gives a healthy, potent range of options for wraps or salad bowls that are more than worth the price. Venture past familiar flavors like the chicken Caesar for more adventurous realms, like Moroccan Chicken (featuring blackened chicken, saffron couscous, grapes, toasted almonds, and pita chips) or Cowboy (filled with Southwestern Tex-Mex flavors).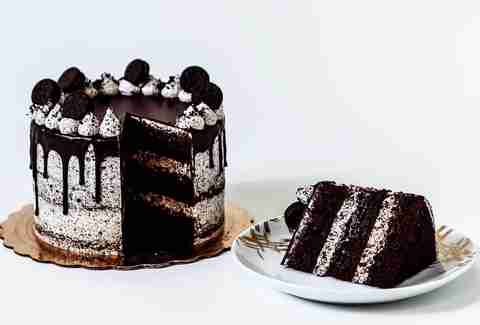 Luxurious sweet treats for when you need something truly special
Cocoa & Fig has been the gold standard for confections in the Twin Cities for years, so don't miss the chance to swing by its skyway-level shop to indulge in some truly sinful sweets. Make sure to peruse the cupcakes and macarons, both of which feature custom changing flavors and are baked fresh every day (as are the rest of the store's desserts). Or, grab a set of chocolate bouchons brownies, carrot cake sandwich cookies, or decadent flourless chocolate cake to slowly savor back at the office.
Locally roasted, high-octane coffee on tap
You are likely familiar with canned Blackeye Coffees in the aisles of your local Targets or convenience stores, but did you know you can sample the coffee fresh on-tap at its skyway location? If you're among the crew of coffee fanatics who can't get moving without a powerful cuppa in the morning, Blackeye is a cold-brewed coffee company where the standard flavor is the nitro cold brew, and it's excellent. But don't be afraid to also try the cocoa or white chocolate options for a powerful pick-me-up that isn't too sweet.
Setting the standard for delicious, ethically made coffee since 1996
Next time you need a cup of coffee, skip your habitual trip to Starbucks or Caribou and head to Peace Coffee instead. Peace Coffee brought the cooperative, community-focused model to the industry of coffee production. All goods are priced to allow for equitable labor and environmentally responsible practices both here and abroad. The menu is limited but terrific, starting with the strong, bold black coffee. Make sure to grab a bag of grounds to bring home and brew up your own feel-good cup of joe on mornings when you need a little pick me up.
A take home, saucy option that's hard to quit
If you've never had a tamale, get to La Loma -- and quickly. Wrapped in corn husks, made of steamed, soft cornmeal and stuffed with savory toppings, tamales are a drool-worthy lunch or breakfast option that are surprisingly hard to find in downtown eateries. We recommend getting multiple flavors, like the sweet corn and Oaxaca red or green. An equally good option is to order from some of the other specialty dishes, like the enchiladas platter, and buy some frozen tamales to bring home.
Old school, comic strip style sandwiches at an unbeatable price
With the trends towards gluten free and "clean" eating seemingly here to stay, sandwich shops are not as ubiquitous as they used to be. Where should you go when the craving for a hearty, deli-meat filled calorie bomb attacks? Look no further than Dagwoods, which has served quality lunch for more than 35 years. All menu options -- like the pastrami, ham, and salami combo -- clock in at well under $10, making them even better for your wallet than your taste buds.
Screaming fresh food worth a little extra travel time
Although it's not technically in the skyway system, Trieste Cafe is worth the little extra work. Tucked under the Lumber Exchange building for nearly 30 years, Trieste serves up fresh Greek food that is a welcome bright spot in the dark winter months. Although the gyros are delicious, we recommend turning it into a gyro salad with a side of soft, fresh pita, creamy hummus, and crunchy falafels. Everything is chopped on site as you order and a huge salad (as in easily big enough for leftovers) clocks in well under $15, making this place a treasure well worth the hunt.
Sign up here for our daily MSP email and be the first to get all the food/drink/fun the Twin Cities have to offer.