The only thing rarer (ha...get it?!) than quality steak-purveyors in this town is probably the extra dough you'll need to ensure restaurant beef is what's for dinner. So, in order to keep you from spending your hard-earned cash on subprime prime, we put together a list of the six sweetest steaks in MSP. Dig in...
6. The Prime Beef Ribeye for Two (For One) at Burch Steak
Lowry Hill
Isaac Becker's new kid on the meat block's hangin' tough with a smart, four-tiered steak menu (grass-fed, Prime beef, Domestic Wagyu, Certified Japanese A5 Wagyu). And, since all those choices can be intimidating, allow us to suggest you go to the Prime beef tier and order the 32oz Niman Ranch ribeye for two… but eat it for one.
5. New York Strip at The Strip Club
St. Paul
You better believe that any steak list worth its salt is going to include St. Paul's pun-y supper club for the everyman, The Strip Club. And when at Tim Niver and JD Fratzke's grass-fed meatery, you'd be well-advised to order their namesake New York Strip; 10ozs of hormone-free tastiness from Thousand Hills Cattle Company .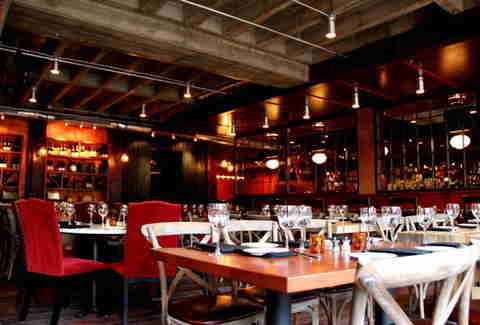 4. The Butcher's Cut at Butcher & the Boar
Downtown
Sure, they've got an epic year-round beer garden, an actual-penny-tiled floor, and an ungodly way with whole hog butchery, but don't think the fellas at Butcher & The Boar don't do beef. So next time, skip the pork in favor of this glorious 32oz dry-aged ribeye (for two) and put your fate in the chef's hands with the day's butcher's cut.
3. Lindey's Special Sirloin at Lindey's Prime Steak House
Arden Hills
Never heard of Lindey's? Well, your grandpa's been going to this Arden Hills steakhouse for 55yrs, partly because it so closely resembles a playfully retro hunting lodge, but mostly because their family-owned take on steak-accessibly means this Special Sirloin is your path to gristly Valhalla at "the place for steak".
2. Pan-Seared Steak at The Left-Handed Cook
Powderhorn
Proving the best steaks do not have to be found at a steakhouse (or a sit-down resto for that matter), the LA-punksters at Left-Handed Cook drop a mean Korean-influenced pan-seared steak that's seasoned with rosemary and such non-Minnesotan things like Gochujang, Doenjang, and a citrus zest sauce called "saam". Sidle it with some truffle-parmesan fries and you're in business.
1. King Cut Prime Rib at Jax Cafe
Northeast
Personal story: when my grandparents were young and poor, to celebrate special occasions they'd go to Jax Cafe and drop their scarce dough on prime rib… 60 years later you better believe the white table-clothed steaker's King Cut's still king.