The 9 best tacos along MSP's East Lake Street
If you want a great craft beer, some mac 'n cheese, or even hot dish, you've got plenty of choices. But if you're looking for the sweetest tacos in the Twin Cities, there's really only one place to go: Minneapolis' stretch of East Lake Street, where there's seemingly no end to the tortilla-based eats. Here are the nine best:
Longfellow
This small family-owned spot in Longfellow boasts tacos made with charred, succulent veggies that you can feast upon out on their private patio that is sheltered from the street. It's one of the best kept secrets in the city.
Powderhorn
The vibrant Al Pastor is spit roasted like a gyro with pineapple that blasts the pork with juices like tart honey. Order up these tacos at their storefront or from the stall inside Mercado Central.
Phillips
Sure, the burritos are the size of a small baby, but the tacos are a sweet choice 'cause you can get a variety of fillings. Our choice: fiery chicken in chipotle sauce with juicy tomatoes and soft onions.
Powderhorn
If you miss one taxi, another one will be along in a few minutes... 'cause they've got two storefronts and a truck along East Lake St, and all the traditional tacos (from cow tongue, to cow trip, to just cow...) you can handle.
Powderhorn
These tacos come with a fine dining pedigree... and tempura battered shrimp cloaked in a blazing hot buffalo sauce and topped with slices of raw jalapeños that're tempered with shredded cabbage. Check them out in their new digs with the patio and full bar or inside a stall at Midtown Global Market.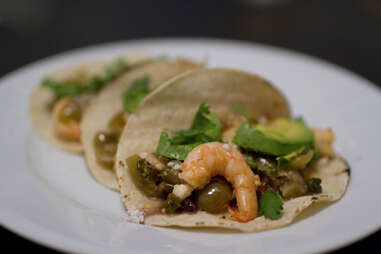 North Loop
Their Midtown Global Market location has a full bar and sit down service that comes with free chips for snacking before your tacos arrive. Order the camarones chiltepin -- shrimp sautéed in a buttery, wine-spiked sauce with no-joke, spicy chiltepin peppers.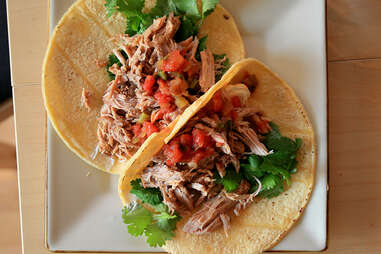 Phillips
They're known for their tamales, but they've got tacos that're also made with that slow-roasted carnitas and topped with their famous nuclear green salsa. Find them inside of Mercado Central or Midtown Global Market.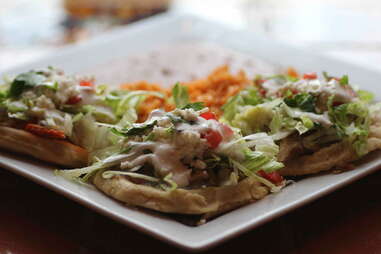 Phillips
St. Paul's premier family-owned Mexican grocery store/deli/restaurant moved over the river and brought their tastiest bites with them. Check out their specials board for the freshest tortilla-wrapped goodies of the day.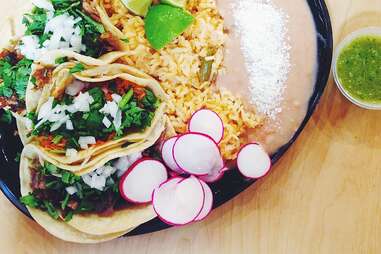 Powderhorn
It's hard to choose between their chorizo con papas, the res de tinga, or their chicharron prensado -- which boasts crispy, spicy pork topped w/ a little white onion and some leaves of cilantro. So don't. Find them in their location at Chicago and Lake or inside Midtown Global Market.
This list -- and all the rest -- look even sexier in our iPhone app. Get it now!