St. Paul's best burgers come to Mpls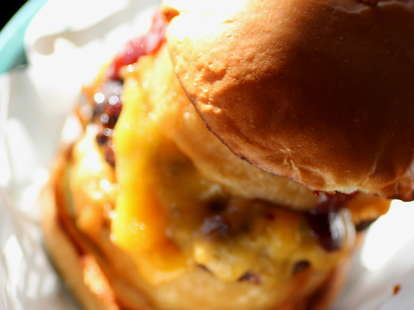 The legendary St. Paul burgers of Blue Door Pub must be awesome at caulking the wagon, because they've made their way across the river, and are now gloriously available right here in Minneapolis, at Blue Door Longfellow
Their new Longfellow digs -- in a former appliance repair shop -- are bigger than the original Selby lair, and feature a nouveau rustic vibe, with a central community table (hand-cobbled w/ wood from the remodel) they dubbed "The Long Fellow" after deciding against "The Short, Fat Fellow Who Houses Burgers"
From the standard bleu cheese-stuffed to the Bangkok packed with coconut milk-soaked cheddar, their ballyhooed "Blucy" lives on in Mpls in full-force. All of 'em can be hit with $1 add-ons of BBQ sauce, extra cheese, and two onion rings (called making your Blucy "a cowboy")
The Humpty Dumpty (cheese curd-stuffed, topped with Irish rashers and a slow-poached egg) is one of the here-and-then-gone BOM (Burger Of the Moment) offerings with a permanent home at the Mpls shop. Others include the Pastramilicious (pastrami & pepper jack inside, layered w/ cream cheese, pickles & pepper jack) and the colby-stuffed, potato chip and bacon-topped Baked & Loaded, which's also an apt description of most people who order the Baked & Loaded
They've also got wings, pork belly fritters, and cream cheese/pickle Spam Bites, which is totally true, and why you clearly only sign up for the most high-quality and targeted email newsletter!
And just in case you have room for a Blucy-accompanying drink besides Pepto Bismol, they're tapping 16 mainly-locals including Surly Hell and Indeed Day Tripper, which you no longer need be to enjoy St. Paul's best burgers.