Mpls-based My Burger's menu is pretty basic: choose a patty, some toppings, a side, and you're done. Easy, right? Only if deciding between more than 250 million possible combinations -- thanks to five patty options, five cheeses, free toppings, pay-to-play add-ons, and side-dishes that can be put atop it -- can be called easy. Luckily, we've done the dirty work for you and created the eight best burgers possible.
Recommended Video
Mexico City's Ultimate Churro Spot
Coming in at number eight is their on-menu creation the California (lettuce, tomato, mayo), but we add some Swiss to it. It's simple, but still tasty enough that's it's a solid go-to.
Seventh-best are their veggie burgers, shockingly, and if you double 'em up and then top 'em with a fried egg, tomatoes, and shredded lettuce, you're on to something at once tastily filling and probably not all that healthy.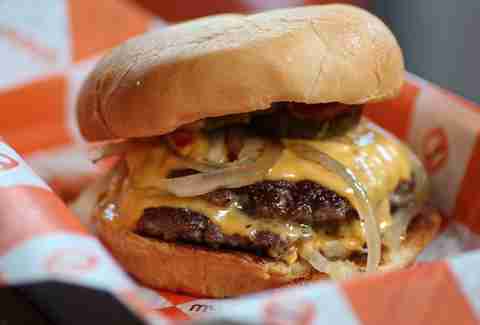 The Original Double scores high marks with the whatever-your-mood simplicity of American cheese, grilled onions, pickles, ketchup and mustard. It's legit without us adding anything to it, and comes in at #6.
With breaded chicken breasts at play, it's not a stretch to create your own chicken cordon bleu by pulling in some bacon, blue cheese crumbles, and a dollop of mayo. This universally appealing bastard's got a stranglehold on fifth position.
Use a power move to create the #4-ranked burger: realize that their grilled cheese uses Texas toast. Sub said toast in for a bun on an Original Single; add cheddar & bacon and have them put your side of onion rings on top, then slather it with BBQ.
Biz gets real as we enter the top three. Top their menu-style mushroom and Swiss burger with teriyaki and sweet pickles for something bodaciously sweet, savory, and so crunch-a-licious that only a fool would think it anything less than second runner-up.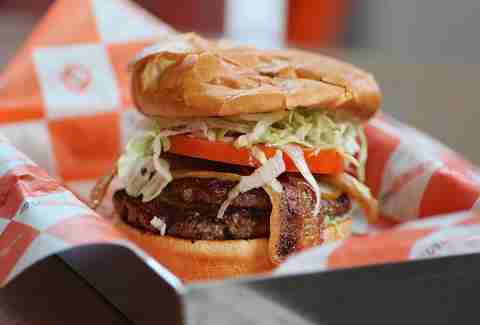 Second place goes to their Burger of the Month... whatever it is. July's Campfire has peppered bacon, smoked Gouda, and smoked garlic aioli. January's was a Canuckle sandwich with Canadian bacon/maple mayo/caramelized onions with Molson! It's always a winner.
Their on-menu Cajun Bacon Burger is phenomenal on its own, but to make it #1-worthy, order a side of coleslaw dumped on top with a few jalapenos for good measure -- fitting, as, after eating all eight of these, you'll likely measure a bit more yourself.