We've already told you why Summers in Minneapolis dominate Summers anywhere else, but what we didn't tell you is that this one dominates particularly hard, thanks to a whole slew of sweet new eat spots. Now if only someone had a list of the nine best new restaurants in the Twin Cities... oh, wait!
Recommended Video
Mac & Cheese With Bell Pepper Bowls, Because Dishes Are the Worst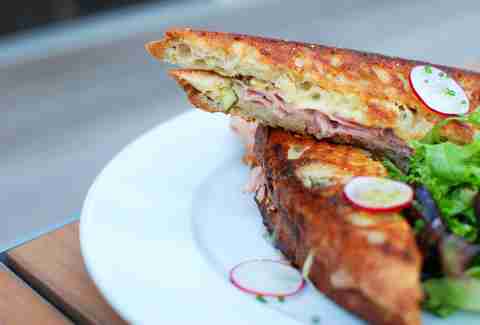 Marché (address and info)
Uptown
The team behind Borough/Parlour and coup d'état is at it again, only this time they're keeping it casual: a counter-service-style cafe and sandwich shop with a full range of espresso options, AM-eats like a house-made berry and cheese Danish, and a handful of sandwich options like a brie/fontina grilled cheese w/ a rhubarb compote on crusty country bread.
Cook St Paul (address and info)
Payne-Phalen
The former Serlin's Café is now serving breakfast-appropriate comfort foods with a healthy dose of... um, kimchi? That's right, there's a Korean kick in some of these dishes, but don't worry, the crispy hash browns are still the same.
Tongue in Cheek (address and info)
Payne-Phalen
Sustainably sourced stuff served in egalitarian style, which means the menu's packed with things gravy-topped fries, popcorn shrimp, and Bulleit Bourbon brulee, all made by a one-time W.A Frost & Company chef.
Lagos Tacos (address and info)
Uptown
Massive margaritas and non-traditional tacos have moved into the former Heidi's space. The room has a casual vibe with an expanded patio, and best of all, said tacos are available until 2am.
Heyday (address and info)
Uptown
Lorin Zinter and Chef Jim Christiansen's new spot is churning out inventive food, including a rabbit terrine coated in carrot "caramel", with spectacular service in a space liberally decked with Replacements' quotes on the walls and reclaimed wood, so it's about as Minneapolis as it gets.
Hola Arepa (address and info)
Downtown Minneapolis
There aren't enough spots where you can throw your head back and have a beautiful mixture of booze poured down your gullet, but that's just one of the draws at this brick-and-mortar incarnation of the food truck, where arepas stuffed w/ long-braised meats, crumbly cheese, and their fiery sauces remain the main food draw.
Corner Table (address and info)
Downtown Minneapolis
You think you've had pork belly, but wait until you try this cut of swine at the latest incarnation of Corner Table in the former La Chaya Bistro location. The room is much more comfortable and they've been able to expand their beer selection and add a patio and a brunch service. If the pork belly doesn't get you, the fried rabbit and sweet potato waffles will.
Brasserie Zentral (address and info)
Downtown Minneapolis
Russell and Desta Klein have moved on from French-influenced fare in St. Paul to Central European fare in Downtown Minneapolis. Their ambitious project includes the dumpling and spaetzle filled menu fit for power-lunches in the downstairs space (which is open now), while the Skyway level Café Zentral will open soon. Not to mention Foreign Legion, the small plates/wine bar spot next door that opened two days ago.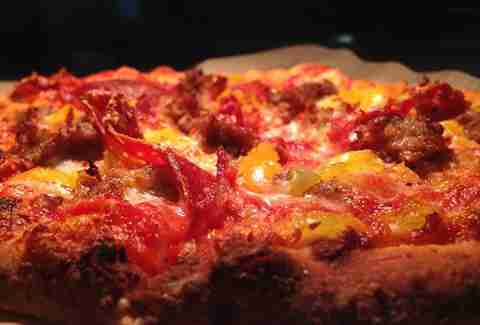 Rival House (address and info)
Downtown St. Paul
Sibling restaurant to the temporarily closed but soon-to-be-relocated Bradstreet Craftshouse, this sporting lounge (not to be confused with a sport bar) at the base of the DoubleTree Inn in Downtown St. Paul is driven by craft beer and the stuff coming out of their wood-fire pizza oven, which includes guess what kind of food.
This list -- and all the rest -- look even sexier in our iPhone app. Get it now!