Cronuts? Who cares? The original croissant-donut hybrid is made here.
Easily the most pervasive cultural phenomenon since those hilarious Big Johnson shirts you were wearing up until last week, the Cronut might've been trademarked by NYC's Dominique Ansel Bakery and had its share of tribute pastries (the Bronut, the Do'Sant), but at its glazed-donut-mashed-with-a-croissant core, you can possibly trace it back to a donut-maker now at Angel Food Bakery, who first glazed a croissant on the Iron Range way back in '88... and is currently taking things to the next level with the Cro-Knot.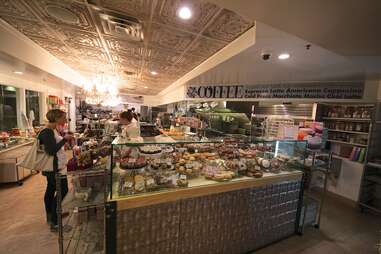 Angel Food's been perfecting their take on the Cronut, the Cro-Knot, since early Summer. They're stacked like freaking cordwood in the AM, but'll be gone mighty quick.
That's Angel Food's donut-maker, JD. Not only is he part of the least intimidating "gang" ever, he's the dude who first dipped a McGlynn's mini croissant in glaze the year after the Twins won their first World Series. He makes no claims about inventing the Cronut... but, hey.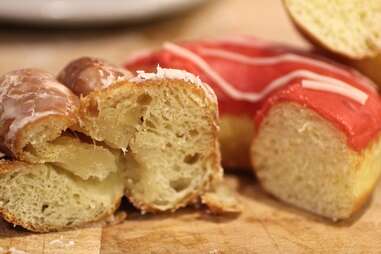 So what's a Cronut, or in this case a Cro-Knot, and how's it different from a raised donut? As you can tell in our super-scientific cross-section pic, it's largely about the croissant-like separation and layers.
Let's dissect it. As evidenced by that ridiculously complex production schedule, a Cro-Knot isn't made overnight (unlike a donut, which literally is).
It all starts with the butter-heavy dough, which is kneaded by hand and left at an intentionally uneven consistency for a day in the fridge. When it comes out, it looks coarse and you can see the butter chunks.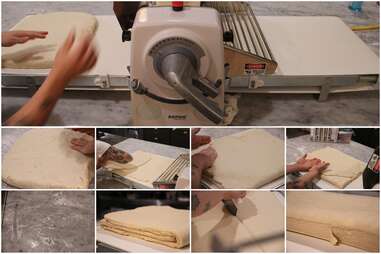 After chilling for a day, the dough's ready for a multi-step series of folding and rolling (using that gnarly auto-roller), which's what leaves it with a series of layers. Then, back in the fridge for two days.
Two days later, the dough is meticulously sectioned off using neat bakery rulers, and each Cro-Knot worth of dough is hand-rolled, -twisted, and -knotted.
The next step is getting those suckers ready to fry by putting them in the proofing machine, which, despite the name of their console, takes an expert to use.
Post-proof, it's to the deep-fryer they go. Once they hit, JD enters an almost trance-like state of counting Mississippis (seriously) until they're the perfect shade of brown.
While they're literally still fingerprint-eliminatingly hot, JD dips 'em in glaze...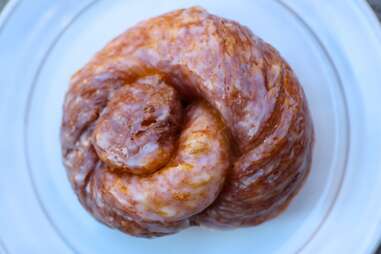 ... and, just like that, POOF, the Cro-Knot. Fact: it will melt your tastebuds. In a good way.
But wait! There's one more thing! While we were there shooting all that, they threw us a curveball and started experimenting with adding a fantastical new ingredient to their Cro-Knot: BACON.
And, while the maple-glazed product's still a work in progress, get your Big Johnson's Lawn Service shirt on, because chances are good that the next major cultural phenomenon might involve a little something called the Baconaut.