This is the best Philly cheesesteak in all the Twin Cities
Drew Wood
Drew Wood
It'd be weird to ask a waiter for a mouthful of super-dry, flavorless beef, but everyone who's ordered a Philly in Mpls has done just that. No one'll ever have to do that again thanks to Devil's Advocate's totally overhauled menu and, on it, a Philly that reaches such a level of perfection that it easily takes the crown for the best one in town.
Devil's Advocate debuted with a build-your-own meatball-entree menu, and although it was tasty, it turned out that the TCs were a little too modest about their balls, so Devil's put theirs away in favor of something that reflects the coastal roots of the chef and owner.
If this talk of menu change has beer-drinking-you panicked, calm yourself... The 40 awesomely curated taps that make Devil's downtown Mpls's best pure beer bar haven't changed a lick. Cool? Cool. Now let's get back to this beast of a Philly.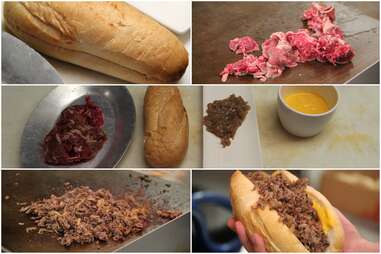 At its best, a Philly is simple. There're no peppers, mayo, or mushrooms. Just lightly salted Wagyu sirloin chop-griddled with caramelized onions, all loaded on an Amoroso roll (THE cheese steak bun, imported directly from Philly) that's been pre-slathered with warm Cheez Whiz (THE cheesesteak cheese).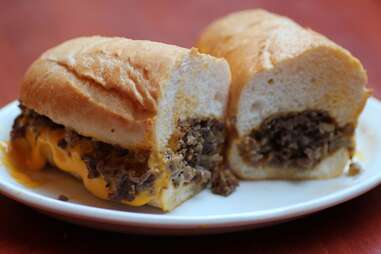 The result is that rare instance of seemingly simple pieces combining to produce an undeniably transcendent whole. All the flavors work in perfectly greasy harmony, and it somehow manages to be melt-in-your-mouth tender without being messy.
Now snap out of your Philly swoon and realize said glory is but one item on the menu. That gelatinous hunk of pork belly is braised in root beer and pulls an almost sweet teriyaki vibe.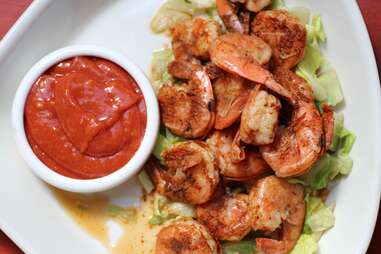 The secret for the Peel 'N Eat Shrimp (aside from the scratch cocktail sauce) is that they're cooked with New England's fave seasoning: Old Bay.
Take Louisiana blue crab, fold in some spinach, cream cheese, and Old Bay, and you've got yourself a solid dip. Top it with a crispy layer of baked cheddar and Ritz crackers? The world explodes.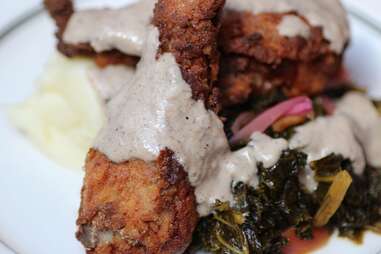 Joining tastiness like pork & polenta on the menu is Maryland, their fall-off-the-bone, juicy fried chicken. It's named after the state because it's topped with pepper gravy, not because it's got serious face-dodging skills when it plays lax.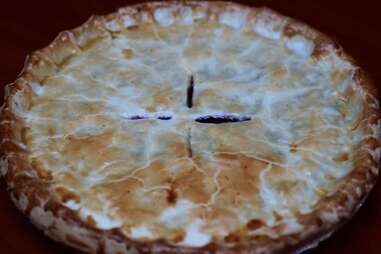 And they bake their own pies now. Order a few helpings of pie and a cheesesteak or two and you'll be well on your way to looking like you're from Philly yourself.