The ice cream factory ranks just behind Willy Wonka's chocolate factory on the list of sweet places you dreamed of visiting three times last week as a kid. Thanks to the cats at St. Paul craft creamery Izzy's, the dreaming can cease with the dawning of the veritable ice cream Valhalla that is Izzy's Ice Cream on the Mpls banks of the Mighty Miss.
Inside the block-long building dedicated to making ice cream, they've got more than 150 house flavors, of which a revolving selection of 32 (just like your favorite Ani DiFranco song!) are available at any given time in the form of cones, pints, ice cream sammies, shakes, ice cream cupcakes, regular ice cream cakes, and Dilly Bar-style ice cream pops.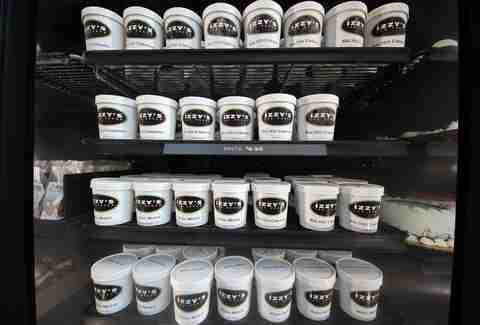 In order to help you conquer the paralysis of seemingly infinite options, we went ahead and asked Izzy's founder Jeff Sommers to help guide us through his current faves in each category.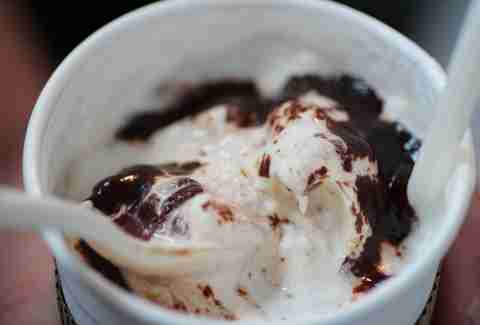 Believe it or not, the current go-to for the ice cream king of the Twin Cities is a plain vanilla shake with a serving of warm hot fudge on the side. Jeff just pours the hot fudge in on top and lets each subsequent spoonful do the work.
When it comes to Izzy Pops, he likes the sweet and savory flavor profile of salted caramel, which is not to be confused with Jeff's fave thing in Marrakesh food courts, salty camel.
Jeff only allows himself about 500 calories' worth of ice cream a day, which he spends on shakes/cones. So we got his front-of-the-house man Kelin to pick a fave ice cream cupcake. He chose S'mores, which feature choco/graham cracker ice cream, plus marshmallow and graham cracker crumbs.
As for a take-home pint, Jeff's liking the almost-savory creme fraiche these days, which he says is money after, before, or during dinner.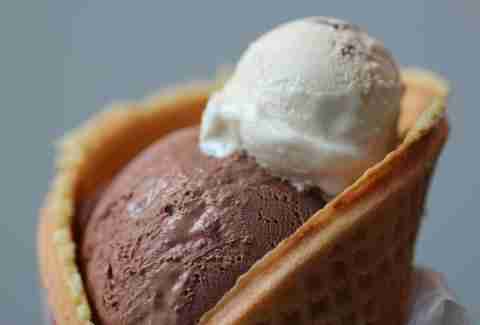 So what's his top ice cream cone? Sommers loads a scratch waffle cone with a scoop of plain chocolate and tops it with an Izzy Scoop (their famous free mini scoop of a second flavor) of Nut Goodie. It's a flavor combo so dastardly in its tastiness that it'll make Izzy's the only factory you ever daydream about visiting again.