Eat MSP's first 'roo cuts, save the world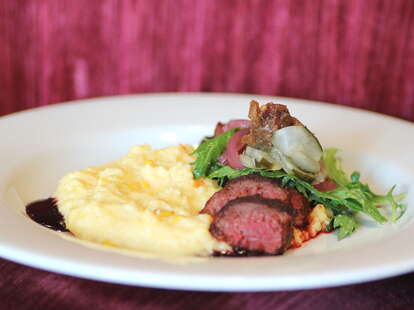 Drew Wood
Drew Wood
Hop to it, bounce on over, and all manner of other jumping puns, because it's time for you to eat some adorable kangaroos
Downtown's Hell's Kitchen has thrown 'roo steaks on the menu, and they're lean, tasty, and at just $20/plate, pretty affordable compared to similar cuts of, eww, cow. The top loin looks dark red and livery before cooked..
Kangaroo's not close to as fatty as beef steaks, so they eschew fat-complimenting, peppery steak rubs for a secret-sauce roo rub that's fresh and almost citrus-y
The lack of fat makes roo way more delicate, so it's onto the flat-top where it won't take on that charred, grill flavor. Unlike the cooked-to-preference beef steaks, they'll basically only cook your roo medium rare, because it gets too rubbery otherwise
A mix of house-pickled veggies will go on top to balance the heaviness of the sweetcorn aged-cheddar polenta, and that blackberry BBQ sauce sets the whole thing off
And there you have it: a kangaroo steak so tender you'd swear you were eating filet mignon if you didn't know any better. The best part of all? The steak, obviously. You're actually helping the planet by eating this instead of normal steak. Turns out the digestive process of those passe bovines involves something called "enteric fermentation", which causes them to burp and fart... A LOT. Which, crazily enough, accounts for like 60% of world's methane emissions (according to University of New South Whales dean of science Mike Archer, who is a board-certified Australian person). Kangaroos, however digest food normally, meaning they fart less and produce about 1/3 the methane of cows. So really, they're heroes. Devour them right now.