Enormous ham hocks and beer cocktails in a former Masonic temple
Downtown craft-castle Mason's Restaurant & Barre is built into what was formerly a grand, old, Masonic temple, but the only robes now associated with this place are the ones you'll be wearing all day on the couch after recovering from its beer-tails and huge cuts of meat.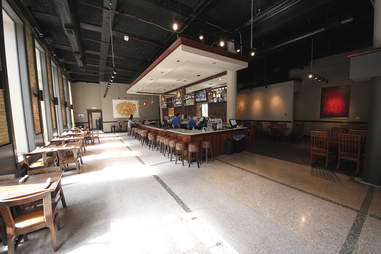 Drew Wood
You'd never know the totally rejiggered, airy space used to be the Lone Tree and Annex... Also to blame: daylight, cleanliness, and lack of d-bags.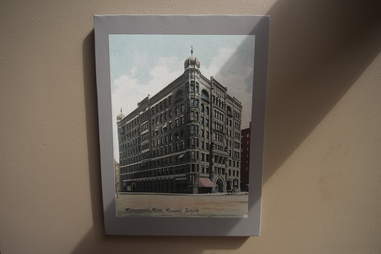 Drew Wood
This is what the outside looked like when it was still a Masonic temple.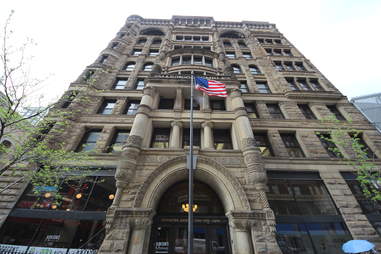 Drew Wood
Oddly, it still looks about the same.
Drew Wood
This is the bar at legendary Mpls rock club 400 Bar shortly after they closed their doors for good.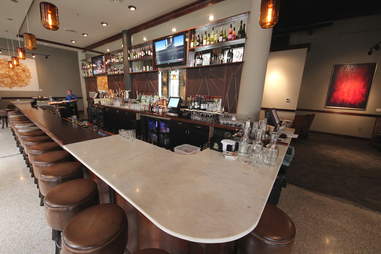 Drew Wood
Aaaaand this is the bar from the 400 Bar now. From the shelves to the diamond-patterned backer board, it's all original, just way cleaner thanks to Mason's owner who had the foresight to buy it from 400 when they were doing their eBay fire sale last fall.
Drew Wood
Mason's chef's a vet seasoned at Red Stag and Bryant Lake Bowl who's now slinging affordable dishes like this $14 bone-in pork osso buco, which's a solid pound-plus of meat alone and is meant to be picked up and eaten barbarian-style.
Drew Wood
They're also dishing a wealth of two-handed sammies, bun-style sausages, and 1/3lb Hereford beef burgers, like the spicy pickled pepper/ cream cheese/ fried onion El Diablo -- Juno it's going to taste good!
Drew Wood
Everything's a la carte, so you'll want to tack on a side or an app like Mason's tots in a delicious mustard cheese sauce.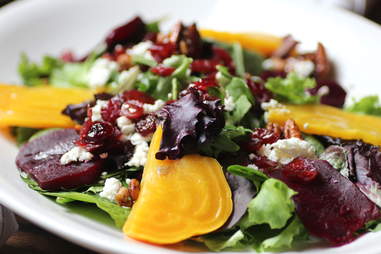 Drew Wood
They're also dropping sexy beets.
Drew Wood
Behind the 400 Bar bar, they've got a keen beer list ranging from Summit, to Duvel, to Bell's, but the keenest thing of all is their five-strong "Boozy Beer" cocktail list with hits like this dark rum/ Strongbow cider/ MN maple syrup/ cherry bitters Dark Apple, aka your 2009 MacBook whenever the pinwheel of death takes over.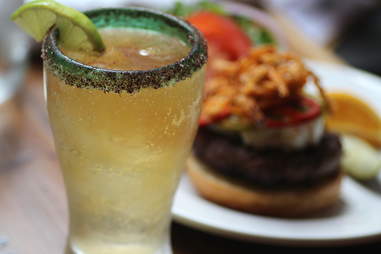 Drew Wood
And this Border Beer suds-tail rocks mezcal, Dos Equis, chili salt, and lime. Enjoy entering a secret society where everyone seems really good-looking and fun.