The meatiest food truck of them all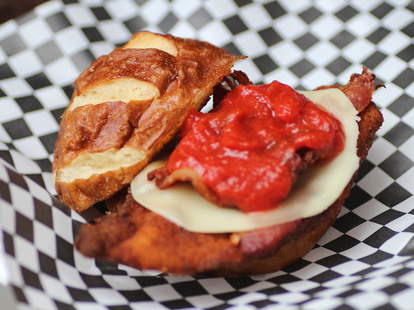 Ask all those pioneers who died from dysentery just miles from Fort Kearny: wagons full of meat aren't always as glorious as they sound. Melch's, however, is, as it's run by a former health inspector and features post-Oregon Trail advances like "refrigeration"
Behold the glory of the ground beef-wrapped truck, which -- save a black bean burger -- is dishing a twisted menu of short-order hot meat sammies ranging from BLTs to cheese-stuffed burgers
This is where the magic happens. The very smokey, greasy magic
Don't be alarmed: this is not one of those things you do push-ups with. It's a tool used to press down their beef, chichen, pork, and, someday, goat. Fitness has no place here
More people should get to watch their onion rings and fries being born
Pop Quiz: Is Fried Pork a) the result of not wearing sunscreen at a nude beach, or b) this sandwich of pig that's been pounded thin, breaded, pressed even thinner on the griddle, and topped with Provolone & Thousand Island
The Melch Me: pretzel bun, government cheese, chicken breast, BACON, burger, more government cheese, more pretzel bun
Even the Chicken Parm has a hidden pile of bacon. Note: while those pioneers carrying meat back to the wagon couldn't go above 200lbs, you should feel free to by eating at Melch's every day.
Drew Wood
Drew Wood
Drew Wood
Drew Wood
Drew Wood