NorCal eats and the most innovative cocktail program in the Twin Cities
For the most part, craft cocktails have become synonymous with dark Vaudevillian spaces and mixologists who would also be great extras in Newsies. And while Christian Bale musically gaming the tyrannical turn-of-the-century newspaper delivery system is pretty cool, it's good to know that -- thanks to Marin Bar & Restaurant -- now some of the best cocktails in Minneapolis can be had minus the Jules Verne-ery.
Drew Wood
Yes, the main dining room & bar are a significant departure from the spare, white space of previous tenant D'Amico Kitchen, but more on that in a bit... To the cocktails!
Drew Wood
Those hands belong to Mike Rasmussen, the mastermind behind Marin's bar program.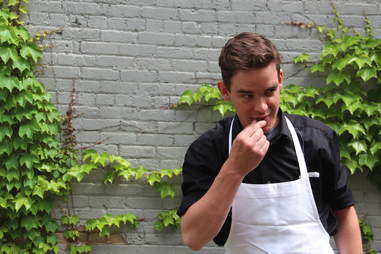 Drew Wood
There's Mike again. He looks almost nothing like a Newsie and he's eating a spilanthe -- a little yellow bud that makes your mouth literally buzz in a creepy/cool way -- that he picked from the chef's garden 20ft from the Patio Bar. Why should you care? Because it illustrates the main thing that separates their bar program from the rest in town: their big trick isn't the host of bitters they use or the way they chip ice from a block, but rather their literally just-picked aromatics and the fact that they've taken craft cocktailery outside.
Drew Wood
As you can see, the just-picked aromatics also make lovely-tasting boutineers.
Drew Wood
That's Mike's baby, the Periodic Table of Gin & Tonic. It not only makes science waaaaay more interesting, but it also presents the formula by which Marin's reinventing G&Ts.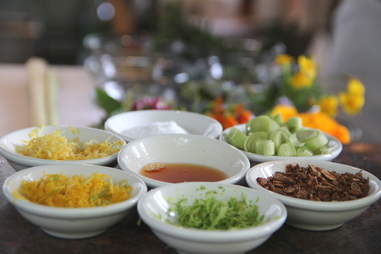 Drew Wood
Periodic Table menu aside, the big innovation is in their house tonic. Lemon zest, orange zest, lime zest, citric acid powder, and lemongrass are integral to its flavor, but the real secret is those brown chips: extremely-hard-to-find cinchona (quinine) bark.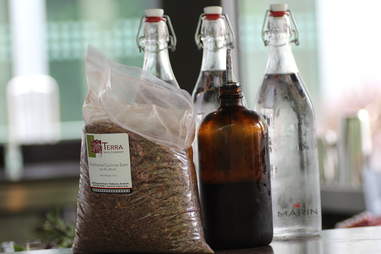 Drew Wood
They pre-make the chinchona bark syrup (brown bottle), but everything else is done to order. They pour the syrup over ice, add the requisite amount of house-made soda water (effectively the second half of the tonic water), then stir in your pick of gin (from Prairie Organic to St. George Terroir), and add your aromatics, like hibiscus, gentiana, or, um, nasturtium... you know? Good ol' basturtium?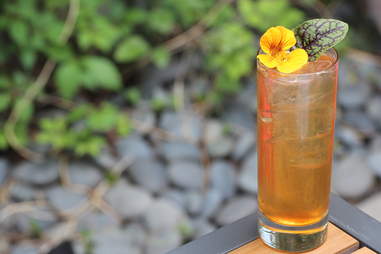 Drew Wood
The end result is a gin & tonic that looks and tastes like none you've ever tried before.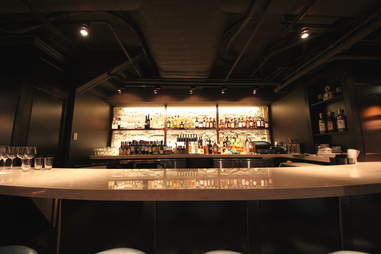 Drew Wood
This is the basement bar...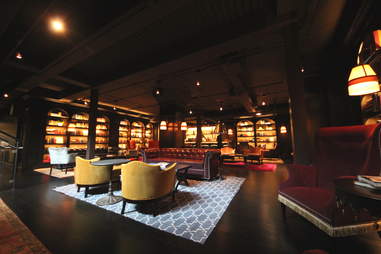 Drew Wood
... aaaaand it looks like a Victorian library.
Drew Wood
There's even a cool private dining room with a brick barrel ceiling and wine barrel walls.
Drew Wood
The upstairs bar, while influenced by that same neo-Victorian vibe, is much airier. In addition to classics, they've got a list of Champagne cocktails, craft suds, and "specialties", like the mezcal/Averna/Carpano/Benedictine/aromatic bitters Mexico City.
Drew Wood
Food-wise, Mike Rakun -- the leader of Marin's butter-less kitchen -- is slinging lighter NorCal-style eats like the Spring Peas, Ham, Citrus above.
Drew Wood
You're looking at steamed black cod atop broiled veggies in lemongrass broth.
Drew Wood
Don't dig greens and fish? They've also got a wood-fired pizza oven for making flatbreads like this oregano, mozzarella, and slow-roasted tomato number.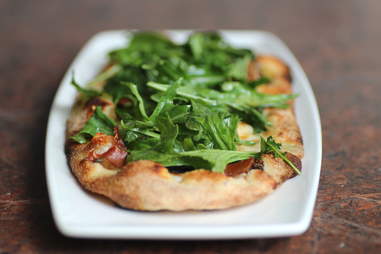 Drew Wood
This guy's piled with ham, fig, and blue cheese. Tasty.
Drew Wood
They also serve breakfast. And if you enjoy eating that while reading the paper, it actually might be the one time you wish Marin's bartenders were Newsies.