Egads! It's a booze-spitting half-food truck, half-restaurant mutant!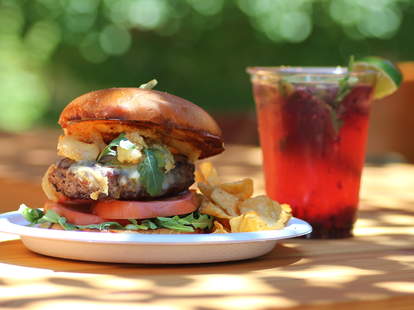 Food trucks can be extremely difficult to pin down... And once you do, they're just so metal-y and inanimate that it's totally not satisfying to give them a noogie. Now you can easily place Craft Mobile Kitchen, who're implementing a sense of spatial continuity by taking up semi-permanent residency in St. Paul with crazy tasty sammies and burgers, AND adding the element of booze to the food truck mix.
Drew Wood
Among the gut-busting sammies from CMK is a grilled elk sausage with roasted tomato basil aioli and fresh mozzarella called the Mighty Elk -- sadly, it's not a Mighty Ducks spin-off where Goldberg's a middle-aged guy who rallies his fraternal order to victory in a boot hockey tourney.
Drew Wood
This is the food truck where that sandwich came from. Not pictured is the Craft Mobile Kitchen booze truck, which is a real thing, but is still being fabricated.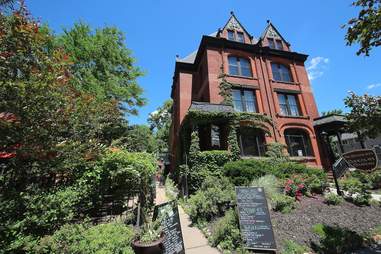 Drew Wood
This stately old Selby Ave mansion is called Dr. Chocolate's Chocolate Chateau. It's not made of chocolate but it is owned by a Dr. (also not of chocolate).
Drew Wood
One interesting thing about Dr. Chocolate's (besides its totally sweet name) is that it's got a really awesome St. Paul-y patio off the side, which it WAS totally neglecting.
Drew Wood
That is, until Craft Mobile Kitchen came a knockin' and said something to the effect of, "Hey, Dr. Chocolate! We're a food truck operation and we think your totally unused patio is super radical. Any chance we can add seating, build out a bar, and park our truck behind it, thereby converting it to a de facto pop-up restaurant Thur-Sun? Eh?" And in between bites of a truffle, Dr. Chocolate said, "Thy will be done." And it was.
Drew Wood
And after that made-up version of a real conversation, there it was! Along with a vastly more bountiful, resto-like menu.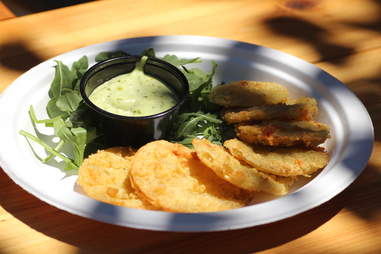 Drew Wood
The menu strives to be fresh and relies upon what can be got locally at any given time. It is thus likely to change... So you'll just have to cross your fingers that those fried green tomatoes are sticking around for a while.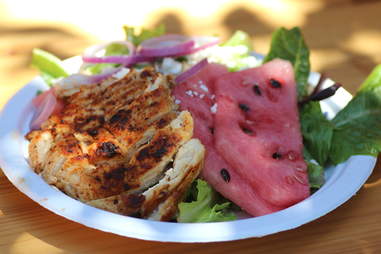 Drew Wood
This chicken salad's called a Diablo, which's probably an allusion to the evilness of it being a salad.
Drew Wood
For another pleasant gut-bomb, try the 1/2lb Chateau Burger seasoned with nacho chili and cocoa rub and topped with pepper jack, onion straws, and herb aioli, not to be confused with the 65yr-old left-winger on Goldberg's Elks team.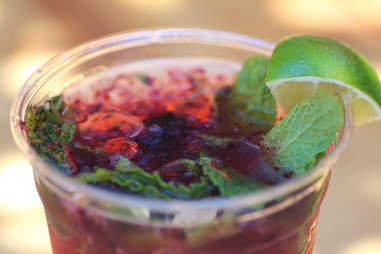 Drew Wood
And let's not forget about THE BOOZE TRUCK. When they're at Dr. Choco's, they'll be operating from a literal brick-and-mortar bar. When they pop-up elsewhere, the bar truck'll pour the same curated list of cocktails, meaning that blackberry mojito can be yours even when they're "mobile".
Drew Wood
The gin/elderflower/cucumber/basil/lime/clover honey Everything Zen is decidedly not bush-league.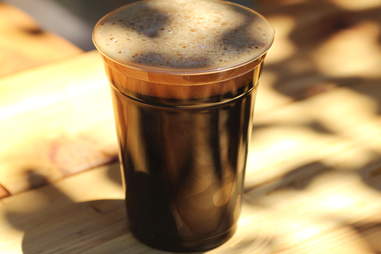 Drew Wood
They're also pouring on-truck/en-garden craft bottles and taps, including that Great Divide Yeti, Bell's Kalamazoo Stout, and Fulton Blonde, which's also who you can say you gave a noogie to after you pin down this massive yellow truck at Dr. Chocolate's.