Glory of glories, the Twin Cities finally have a Korean BBQ food truck
Thanks to Gogi Bros, you can now put Korean BBQ food trucks right next to beer, trendy acronyms, and Guys with Kids (JK! LOL! YOLO!) on the list of things you never knew you couldn't live without until you first experienced them.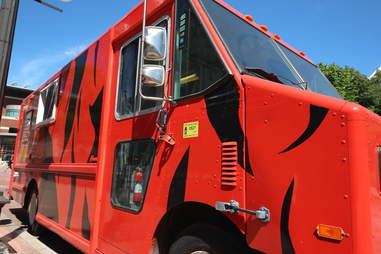 Drew Wood
Drew Wood
Both entrees are plated with kimchi, but not just any kimchi... The Gogi Bros use kimchi that they claim comes from their "mom's kimchi garden". THEIR MOM'S KIMCHI GARDEN.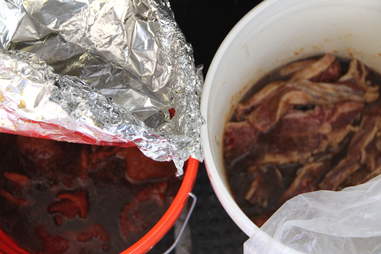 Drew Wood
There's nothing fancy about Korean BBQ, folks. Just as the kimchi humbly/awesomely comes from Ma's house, the meats marinate in paint buckets (which the Gogi Bros solemnly swear are actually soy sauce buckets, but hey a monstrous plastic bucket is a monstrous plastic bucket).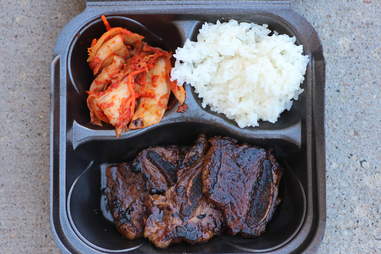 Drew Wood
The most expensive of the trio of menu items at only $9.50, galbi (beef short rib) is marinated for three days in a family recipe BBQ sauce, making the meat so tender that it literally falls off the bone.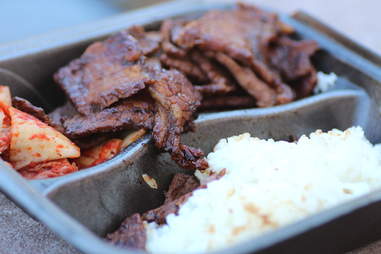 Drew Wood
That serious quantity of meat is bulgogi, which's thinly sliced BBQ beef that's been stewing in super-top-secret, paint-bucket marinade for a day.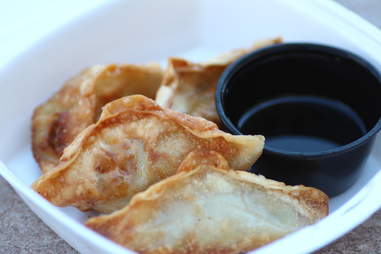 Drew Wood
And rounding out the fleet are the perfectly crispy potstickers called mandu, as in, "Now that you're done eating at the Gogi Bros truck, man do you need a beer."