A not-humble Super Bowl recipe from the food-benders at Awesome Eats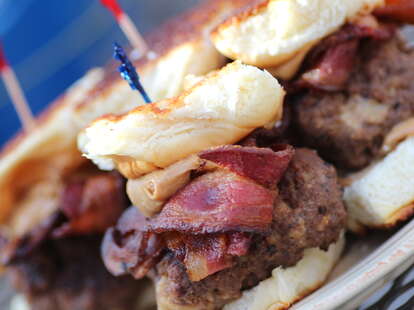 Because neither ravens nor crotchety old prospectors are particularly tasty, we asked the food Frankensteins at Awesome Eats Food Truck (check 'em out at Northeast Palace!) to help you stave off Super Bowl hunger with something special: the flavor-bursting, actually-makeable I Would Do Anything for Love But I Won't Do That PB & Bacon Meatloaf Sliders
The video above will show you how to do it right, but here's the quick and dirty
YOU'LL NEED:
2lbs lean ground beef1tbsp butter1/4cup diced onion2 cloves diced fresh garlic1 1/2tsp salt1 1/2tsp black pepper1 egg1 1/2tbsp Worcestershire (Woostershir) sauce3tbsp sour cream3 slices of toast8 buttery crackers (Ritz type)1 package of Hawaiian dinner rolls1lb of your favorite bacon (you'll have extra to mow on)Peanut butterYOU'LL NEED TO:
Melt the butter in a skillet over medium heat, cook the onion and garlic for five minutes (looking for tenderness from the onion). Remove from heat. Add salt/pepper.
Mix the beef, crumbled bread, crushed crackers, egg, sour cream, Worcestershire sauce, and onion/garlic in a large bowl. Form into 1/4lb patties.
Place on medium/high heat on the stove and cook for 6min/side, covered.
Fry your bacon.
Cut Hawaiian dinner rolls in half, spread a small amount of butter on them and brown on your skillet.
Spread a healthy amount of peanut butter on said grilled Hawaiian rolls. Add meat. Add bacon. Add top bun. Devour.