The Jucy Lucy: Eating and Understanding Minnesota's Singular Burger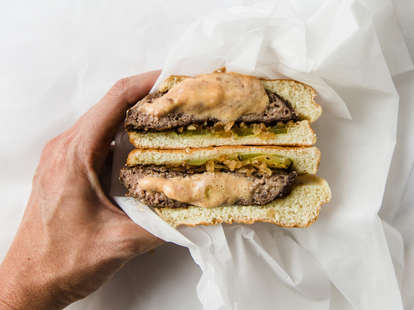 Unlike every other food served in a restaurant, the Jucy Lucy comes with a warning not to eat it. At least not at first. "You boys know you need to wait a minute or two," our waitress at Matt's Bar said when she put the burgers down. "Or you'll get burned."
We hear the same thing an hour later at the 5-8 Club, after ordering the correctly spelled Juicy Lucy. "Give it a little time before you bite," said the server, winking. "Or it'll bite back."
The Jucy (or Juicy) Lucy is a South Minneapolis creation, a burger style unique to the Gopher state. Possibly because the only warm things in Minnesota are traditionally stuffed inside of other things, it involves essentially combining two thin patties around a ball of American cheese and sealing the corners, so that when the burger is cooked, the cheese inside gets melty and gooey and explodes into your mouth when you break through. Imagine the burger version of a Gusher fruit snack. Actually don't, that's kind of gross.
There is no dispute that the Jucy/Juicy Lucy burger's origin is Cedar Ave in South Minneapolis. But where on Cedar Ave is a whole other story.
The burger looks decidedly unremarkable, possibly even burnt. But that belies the real beauty of Matt's.
If this was a heavyweight fight, the defending champ would be Matt's Bar. Matt's explains that it came up with the burger in 1954 when a customer asked for "two hamburger patties with a slice of cheese in the middle." As to why a customer would make that request, no one I asked at the bar seemed to have any idea. The closest explanation came from a random patron next to me, who leaned over and said, "He was probably just a pain in the ass."
Either way, as legend has it, after biting into the burger, that pain in the ass exclaimed 'that's one juicy Lucy.'" And apparently -- because this was the '50s and that was the dirtiest thing anyone had said in Minnesota in years -- the name stuck. As for how they lost the "i", they claim that the original sign had a typo and they didn't feel like getting another sign made, so they rolled with it. And to those who might attempt to eat a Lucy somewhere else, Matt's offers a warning: "Remember, if it's spelled correctly, you just might be eating a shameless ripoff!"
The contender/spelling bee champ/recipient of Matt's ire in the Juicy Lucy debate is the 5-8 Club. Originally a speakeasy in the '20s, 5-8 sits 4.2 miles south of Matt's on Cedar Ave, just over Lake Nokomis across a parking lot from the Hope Evangelical Lutheran Church and down the street from Fat Lorenzo's, a place I'm pointing out for no other reason than its amazing name. 5-8's claim to the title is murky. In its history section on its site, the story about the Juicy Lucy's origin is merely a timeline in which the "1950s" section has a blue ribbon with 1st on it and says "The Juicy Lucy, a home grown hero, was born."
But enough "facts." I just wanted to see which was more delicious (as part of my larger Minneapolis/St. Paul Burger Quest), so I spent the final Tuesday in August partaking in Matt's and 5-8 Club one after the other, to try and collect more information and eat the burgers. Oh -- also, because I have family in Minneapolis and he happened to be around, I brought my dad.
On my way to Matt's, I got a call from said dad, who was meeting me there. "Have you seen this place," he asked, dubious. "Are you trying to remind me of my childhood?"
Seeing how my father grew up in a not-very-nice section of Springfield, MA, I could tell that wasn't exactly a vote of confidence. "Don't judge a book by its cover," I said, as my Uber driver looked back at me disgusted by my tired use of a cliché. "But what if the cover is falling off," he responded, and then hung up on me.
When I got there, I could kind of see his point. From the outside, Matt's is not an aesthetic marvel. It will not win Architectural Digest awards. It looks like someone put 80% of a giant boarding house on top of a small red hut. And yet, when we walked in, my father visibly relaxed. "This looks like your grandpa's basement," he murmured as we were led to our seats. He wasn't lying. The wood paneling above the bar, the white christmas lights snaking along the ceiling, random pictures of various sizes dotting the walls, the formica tables, everything about it felt like my grandfather's prized basement bar. Except the food. Thank God.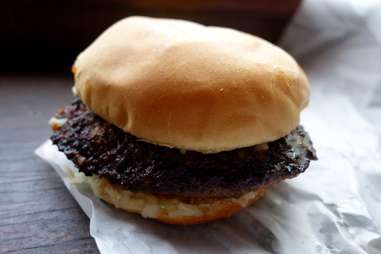 Look at Matt's burger in the picture above this. It looks decidedly unremarkable, possibly even burnt. But that belies the real beauty of Matt's -- which is to make a damn flavorful griddled patty, which is juicy on the inside, despite the limitations of cooking on a tiny grill behind the bar and mashing two patties around some cheese. When they mix with the grilled onion, three bites of Matt's are pure Lutheran Minnesota joy, almost like dipping an onion burger in queso while it's still in a skillet.
As opposed to Matt's, 5-8 Club looked from the outside like the rectory of a pretty happening church (it didn't hurt that it sat across from one). From the inside, it was more like a casual chain restaurant, a local version of a Friday's or a Buffalo Wild Wings with less TVs and more pull tab stations. The burger there was much larger than Matt's -- nearly twice the size -- but the glory of the closely located house of god was not in it. The meat lacked serious flavor and the cheese didn't burn my tongue as much as just surrender en masse on my plate after an initial bite. My dad gave up after two bites and started looking at his phone, which I'm pretty sure was off.
There was, at least, a sweet sign advertising their other creation -- the Saucy Sally -- which stuffs secret sauce in the middle and gives you the Big Mac's host of condiments -- lettuce, onion, Thousand Island, cheese, etc. If I wasn't so caught up in Lucy debate, I'd have opted for a Sally, but alas I did not, because I am a PROFESSIONAL. Also, I didn't see the sign until after we ordered.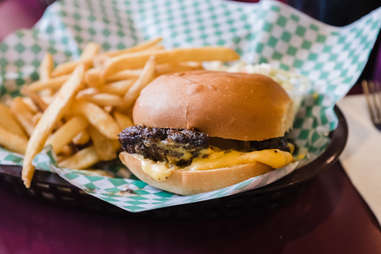 So yes, friends, in the debate between the two Lucy originators, I would unquestionably rather dance with Matt's Bar. But here is the thing: I am not wholly convinced that this Minnesota style of burgers need pass the borders of the North Star state. To be honest, the novelty of stuffing the cheese in the middle puts the burger cook at a disadvantage, because -- in order to heat the cheese -- you basically have little choice but to overcook the meat on each side. Other than the few initial cheesy bites where everything works together, you end up with a relatively dry puck of a burger, and that is a damn shame, despite the fact that pucks are looked upon favorably in the land of infinity lakes.
But then again, as I've said before, I am merely a burger carpetbagger, and if the good people of Minnesota want to politely scald their tongue with molten cheese to remind them of those three months out of the year when they don't have to ice fish for both sustenance and sport, I will not try and convince them otherwise.
As for my father, as we were leaving the 5-8 Club, he turned to me in the car and asked, "Why do you think that caught on?" When I told him I didn't know, that sometimes the novelty of the thing just sticks, he turned on the car, found a station playing Motown, and drove off. A couple of minutes later, he spoke again. "I guess some things," he said, over Smokey Robinson's smooth stylings, "don't need to make sense."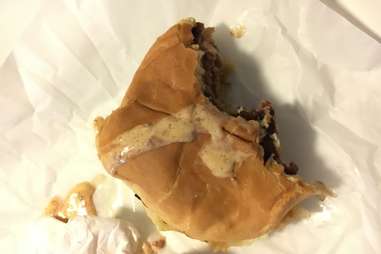 Sign up here for our daily MSP email and be the first to get all the food/drink/fun the Twin Cities have to offer.