Just St. Paul's average Mexican seafood-slinging discotheque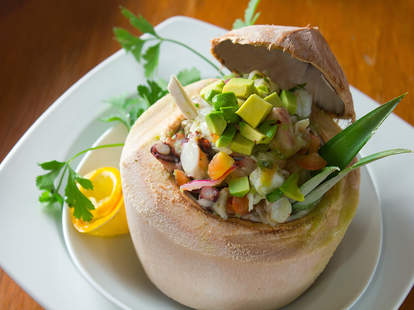 St. Paul's Las Sirenas is one part purveyor of Mexican seafood and one part michelada-laden late night dance party, meaning it's like Minnesota's version of Cancun, albeit without their scorching mid-50s temperatures
Across the Mighty Miss from Downtown St. Paul, Las Sirenas transformed the bulk of the formerly closed-off El Toro space into a beachy terracotta-tiled dining room
There's an entire page of seafood cocktails including the Vuelve a la Vida: raw oysters next to shrimp and octopus in cocktail sauce. FYI, "cocktail sauce" is also what they call tequila in Cancun
This octopus joint is one of several ceviches
Should octopus salad not be your bag, wrap your tentacles around tacos, burritos, and fajitas, including chicken/shrimp/steak "Mixtas"
The Mexican drinks you'd expect are all there, but they also go deep with Harriet Brewing's West Side on tap. Or just go crazy with beer-based micheladas, like this one blending Corona with clam juice and shrimp
Come 9p (or as old people call it, "the witching hour") this place becomes a full-on dance-club with everything from DJs to mariachi
Don't believe that this Mexican seafood joint gets jiggy? EVIDENCE: the first water-lit bar in the Twin Cities, people
And this chick hangs out there a bunch. She's actually way more active than most of the girls you find in real Cancun.