Isaac Becker won the James Beard award for the Best Chef: Midwest in 2011. Burch is Isaac Becker's two-level steakhouse/pizzeria in Lowry Hill. Burch is very good. Coincidence?? No! Becker gutted the formerly tchotchke-fied Burch Pharmacy before building out the front bar/ dining room. This brick passageway leads to the main dining area, which features an almost-completely-open kitchen. It's got nothing to hide. Don't be ashamed by the size of Isaac Becker's grill. Upstairs, the steakhouse menu starts with a "Raw" list that includes this ahi tuna tartare. Their "Dumplings" list includes these potato pierogi with golden raisins and poppy seeds, plus a bone marrow dumpling so dangerously tasty that you may need a tongue transplant. Spurning the filet for only the manliest cuts (NY strip, ribeye, flat iron, hanger), their steak list has three tiers of beef (prime, natural, grass fed), and a la carte sides ranging from Yukon gold potato puree with goat butter to house sauerkraut with poached egg and croutons. More of an Apple guy and hate windows? Then eat downstairs at the pizza bar, which is a like a beautiful dungeon where you're tortured by being forced to eat pie after delicious pie. The subterranean eats all come out of this wood-fired oven, including fanciness like roasted lamb shoulder, more bone marrow, and slow-cooked collard greens. But the main event down here -- crispy pizza -- includes this margherita plus more exotic stuff like "Polpo" with braised octopus, tomato sauce, Fresno peppers, and avocado. Oh, it never ends. Their house Cakes & Sweets menu has slices of carrot, coconut, and chocolate hazelnut cake, plus caneles with Taleggio honey. Both floors have 12 taps including Brau Bros Ring Neck and Surly Bender. Or you can help free two winelist-pages' worth of bottles from their bondage. Oh: and there's exactly one photo in the entire basement. It should be Eazy to see why.
Recommended Video
Would You Eat This 3-Pound Chicken Nugget?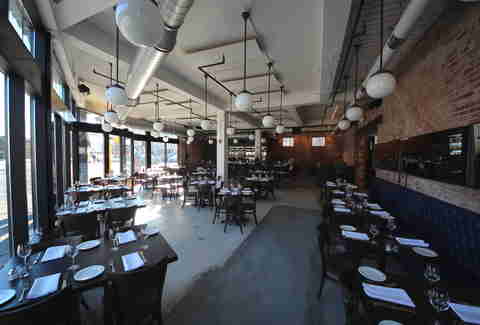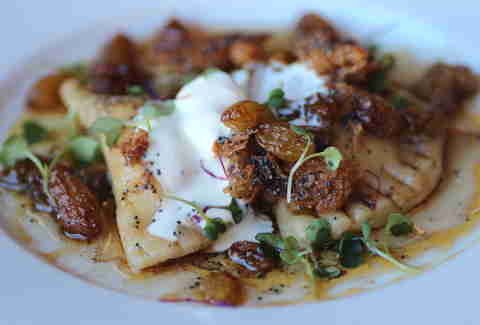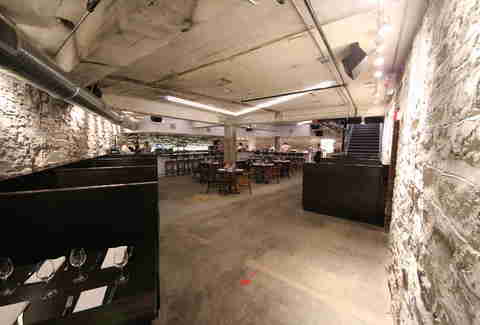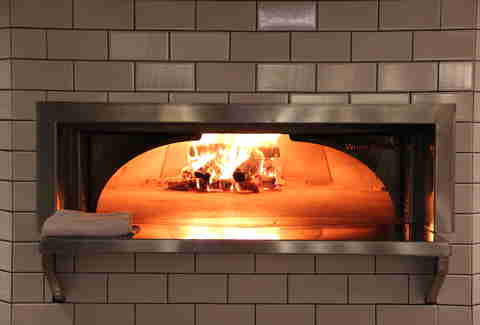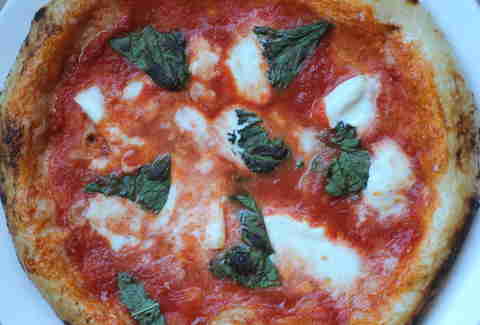 Previous Venue
Next Venue
Venue Description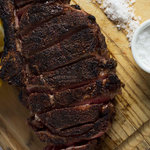 1. Burch
1933 Colfax Ave S, Minneapolis, MN 55403
James Beard-nominated chef Isaac Becker is behind this steakhouse-slash-pizzeria in Minneapolis. On the first floor, Burch Steakhouse serves an eclectic menu filled with raw bar options, prime beef and domestic Wagyu, and a variety of European-style dumplings. In the basement, the Pizza Bar bangs out Neapolitan-style pies from a white oak-fueled pizza oven. Every pizza comes with an exciting combination of toppings -- hey, there aren't many places you can get pizza topped with a lobster claw.