The MSP Food Bucket List: 50 Things to Eat Before You Die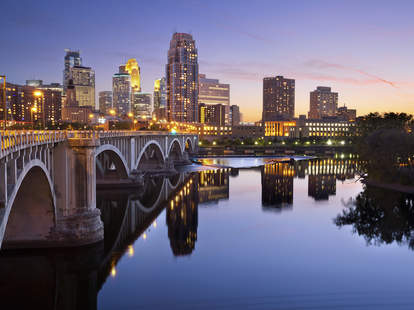 Here's the bad news: you're gonna die someday. Luckily, there's some good news too: the Twin Cities have a slew of great things -- at least 50 of 'em -- to eat before you go. Just do us a favor and try not to eat 'em all at once, 'cause we don't want our MSP food bucket list to ironically be the reason you kick said bucket. Now feast your eyes...
Keane Amdahl/Thrillist
Paddy Melt
Paddy Shack (address and info)
North End
Burgers are great and all, but this one makes us especially giddy by reinventing the patty melt with blue cheese, bacon, and a sweet and succulent onion jam, all on buttery toasted rye bread.
 
Yum Yum Rice Bowl with lamb belly
World Street Kitchen (address and info)
Lyndale
This isn't your average run-of-the-mill rice bowl. It's topped with a variety of pickled veggies, a poached egg, crispy lamb belly, and is then drizzled with delicious secret sauce.
 
Hot Tail
Rabbit Hole (address and info)
Midtown
Yeah, it's a pig tail, but it's fried crisp and served with a delicious ginger sauce. Don't be afraid, it's just pork.
 
Parlour Burger
Parlour Bar (address and info)
North Loop
This might be one of the simplest cheeseburgers in town, but it's also one of the best. It's a burger with American cheese and some house-made pickles on the side and you won't need anything else, we promise.
 
Octopus
Sea Change (address and info)
Downtown
It may have a constantly rotating menu featuring an array of delicious, sustainable seafood dishes, but one of its constants is its smoky grilled octopus  served with a fresh and herbaceous salsa verde, Spanish peppers, and a sweet pimenton sauce, making each bite an absolute blast of flavor.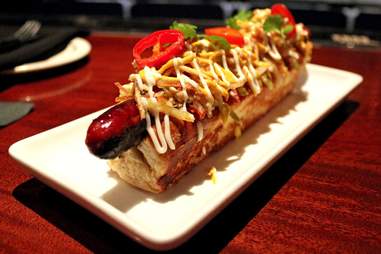 Keane Amdahl/Thrillist
Foot-long hot dog
Butcher & the Boar (address and info)
Loring Park
Yeah, the long rib is good, and so are the pork chops, but we will never, EVER, get over the glory that is B&tB's foot-long hot dog. It's a house-made dog topped with a spicy chow-chow, crispy shoestring potatoes, mayo, mustard, and cilantro served on a brioche bun from Salty Tart. There is no better hot dog.
Torchio
Monello (address and info)
Downtown
This perfectly cooked twisted pasta gets tossed with tender braised rabbit, artichokes, and crème fraiche and is an absolute joy to eat.
Jucy Lucy
Matt's Bar (address and info)
Powderhorn
Seriously, you knew that this was coming. It's one of Minnesota's most iconic food items and that's not by mistake.
Patatas bravas
Rincon 38 (address and info)
Southwest
If you haven't had these perfectly crispy fried potatoes -- served with confit asparagus, Spanish chorizo, roasted artichoke, pimenton/garlic sauce, and aioli -- yet, then… well, I guess we're not really here to make threats, but you should probably go check them out because they're pretty good.
Bacon chop
Libertine (address and info)
Uptown
This is the one pork chop to rule them all. Seriously. It's basically a giant chop that's barely had its fat cap trimmed before it gets slightly smoked, grilled, and then served to you in all of its porky glory.
Keane Amdahl/Thrillist
Special Pho 79
Pho 79 (address and info)
Whittier
It's all about the pho packed with tender, rare lean beef, flank steak, fatty brisket, soft tendon, tripe, and dense meatballs. Of course you've gotta top all that off with fresh basil, jalapeños, and bean sprouts, giving you the perfect bowl of soup for any Minnesota fall or winter.
Gnocchi with cauliflower & orange
Bar La Grassa (address and info)
North Loop
We're basically willing to go on the record and say that this dish has hit "classic" status. The gnocchi are perfectly cooked and then seared, so they're pillowy on the inside, yet crispy and buttery on the outside, then paired incredibly well with roasted cauliflower and hints of orange.
Fish & chips
Anchor Fish & Chips (address and info)
Northeast
For whatever reason, we went years without a really solid fish & chips shop, but when this place opened up, all of that changed. Now there's nowhere else we'd rather go for gigantic fillets of perfectly beer-battered fried fish.
Bologna sandwich
Corner Table (address and info)
Kingfield
Whatever O-S-C-A-R-inspired idea you have about what bologna should be is pretty much blown out of the water by this sucker that's served on toasted brioche with a fried egg and mustard aioli.
Gosa Gosa C
Blue Nile (address and info)
Seward
If you're unfamiliar with Ethiopian cuisine, swing through Blue Nile and get this massive sampler for two featuring a wide variety of rich Ethiopian stewed dishes all served on a giant piece of injera.
Soft scrambled eggs with pickled pig's feet
Piccolo (address and info)
Southwest
We're not sure that there's a single dish more refined in all of the Twin Cities than this beautiful and decedent egg dish. Don't let the idea of pickled pig's feet turn you off because the balance between the unctuous egg, truffle butter, and pork are absolutely magical.
 
Lamb Key Wot
Fasika (address and info)
Midway
Lamb stewed to perfection in a rich and decedent berbere sauce, served on top of soft, spongy injera.
 
Rogan josh with lamb
Gandhi Mahal (address and info)
Longfellow
The king of lamb curries, this dish hits all the right notes. It's a little bit spicy, a little bit sweet, and just little bit nutty, which is why we like it more than a little bit.
 
BBQ pork banh mi
Ha Tien Market (address and info)
Little Mekong
The sweet and salty BBQ pork pairs incredibly well with an array of fresh herbs and vegetables, and the bread is crispy on the exterior while remaining soft and chewy on the inside. The perfect example of this close-to-perfect sandwich.
 
Cha gio
Quang (address and info)
Whittier
Usually when talking about this place, it's all about the pho. Well, try something new for a change and order this delicious bun (noodle) salad that comes with mixed lettuce, cilantro, cucumbers, mint, onions, carrots, and crushed peanuts, and then gets topped with a couple of sliced-up egg rolls. Pho-get about ordering anything else.
Keane Amdahl/Thrillist
Raw bar
Meritage (address and info)
Downtown St. Paul
OK, this isn't one thing exactly, but make sure you investigate the full raw menu and don't skip out on the oysters, clams, and if they have them, whelks!
 
Blini with caviar
Moscow on the Hill (address and info)
Cathedral Hill
Live a little and order this lavishly light crepe that's filled with salmon roe, dill, scallions, and sour cream. It'll go perfect with your vodka.
 
Beer-battered perch po-boy
Smack Shack (address and info)
North Loop
Smack Shack is known far and across the land for its delicious, buttery, and brilliant rendition of the classic New England lobster roll, but their perch po-boy often tends to go unnoticed if not at the very least, underappreciated. Even though it's a "coastal-" inspired restaurant, having grown up catching and frying perch, there's just something more Minnesotan about this sandwich than all of the walleye sandwiches in the metro area combined.
 
Cabbage roll
Kramarczuk's (address and info)
Northeast
Kramarczuk's is probably best known for its sausages, which are widely available at various spots across the city these days, but if you're actually stepping foot into the restaurant, go for this often-overlooked Eastern European classic. The cabbage leaves are stuffed with a mixture of beef, pork, and rice and they all get steamed together and topped with a rich tomato cream sauce. They're heavenly.
 
Sambusas
Afro Deli (address and info)
West Bank
These little fried pastry pouches are flavor bombs that are straight cravable. Filled with beef, chicken, or lentils and served with Somali-style chili and cilantro-based hot sauce called basbas, these things are beyond worth heading to campus for.
Keane Amdahl/Thrillist
Tennessee hot chicken
Revival (address and info)
Kingfield
We hate stating the obvious, but sometimes the obvious is obvious for a reason and the guys at Revival know their fried chicken. Tennessee hot chicken is a spicy adventure that yields tremendous results should you brave the endeavor, and if you're willing to risk the heat, the sweet floral flavor of the peppers and the tender, succulent meat of the chicken will be your reward. Do yourself a favor and get the Hoppin' John too.
 
Hot turkey
Nighthawks (address and info)
Kingfield
These folks are doing a lot of things right, but their hot turkey is a Minnesota classic for sure. Succulent, juicy turkey meat sits on top of a slice of bread and mashed potatoes before it gets a good ol' gravy shower. It's finished off with a sprinkling of peas and carrots for good measure.
 
Commercial Sandwich
Cook (address and info)
Payne-Phalen
Let's not beat around the bush and call this thing what it is: classic hot beef that just so happens to be the epitome of the Minnesota classic lunch. Moist, salt-crusted roast beef is served up on a bun with a side of mashed potatoes smothered in gravy. It's perfect.
 
Chorizo sausage arepa
Hola Arepa (address and info)
Nicollet
Arepas are a source of endless pleasure no matter what they're stuffed with, but when it comes to house-made chorizo, black beans, pickled cabbage, cotija cheese, and an aioli verde, how can you go wrong?
 
Hot Dago
Dusty's (address and info)
Northeast
Despite the highly offensive nature of the sandwich's name, it's somehow managed to remain a centerpiece of Northeast Minneapolis cuisine since the early 1950s and the sandwich itself is delicious. It's a 100% ground pork sausage patty that you can in a variety of different ways. We like to roll with the "works," which sports the option of mozzarella or American cheese, fried onions, and sweet peppers.
General Tso's sweetbreads
Haute Dish (address and info)
North Loop
Imagine your favorite Chinese takeout dish reimagined for total food nerds and you've got yourself an order of General Tso's sweetbreads, which get a light fry before being tossed in a delicious, sweet, sticky sauce and served over ham fried rice with a small torchon of foie gras, and a house-made fortune cookie. It's takeout for people with taste buds.
 
Sweet potato tacos
Chef Shack Ranch (address and info)
Seward
Mashed sweet potatoes topped with black beans, cheese, and pickled onions have never, EVER tasted so incredibly good.
 
Eggplant fries
Sonora Grill (address and info)
Midtown/Longfellow
These are everything eggplant should be. They're incredibly crispy and when you bite into them, they're sweet, yet earthy and floral on the inside. Oh, and they pair well with any of Sonora's tacos, particularly the red tempura shrimp ones!
 
Picadillo a la Cubano
Victor's 1959 Café (address and info)
Southwest
We're well aware that most people hit up Victor's for breakfast, but this Cuban-inspired ragout consisting of ground beef, potatoes, capers, raisins, and Spanish green olives, all simmered in the homemade Creole sauce, will make you want to stay 'til dinner.
 
Meat on a stick
The Strip Club Meat & Fish (address and info)
Dayton's Bluff
In the true spirit of the State Fair, Chef Fratzke and his team prepare a daily take on stick food. It always features some kind of meat cut and seasonal garnish, so you can't go wrong choosing this.
Moules-frites
The Kenwood (address and info)
Kenwood
Local masterchef Don Saunders elevates his take on the traditional white wine-based mussel broth by adding a pistou twist. The result is an herbaceous, briny liquid that's virtually drinkable on its own, but still pairs extremely well with a side of salty fries.
 
Icehouse Burger with foie gras
Icehouse (address and info)
Whittier
This beautifully prepared burger comes topped with caramelized onions and Brie, but for a mere $15 extra, you can also have it topped with foie gras and a truffled bordelaise sauce, which transform it to something that should be worshipped instead of eaten (but you should still eat it anyway).
 
Pate, Brie & baguette
Barbette (address and info)
Uptown
There are a lot of great things on Barbette's menu, but seriously, there's nothing like pulling up to the bar or snagging a small corner seat to yourself and ordering this perfect late-night snack plate with a big glass of wine, except for maybe doing the same out on its patio during the kinder summer months.
 
America's Favorite All-Day Meal
Mickey's Diner (address and info)
Downtown St. Paul
A classic breakfast is best served out of a dining car,  with two eggs fried in butter, house-made hashbrowns, buttered toast, and your choice of meat. Go ahead, add a short stack on the side. We won't tell anyone…
 
Rotisserie chicken
Brasa (address and info)
Northeast/Summit Hill
There are few restaurants as coveted as Alex Roberts' Brasa, and this chicken is one of the reasons. Especially if you get it with a side of cheesy grits, and collard greens.
Lady ZaZa
Pizzeria Lola (address and info)
Linden Hills
Served with Korean sausage, house-made kimchi, serrano peppers, scallions, and a sesame and chili oil glaze, all nestled upon a wood-fired Neapolitan-style thin crust with a classic Italian-style red sauce. It's a work of art.
 
Chimichanga with chorizo
La Teresitas (address and info)
Nikomis
This massive burrito is stuffed with house-made chorizo and pinto beans, and then deep-fried and covered in a creamy queso sauce and a robust ranchera salsa. It's greasy, crispy, cheesy, spicy, and perfect in nearly every way, except maybe the way you'll feel about an hour or so after eating it, but it's totally worth it.
 
Croissant
Patisserie 46 (address and info)
Southwest
If you've ever eaten a fresh croissant in France, you'll know that no other will do, unless of course, you've also eaten a fresh croissant from this place.
 
Spicymonger
St. Paul Cheese Shop/France 44 (address and info)
Mac-Groveland/Linden Hills
Delicious soppressata is served with a generous smear of chevre, a pepper & onion relish, with just a hint of Sriracha. You should always be eating one.
 
Salty caramel chocolate tart
Salty Tart (address and info)
Midtown
This is an absolute MUST for any salted caramel and/or chocolate fan out there. It's incredibly decadent, but we dare you not to eat the whole thing in one sitting. We double dog dare you.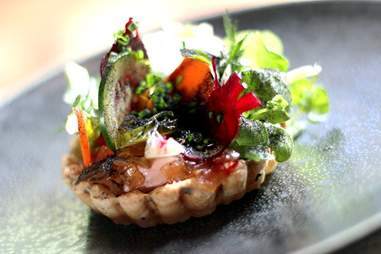 Keane Amdahl/Thrillist
Chicken liver tart
Heyday (address and info)
Lyndale
If it were possible to pack heaven into a pastry, this -- a rich chicken liver mousse, topped with a seasonal fruit compote, and then garnished with an array of herbs and seasonal pickled vegetables -- would be the way.
 
Steak tartare
112 Eatery (address and info)
Downtown
This tartare is basically one big raw burger with an egg yolk on top, served with buttery toast points. It's listed as an appetizer, but it's easily a meal unto itself… and might be even better than the menu's regular burger.
 
Tonkotsu ramen
Zen Box Izakaya (address and info)
Downtown
The broth has a beautiful amount of fat, which makes it nice and creamy, but not overly heavy. Then there's the tender pork belly, the soft-cooked egg, and the perfectly cooked noodles. When it comes down to it, this is the ultimate bowl of ramen in the Twin Cities.
 
Fish taco torta
Tilia (address and info)
Linden Hills
It's perfectly fried, while remaining juicy and flakey on the inside, and topped with a sweet and spicy peppadew pepper slaw and crispy tortilla chips, all served on a buttery, soft bun. It's an ideal combination of flavors and texture making it one of the best hot sandwiches in the city by a long shot.
 
Poached foie gras with toasted brioche & preserved fruit
La Belle Vie (address and info)
Loring Park
La Belle Vie is possibly the highest-regarded restaurant in the whole of the Twin Cities, so most people tend to think that it's out of their price range. Truth be told though, it's really not that bad, especially if you go in and hit up its bar menu, where you'll find this beautifully executed, classic foie gras dish, which rings in at a mere $12.
Sign up here for our daily MSP email and be the first to get all the food/drink/fun the Twin Cities have to offer.
Keane Amdahl is a Twin Cities-based writer who will totally finish this list before you do. Follow him on Twitter @Foodstoned for proof.