8 reasons why the Minneapolis food scene is underrated
When you think of America's best food cities you immediately think of places like New York or Chicago (or wherever whoopie pies are made), but here in the Twin Cities we're doing things nobody else is doing, so to prove that we belong in the conversation with the country's great eating enclaves, we've assembled a short list of eight reasons why the Minneapolis food scene is totally underrated...
We made the hot dish Haute
Born of the same canned-food culture that brought you the proudly-made-in-Minnesota SPAM, every housewife's favorite tater tot-topped casserole was long considered a joke, until Chef Landon Schoenefeld opened HauteDish and turned Minnesota comfort food on its head by elevating all kinds of formerly embarrassing foods (heck, he turned walleye into scallops!) and launching a comfort food craze. Maybe you've heard of it.
Wait... your chefs just started pickling things?
Nowadays fermentation is all the rage and every chef worth a damn is doing some of it, but it has long been at the core of the Scandinavian culture that's so influenced our eating habits, and consequently our restaurant/cocktail culture. In fact, it's had so much influence that we'll soon have a bar (Gyst Fermentation) that only serves things that've been pickled... or brewed or distilled, obviously.
Surly Brewing
Yes, you have craft beer, but we have Surly... a brewery so good it literally brought Democrats and Republicans together to change the state's drinking laws. Their next act: the $20M, 8.3 acre compound that will not only make Surly one of the biggest craft brewers in the country, it'll also host a restaurant helmed by local legend Jorge Guzman, a 300 person beer garden, and an event center.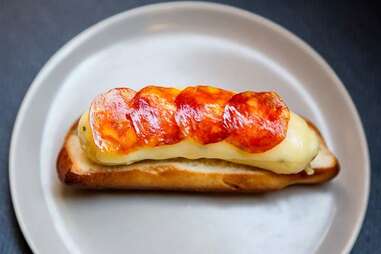 We invented the Jucy Lucy...
... but we didn't stop there. Sure we stuck stuff into burgers long before anybody else and lead the way when it comes to serving food on sticks, but those aren't the only examples of our region's culinary innovation. Nowadays there is a rogue band of mad scientists over at Travail, and The Rookery has a full lab dedicated to the discovery of brave new things like their egg hot dog. Who knows what they'll be able to stick into what next?
If our chefs lived in Brooklyn, they'd be famous
If you want to talk about top-shelf culinary talent, we can out do almost anywhere. If Doug Flicker, Jamie Malone, Erik Anderson, Mike Brown, Steven Brown, Thomas Boemer, Mike "YC" DeCamp, or one of the 20 other Minneapolis chefs lived in NYC, you'd already know who I was talking about. What's that? You've heard of Erik Anderson? Good for you.
Cold weather grapes
The University of Minnesota has been developing cold weather grapes since the '80s, and while they may not make the French Pinot's that you keeping dropping ice into, they have a complex, full flavor of their own.
We can drink at our craft distilleries
Cocktail rooms may not sound like much to some, but the fact that our small micro-distilleries can open bars serving hooch made on-site is actually kind of a big deal. In most places around the country they can only serve sample sized tastings (and in California they can't even do that!). We, however, can actually enjoy the spirits as the distillers want us to in the places where they're made.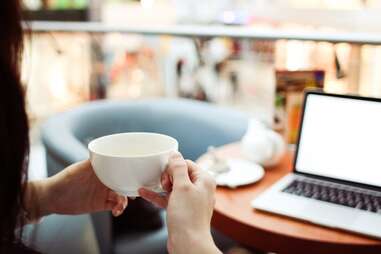 The hottest trend in coffee? We're so over that.
Bulletproof coffee is all the rage, but our grandmothers have been putting butter in their java since before we were born, so we're focused on supporting local roasters like Peace Coffee, which is slinging organic and fair trade drinks sourced directly from small scale coffee producers.
Sign up here for our daily MSP email and be the first to get all the food/drink/fun the Twin Cities have to offer.