With so many great things to eat in Minneapolis, it's easy to... get fat. Just kidding! It's easy to overlook some restaurants, even when they're making incredibly cool, innovative, and downright delicious food. We can't have that, so we rounded up the 11 most criminally underrated restaurants in Minneapolis...
Recommended Video
The History of Delivery & Takeout
Southwest
Recently named one of the seven actual farm-to-table restaurants in the Twin Cities by local food celeb, Andrew Zimmern, this place is a true South Minnie gem. Featuring seasonal interpretations of ingredients raised on the resto's own farm located Southwest of the Twin Cities, you'll find dishes like a double-cut pork chop with cheesy rice pudding, or a summer cabbage roll filled with a fresh ratatouille and goat cheese. Pro tip: you can and should grab a pound of the bacon to take home with you for later.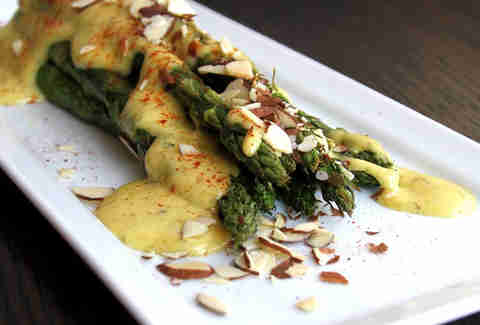 Bryn Mawr
This North Minneapolis restaurants utilizes its wood-burning oven to bring you seasonal variations on globally inspired flavors. Check out the roasted eggplant baba ghanoush, Korean BBQ tacos, or roasted asparagus with Parmesan and walnuts for starters and round out your dinner with one of the many wood-fired pizzas or entrees.
Longfellow
Given the high-profile nature of the old Town Talk space, this little restaurant originally opened up to quite the fanfare, but after a year or so in business, you don't hear as much about it as maybe you should. Its take on the French eats is sure to leave your stomach filled with the warm fuzzies, except said fuzzies will be in the form of Corsican stew with braised beef, tomato sauce, carrots, and cured olives served on pappardelle, moules frites, and other classics.
Uptown
Featuring a variety of delicious small and large plates, you get a little bit of something for everybody here. The smoked chicken liver pate with bacon marmalade is a luxurious exploration of sweet, smoky, and savory, while the beer tartar is a great, simple take on the classic that features tender chopped beef and celery root. If those kinds of things aren't exactly your jam, fret not, because there's also a pretty sweet burger and fries.
Kingfield
Despite the fact that it only re-opened in its new location a few years ago, it's already the old bird on the block. While a handful of truly great restaurants have opened up shop in the neighborhood, it's important to remember that the folks here are still kicking out some great food that features flavors from around the world including a delicious little pork belly steam bun with kimchee, a chickpea griddle cake, truffled gnocchi, and a grilled bistro steak with a side of poutine.
Southwest
This place is ridiculously good and by all rights could be the talk of the town, but it's not, so here it is. This little wine bar, owned by local Italian gurus, the Broder family, is offering up some seriously delicious food: there are little $1 tasting bites that are outrageous, and a series of large and small plates that appear to all be home runs. The duck egg with porcini sauce could easily rank as one of the best egg dishes in the city, and the herb-roasted quail is jam-packed with flavor.
Downtown
It's astonishing how little you tend to hear about this place, yet as far as Downtown dining options go, it's easily one of the best. With a focus on local farms and purveyors, the kitchen pumps out some high-quality dishes including dry-rubbed wings served with a white sauce; shrimp served on brioche with dill mayo, roe, and chili oil; and a beef flank steak with dill cheddar potatoes, grilled zucchini, and a tomato poblano jus. It also has a daily popcorn preparation.
Northeast
This modern American supper club with a retro feel has been serving up great dishes and cocktails in NE's historic arts district for over 15 years. The dishes aren't overly complicated, but are delicious thanks to things like bacon-wrapped jumbo shrimp with hoisin BBQ sauce; crispy duck confit with apple, cabbage and fennel; and a variety of classic steak cuts. The restaurant also has its own version of the Juicy Lucy that comes stuffed with caramelized onions and Gruyere, and then gets topped with melted Brie, and served with a side of dipping jus.
Northeast
When you're able to proudly display a quote by global food guru, Anthony Bourdain, singing the praises of your restaurant on the homepage of your website, you that know you're probably doing something right and we can't disagree. Eating at the Sample Room is one of the best decisions you can make while in NE Minneapolis. The charcuterie is beautiful, and features things like a duck carpaccio, confit pork belly, and a decadent chicken liver mouse, all of which are great starters before any of the other dishes, including a three-meat meatloaf, buttermilk fried chicken, and fried octopus. There is also a great selection of local taps to help wash it all down.
Longfellow
This is actually one of our absolute favorite restaurants in the city and it never seems to garner the praise that it deserves. Bring in a bunch of food nerds and you're all certain to leave happy. Like a lot of others places, it focuses on locally produced ingredients, but unlike a lot of other places, the dishes inspire a true sense of place. The charcuterie plate is legendary, and with dishes like pan-roasted duck breast with roasted root vegetables, red cabbage, spaetzli, and horseradish crème fraîche or the whole-roasted rainbow trout with popcorn gnocchi alla Romagna, mushrooms, Swiss chard, and sweet onion soubise, you know at first bite that you're dining in the Twin Cities.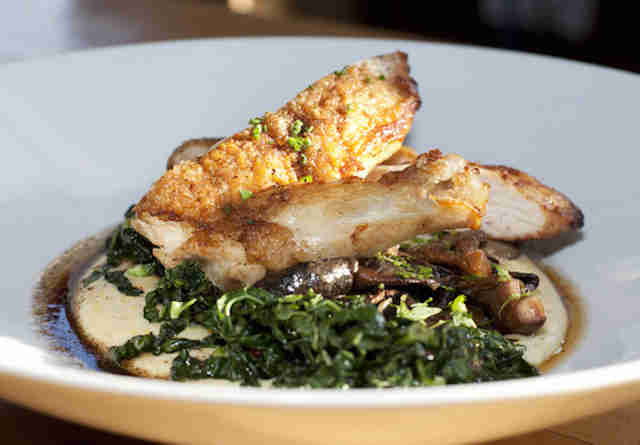 Nokomis
It's hard to understand the fact that when we bring up this place to non-industry-focused people, we're met with a blank stare. It's the kind of restaurant where chefs bring guests that they want to impress when they're not eating in their own restaurants. The food is incredibly simple and humble, almost like home cooking, but prepared by the loving hand of a true expert so it resounds with both flavor and comfort. Ordering the chicken breast (yeah, we said chicken breast) is the only time you'll ever catch us ordering chicken breast in a restaurant, but it comes out so incredibly juicy, that it's an absolute must. Hands down, this rustic comfort-foodery is truly an underrated restaurant of the highest order.

Sign up here for our daily MSP email and be the first to get all the food/drink/fun the Twin Cities have to offer.
Keane Amdahl is a Twin Cities writer who, if you're not careful, will eat everything at Cafe Levain before you even get there. Follow his wacky antics on Twitter: @Foodstoned.