Forbes called Minneapolis America's healthiest city in 2013, but thankfully, MSP's restaurants are doing their best to turn us into, like, Mississippi as quickly as they can by serving up some gloriously fattening foods. We compiled our favorite moments in Twin City fatness from the past year, and who knows? If you try enough of 'em, maybe we'll top this year's list of healthiest waistlines... 
Homemade Hostess Cakes
The Buttered Tin, St Paul
Approximate Calorie Count: 180
So, after brief hiatus they started making Tinkies again and the world rejoiced -- except everyone around here 'cause The Buttered Tin had already dropped its own, vastly better versions called the Lowertown Twin-Key, which are made with super-spongey white cake batter, stuffed with a fluffed-up mixture of heavy cream and sugar, and cooked in actual Twinkie-branded cake pans. 
Chocolate Bacon Donut
Glam Doll Donuts, Whittier
Approximate Calorie Count: 418
Spurning the "get here early or you don't get no donuts" ethos of most craft bakeries, these folks pump out dozens of different donuts from morning until night (they're open 'til 2a), the greatest of which is this chocolate and caramelized bacon topped number.
Half Smokes Chili Dogs
Lake & Irving, Uptown
Approximate Calorie Count: 626
Helmed by a pair of MN-born brothers who moved away to run far-flung restos (one in Hawaii, the other in NorCal), Lake & Irving isn't actually on Lake & Irving (WTF, right?), but is serving inventive takes on classic, edible Americana like these seemingly-simple wieners that were inspired by legendary Washington DC joint Ben's Chili Bowl and required a ton of R&D: the resulting Half Smokes are a blend of Duroc pork and beef topped with a super-moist chuck chili sauce.
Chipotle Chicken & Waffles 
Bluestem Bar and Table, Uptown
Approximate Calorie Count: 681
Located inside the Uptown organic spot French Meadow Bakery, BB&T's turning out a ton of stuff you want inside you, including this delicious tower of cornmeal-breaded fried chicken and organic corn waffle drizzled in pink peppercorn syrup, chipotle hot sauce, and creme fraiche.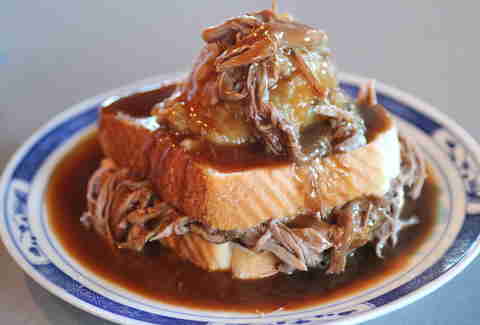 Hot Roast Beef Sandwich
Egg & Pie Diner, Chaska
Approximate Calorie Count: 1003
From a fella who cut his teeth on the greasy griddle of St. Paul's Mickey's on West 7th, Egg & Pie's a hearty throwback to the town diners of yesteryear, where things like "soy" and "low-fat" were actually bad for you, 'cause asking for them would likely get you smacked. Case in point: the hot roast beef sandwich is less of a sandwich and more of an appetizer to cardiac arrest, served with mashed taters and gravy.
Bloody Mary Ribs
Kings Wine Bar, Southwest
Approximate Calorie Count: 1264
We know what you're thinking: "If Kings gets one, why can't I get one, too?" Because chefs are for eating establishments, silly! "Kings has food?" Yeah dude, they have since Summer when they started cooking up things like these fall-off-the-bone Bloody Mary Ribs that are braised, fried, and then tossed in a traditional spicy Bloody mix seasoned with soy sauce.
The Appa Burger
The Rabbit Hole, Whittier
Approximate Calorie Count: 1281
The Rabbit Hole's an LA-punk-meets -Alice in Wonderland-themed gin joint/ eatery from the same Cali-bred couple that dropped The Left Handed Cook on this berg, and is stuffed with a shton of stylishly awesome stuff to look at/ consume, including a selection of burgers that they're calling Goobers (good + burger = Goober, apparently). This one's the Appa (w/ smoked bacon, bleu, Gruyere, bourbon onions, arugula, tomato jam, kimchi aioli & a fried egg) and is wayyy better than the other kind of Goobers. And Raisinets.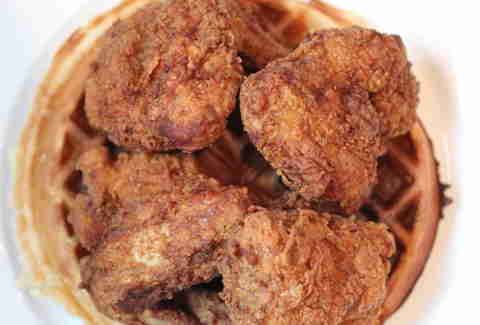 Chicken and Waffles
The Daily Diner, St Paul
Approximate Calorie Count: 1310
Proving that doing good isn't always good for you, Frogtown greasy spoon The Daily Diner will bust your gut while beautifying your karma, 'cause its epic portions (as evidenced by this super-filling, no frills plate of fried chicken & waffles) are partially made by participants in Union Gospel Mission's on-the-job skills-training program for would-be service industry-ers.
The Melch Me
Melch's Meat Wagon, Mobile
Approximate Calorie Count: 1400
Ask all those pioneers who died from dysentery just miles from Fort Kearny: wagons full of meat aren't always as glorious as they sound. Melch's, however, is run by a former health inspector, features post-Oregon Trail advances like "refrigeration", and boasts this  signature burger, which's just a pretzel bun, government cheese, chicken breast, BACON, burger, more government cheese, more pretzel bun.
Mother of All Burgers
B-52 Burgers & Brew, St Paul
Approximate Calorie Count: 4020
A Mendota Heights brick and mortar that boasts its own food truck-based counter part and slings what might just be America's gnarliest hamburger: the "Mother Of All Burgers" (aka M.O.A.B.) -- four 1/2lb patties are topped with four slices of cheese, four fried eggs, a 1/2lb of BBQ pulled pork, 12 slices of bacon, onion rings, and stuffed in an Italian loaf branded with the B-52 logo.