MSP's best under-the-radar burgers
Hey, we get it. Everyone loves the burgers at The Blue Door, 112 Eatery, and Matt's Bar... especially us. But there are, like, eleventy-million burgers in the Twin Cities (heck, we invented the Juicy Lucy!), and plenty of 'em are worth celebrating. So, we scoured the city to find five praise-worthy burgers you won't find on the "best" lists at CityPages, StarTribune, Pioneer Press, or anywhere else.
The Appa Burger
The Rabbit Hole, Whittier
From the same dudes behind The Left Handed Cook, this place actually slings Goobers (good + burger = ... well, you know). This one's the Appa (with smoked bacon, bleu, Gruyere, bourbon onions, arugula, tomato jam, kimchi aioli & a fried egg) and is wayyy better than the other kind of Goobers. And Raisinets.

The Melch Me
Melch's Meat Wagon, Mobile
People are always talking about being on/off the wagon. But if Melch's Meat Wagon were the wagon, no one would ever get off, because they serve what looks like a fairly standard bacon cheeseburger that actually ALSO HAS A WHOLE CHICKEN BREAST ON IT, and comes on a pretty sweet pretzel bun.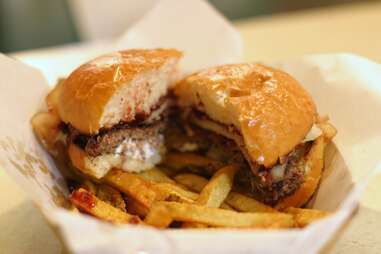 The Quarky Corki
Andy's Garage, Midtown Global Market
Nestled inside the Midtown Global Market, Andy's Garage is everything you'd want from a classic American greasy spoon-style burger joint, including The Quarky Corki, which combines cream cheese, spicy jam, and bacon.
The Mother of All Burgers
B-52 Burgers & Brew, St. Paul
This M.O.A.B. boasts four half-pound patties that're topped with four slices of cheese, four fried eggs, a half-pound of BBQ pulled pork, 12 slices of bacon, and onion rings, plus, in a move you'll Love (Shack), it's stuffed in an Italian loaf branded with the B-52 logo.
The Bison Burger
The Red Cow, Southwest
Ironically, the best burger at The Red Cow (don't be confused by the blue cow on the wall, you're in the right place) isn't made from cow at all, instead it boasts bison, figs, goat cheese, and perfectly caramelized onions.