5 new Twin Cities spots you should eat/drink at right now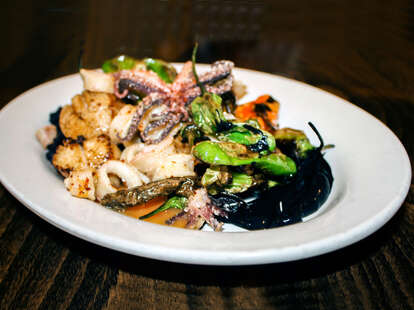 Stuck your head in the sand when the Vikings lost to the Browns, and haven't removed it since? Well, you totally should -- not so much because the Vikings have, err, gotten better since then, but because five incredibly dope spots ranging from a zombie food truck to a hard-cidery have opened, and we've got the skinny:
The Mill Northeast
Northeast
What was once Porky's is now The Mill, which actually was once Mill City Cafe. Yup. The revered Mill City Cafe is back from the dead and their linear, mod space is menu-ed with comfy grub like Wild Boar Grinders, a bacon, fried egg, cheddar & aioli-topped burger, and even cheese-curds from the Caves of Faribault. Oh, and your old friends Odell, Fulton, and Indeed are among the suds chilling on the tapline.
Undead Frank's Zombie Bites
Mobile
It doesn't take a lot of braaaaaiins to figure out what kind of eats the new zombie wheels from the dudes behind Psycho Suzi's are serving on the streets of our fair cities. Um... mozzarella sticks? Yup, but they're called Zombie Bites, plus there's a jalapeño slaw, and burrito-crossed-with-hot-sandwich-style melties stuffed with things like slow-cooked beer-chicken, green chilis, corn relish & melted cheddar and fontina, all on/in a grilled butter tortilla.
Honey & Rye Bakehouse
St. Louis Park
The byproduct of SF-trained baker and Mpls ad agency creative besties, Honey & Rye revamped a former dry-cleaner on Excelsior in the interest of bringing MSP a local, organic, and goddamn tasty arsenal of pastries ranging from pretzels to pies to cakes to cookies.
Sociable Cider Werks
Northeast
Looking to bring the Twin Cities hard cider brewing to the same level it's on in beer cities like Chicago, the cats at Sociable, the newest tenants in Northeast's veritable brewing corridor, are brewing more complex ciders which're dryer, made with fresh apples, and properly carbonated for a more beer-like draught experience. Word to the wise, they're open now, but are still waiting for their first batch of apple graffs to age, so in the meantime they've brewed-up some "nano batch beers" to compensate.
Di Noko's Bar Zia
Downtown East
In a momentarily unfortunate scenario, the best deep dish in town, Di Noko's, abruptly closed its SoMi doors with the promise it would reopen them Downtown. And, thank godallahzeusodin whoever own's Di Noko's, it just did, in the space that formerly housed piano-bar-of-some-repute, Tickles. Aside from the fact that their second-coming is an actual sit-down resto, it's also got a full bar, a host of solid suds, and the same, simple menu you've come to count on, and from which you'd be a fool not to order a straight-up deep dish with red sauce and minimal toppings.