One of the Twin Cities' most cutting-edge chefs takes his talents to the beach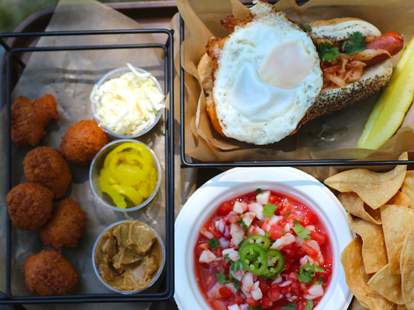 Always wanted to try rising-star chef Doug Flicker's cooking, but felt like Piccolo was too inaccessible? Then you've gotta get better at navigating Southwest Mpls, as it's right down Bryant Ave from Uptown, and actually super easy to get to pack your beach bag and hit Lake Nokomis for his uber-accessible waterfront food & beer stand Sandcastle.
This is Doug Flicker... Despite appearances he's totally not a wiener.
Drew Wood
And this is Flicker's decidedly un-Piccolo-ian resto, Sandcastle, which rebuilt a formerly derelict food stand on Lake Nokomis's big beach.
Flicker translated his brand of clever food to something even non-foodie beach-goers can appreciate. The result's a state fair-style menu (hot dogs/fish tacos/cheese curds) with a distinctly skewed perspective.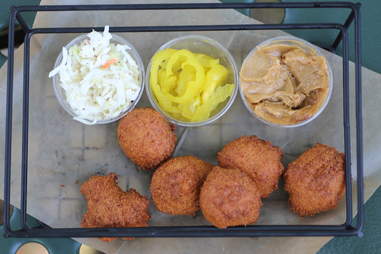 Drew Wood
That might look like your classic to-go window basket, but those balls are hushpuppies and the sides are banana pepper, slaw, and an ungodly decadent molasses butter -- the latter of which likely made those puppies so quiet in the first place.
Drew Wood
That's not salsa, son! It's a shrimp and octopus ceviche with pico de gallo, jalapenos, and a side of house corn chips.
Drew Wood
That's the Dog Flicker, which isn't just an annoying kid who probably deserves to get chomped. It's also Doug's signature dog: a beef frank topped with kimchi, cilantro, and a fried egg.
Drew Wood
They were even able to score a liquor license for the spot, which means beers can be had, so long as you stay within the resto's fenced-in patio. Fulton's Sweet Child of Vine and Lonely Blonde are on tap, with Pabst tallboys, Surly Furious, Blackthorn Cider, and Dos Equis rounding out the cooler.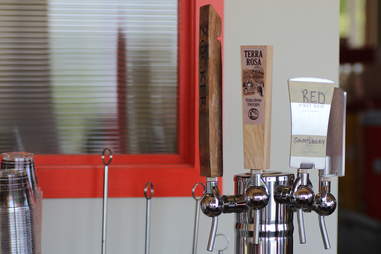 Drew Wood
For people who aren't as inclined to be hoppy, there's also vino on tap and by the bottle.
Drew Wood
And their grab-and-go window's got a cache of "novelty ice cream", proving that even if you're simply vanilla, Sandcastle isn't too inaccessible for you.