The heifers served in Red Cow probably wouldn't be so embarrassed if they knew that they'd one day be eaten in a stylishly industrial comfort-food haven helmed by a former partner in Blue Plate Restaurant Company (think The Lowry) who was also a member of Bobby Labonte's pit crew

The space is a shuttered Blockbuster, so they held the interior build-out to high standards to make up for clearing out rows of Jay Mohr rom-coms

They put an equal emphasis on crafty wines and suds, with tap towers flanked by C)2-charged tap wine coolers

Just to confuse you, this cow ISN'T TECHNICALLY EVEN RED

Their version of bar popcorn bathes Old Dutch puffcorn in a light caramel batter and tosses it with chopped bacon.

Deviled eggs are sooo 2012... Scotch eggs are the new hot thing, and have been seen holding hands with John Mayer all around Hollywood

These Beer Mussels swim in a broth of Fulton Sweet Child & blue cheese

Their fifteen burgers (which range from bison to lamb to duck) include the Manchego/ prosciutto/ piquilllo/ smoked aioli Barcelona, which you'll pronounce with a lisp, but only because your mouth is full of delicious burger

And just when you can't have any more ground meat..

Dig deep, because even the pastries are full of elk

Just your average salmon burger topped with white truffle aioli

After fifteen hamburgers, you'll want to move to sandwiches, which are different, and include this pork belly banh mi

This blue cheese-lathered hoagie is called the Buffalo Shrimp; AKA The Steve Tasker

This Deschutes Mirror Pond APA represents 1/36th of their beer selection, which also features locals like Lucid Foto and Harriet's West Side

And they've got 32 wines by the glass shootin' out dem spouts

Little known fact: Bollinger's been featured in like every other Bond flick. Even littler known fact: The dude who owns Red Cow loves Bond, which's why the capstone of the menu is The 007, a bottle of Bollinger and any two burgers for just $195! So yeah, prepare to see Red.
Recommended Video
This Mojito Hot Toddy Is the Destroyer of Colds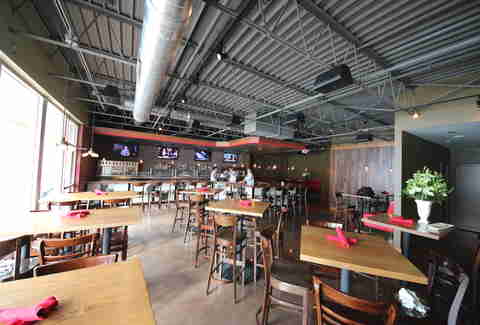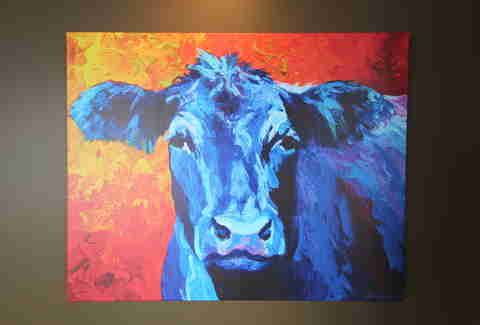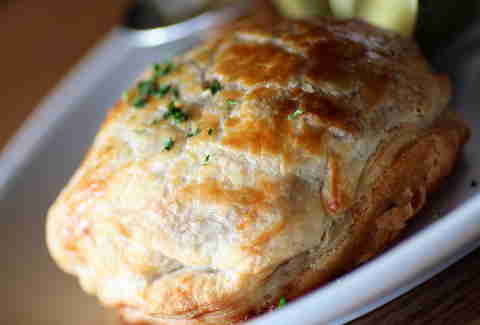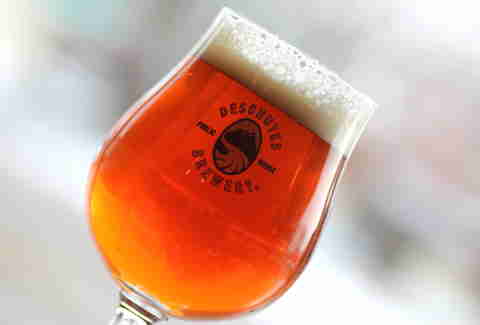 Previous Venue
Next Venue
Venue Description
1. Red Cow
3624 W 50th St, Minneapolis, MN 55410
The Red Cow on 50th Street specializes in fine burgers and specialty sandwiches, made with fresh ingredients and an inventive eye. The burger menu covers a wide range of proteins, always including grass-fed beef, but also including bison, turkey, lamb, and duck depending on availability. Toppings range from the expected (lettuce, cheese, etc) to the extreme (bone marrow, piquillo peppers), but the resulting concoctions are always juicy and delicious. Local Minneapolis beers (plus microbrews from around the country) are in heavy rotation at the bar, but you can also order from a selection of red and white wines, curated specially by the owner.