Sorry to break it to you, but when you order your cheeseburger with lettuce subbed in for buns, not only is it morally reprehensible, it also totally doesn't count as ordering off-menu. And, so as not to make you feel bad about your desire to go bunless, we've amassed the six best actual off-menu items in town, so next time you can dominate your order.
Recommended Video
Thrillist's Best (and the Rest): The Truth Behind the Saddest Cookbook Ever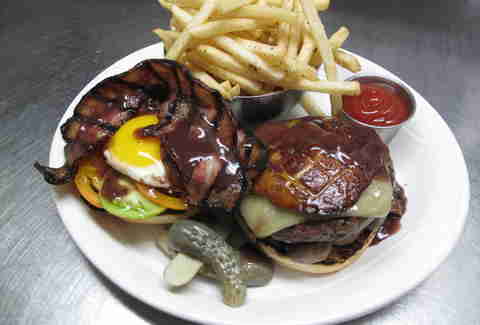 Speakeasy Burger, The Strip Club
St. Paul
St. Paul's Strip Club has long been known for it's Loaded Burger with cheese, mushrooms, bacon, and tomato, but come foie gras season (Fall), you can order it "Speakeasy", which adds an egg and -- you guessed it -- foie gras seared in port wine sauce.
Angel Mac, The Devil's Advocate
Downtown
The formerly meatball-only craft beer bar (with a penchant for arguing just for the hell of it) won't argue against you going off-script and demanding the Angel Mac, a smoked gouda mac 'n cheese with spinach and buffalo chicken balls.
Focaccia Crust Lunch Pizza, Isles Bun & Coffee
Uptown
The sweets-slingers at Isles Bun & Coffee in Uptown don't necessarily hide the fact that at around noon they throw whatever tasty scraps they've got from that morning's action on a rectangular focaccia crust, and, until it's sold out, become pizza-slingers, but they certainly don't have it on their menu.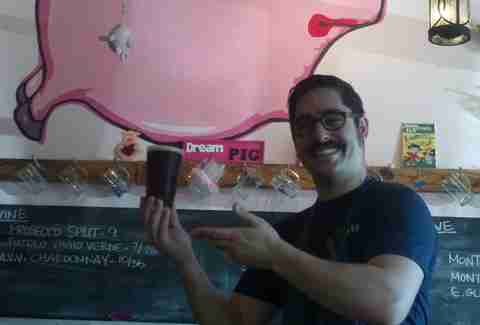 Fender Bender, Pig Ate My Pizza
Robbinsdale
Of all the crazy things the wunderkinds at Pig Ate My Pizza do with their food menu, one of their biggest innovations turns out to be their simplest. Scrap the beer menu next time and order a Fender Bender. They'll know exactly what you're talking about: a Surly Furious/Surly Bender house blend that manages to transcend both of its epic counterparts.
Nutella Panini, Punch Pizza
Northeast
Imagine thin Punch Pizza crust enveloping an unadulterated dollop of Nutella quesadilla-style, and then flash-cooked. Now walk into almost any Punch Pizza and order that off-menu dessert, and be very, very glad you did.

The Matty Special, Republic
Uptown and West Bank
Alright, so we feel kinda bad about ragging on your desire to go bunless, as the proprietor of craft beer juggernaut Republic, Matty O'Reilly, prefers sans-carbs on his go-to burg: a grass-fed burger with Brie cheese, a slab of pork belly, and a fried egg on top with a kale/quinoa/feta/tomato salad and sherry vinaigrette on the side. This one's so secret, there are no pictures of it ANYWHERE.