The NSA might know what you're emailing and talking about, but we know what you're thinking: Broders' Pasta Bar is great, but it'd be WAAAAY better if they had like 800 more bottles of wine on hand and octopus terrine on the menu. Turns out that Broders' was thinking the same thing, as TC's raddest pasta merchants snagged the out-of-biz bistro just down 50th and turned it into the gastro wine bar you totally thought they needed.
Recommended Video
Thrillist's Best (and the Rest): The Truth Behind the Saddest Cookbook Ever
Welcome to Terzo. Considering how tiny former tenant Pierre's Bistro seemed, it's actually pretty massive.
Walk through the front door and find the namesake vino bar. They sprinkled in all sorts of tasteful wine tchotchkes, from wine barrel rings that comprise the light fixtures to wine crates that help make up the bar.
The space is split by a stairway (hidden behind those fancy plates on the wall), and this side's got more wine barrel lights, wine vines that look like jagged crucifixes on the wall, and cork back rests on the church pew bench seating that runs the length of the room.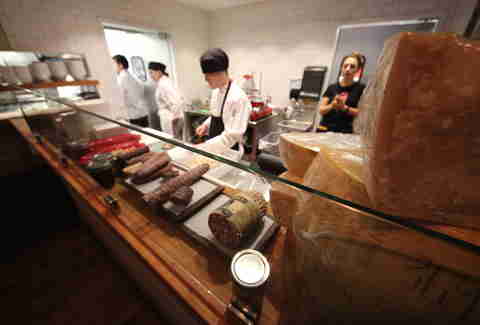 Although lots of peeps are talking vino at Terzo, let's talk about the radical menu first. Look at that gigantic hunk of cheese! And mmm, dry-aged meats.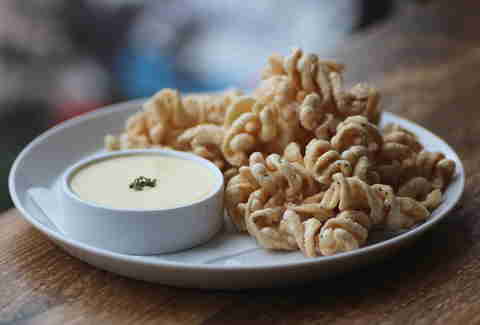 These puffed fusilli with fonduta -- basically the only pasta on the Terzo menu -- are like fancy Cheetos, so they're best enjoyed while pwning n00bs at Halo in your really rich friend's mom's really nice basement.
A carry-over staple from their market Broders' Cucina across the street, you're looking at the madly rich bruschetta del giorno with buffalo mozz.
Tomato and egg yolk bruschetta is everything that's good in the universe.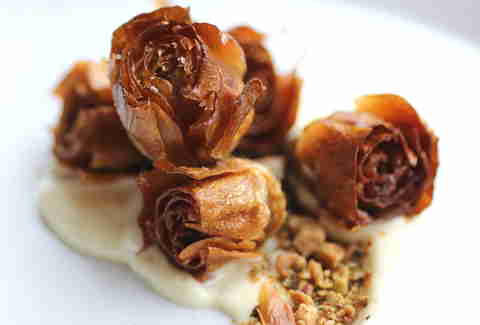 Those are not, in fact, the worst cared for roses ever. They're fried baby artichokes atop lemon aioli/almond and they are heavenly.
And what's peeking outta that can?
Why, its perfectly seared meaty hunks of tuna sott'olio with mache, pickled red onion, frisee, thyme, and tuna emulsion.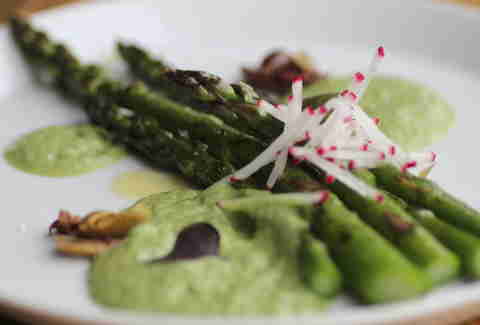 They've even managed to make asparagus look sexy by plating it with basil spuma (foam). Va va voom!
Upon completing this octopus terrine, the chef likely extended his spoon, dropped it, and walked off the stage.
That insanity is Pecorino Toscano flan with fava bean spuma, roasted morel mushrooms, "young" Pecorino, and basil oil.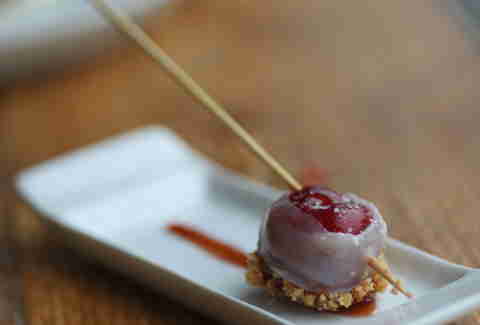 It's hard to believe the day's skewer del giorno is only $1, considering the elegant plating of this cherry wrapped in lardo.
Enough about the food. Those salvaged doors at the end of the dining room are the portal to Winelandia.
Behold Winelandia. Alright, nobody calls it that but us, but still, there are more than 1k bottles of wine in here... and even more big cheeses!
In the interest of making their enormous and heady cull of vino accessible to less experienced wine drinkers, they've got 20 tapped for by-the-glass/half-glass pours, and sell the entire stock (with many bottles from the Piemonte region of Italy) by the bottle or half-bottle.
And if you fell asleep for a second during that wine blurb, then let the fact that they have a primo selection of global craft taps wake you up... because, of course, when you secretly longed for octopus terrine and a thousand wines, it didn't mean you didn't also want beers.