Kings Wine Bar just got a shiny new chef, and a shiny new menu. We know what you're thinking: "If Kings gets one, why can't I get one, too?" Because chefs are for eating establishments, silly! "Kings has food?" Yes! They totally have food, and thanks to Andrew Kraft, they might have to change the name to Kings Food Bar, because his menu's pretty radical.
Recommended Video
Hopsy Gives You Fresh Beer From the Tap in the Comfort of Your Own Home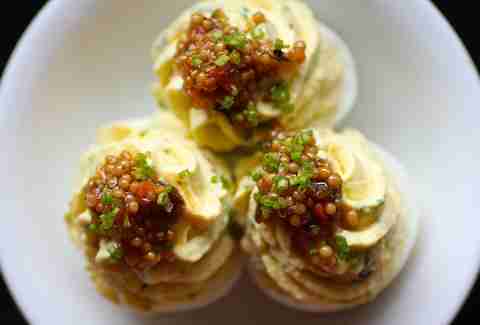 Given carte blanche to create his ideal neighborhood eatery-style menu, Kraft has twisted standards into transcendent eats that buoy Kings already solid vino rep with gnarly nosh. Those deviled eggs are actually quite heavenly (rimshot!), as they're whipped all fluffy-like and topped with giardiniere and caviar-looking mustard seeds.
But wait, who is this dude, anyways? He's a native-'Sotan who cheffed his way through the NYC culinary scene, and moved back to a brief stint at now-shuttered Birdhouse before getting tossed the proverbial keys to the Kings kitchen.
Suck on these monsters: normal-sized tater tots! Kraft's version are fritter-like and come with a thick bacon and bleu cheese dip.
All fish tacos are not created equal. Try one of these guys with spicy lime aioli, and you'll understand that in the rigid feudal caste system of fish tacos, Kings' are kings.
Kraft's inversion of ridiculously meat-filled bloodies, his fall-off-the-bone Bloody Mary ribs are braised and then cut to individual bones and fried on pick up, at which point they're tossed in a traditional spicy Bloody mix seasoned with soy sauce.
The Chicago Redhots are clearly not named after either of the city's baseball teams, but are a crunchy, juicy pair of skin-on wieners beneath spicy slaw.
Kings always had a decent burger, but it never had a chef with NYC meat-master Pat LaFrieda on speed dial. Now it has The Burger, made with 6oz of LaFrieda prime chuck. It's an immediate contender for our Best Burgers in MSP, with toppings (onions, Gruyere, bacon) that complement, but don't overpower the patty.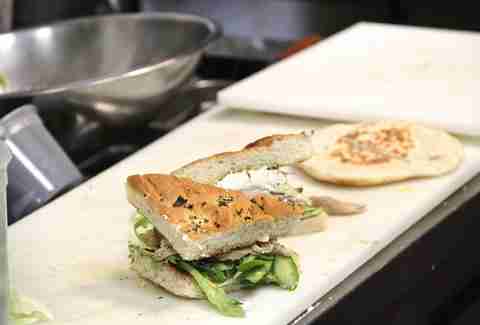 Kraft's even crafting uber-creative sammies and burgers that change weekly (the Goober had PB, pickles, and bacon while the upcoming Tete Du Cochon is made with pig's head) because, yes, Kings very definitely serves food... and no, you cannot have your own shiny new chef and menu just because Kings got one.