8 things you need to know about the new Spoon and Stable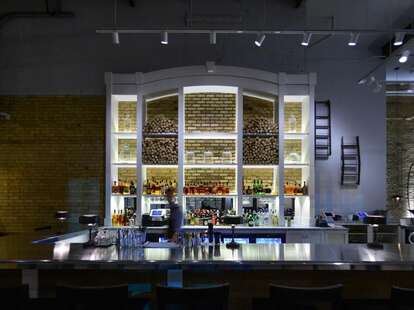 SPOON & STABLE/BONJWING PHOTOGRAPHY
It's hard to call a city's food scene underrated if James Beard Award winners, Michelin-starred chefs, or contestants from The Next Iron Chef are opening restaurants there. It's even harder -- but somehow we still did it! -- when someone like Gavin Kaysen, who's all three of those things, is opening a new spot, Spoon and Stable, in the Minneapolis this Sunday. Here're eight things you should know before you go...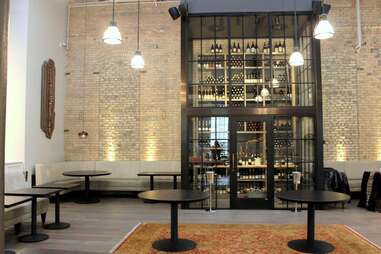 1. You'll be eating in a horse stable
The building was originally built in 1906 as a home for horses, something evidenced in a variety of ways including nails hammered deep into the all original brickwork, bricked-over walkways, and behind the bar is the actual, original feeding trough, Kaysen tells us. "We actually just built around it."
2. The chef is a kleptomaniac
The "stable" part of Spoon and Stable may come from its location, but the "spoon" part comes from the fact that Chef Kaysen likes to lift spoons from restaurants he finds inspiring. "I probably started to 'collect' them when I was 16 or 17," says Kaysen, "At a restaurant I worked at in Switzerland, I worked as a pastry cook and the pastry chef that I worked for [made me] do this perfect little scoop of ice cream and I was convinced that it was his spoon that did that. So, when he quit, I took the spoon."
3. The restaurant is setup for booze smuggling
While working on some of the plumbing in the building, they came across several Prohibition-era tunnels. The tunnels are all located deep beneath the windows and old stable doors and, according to Kaysen, "whoever covered them up basically threw 4x4s of lumber over it, then they poured sand over it, and then they poured cement over that. Whoever did it didn't do it properly and they did it pretty quickly."
4. There's an artist in the family
The restaurant displays a variety of interesting, eclectic art pieces, which include not only paintings, but also a variety of antique items, and... surprise!... the aforementioned collection of stolen spoons. The one thing that they all have in common is that they were all created or put together by Kaysen's brother.
5. Chef Kaysen basically = Gordon Ramsay
Kaysen's worked for some of the top culinary talent in the world, including Daniel Boulud and legendary British chef, Marco Pierre White, the chef who helped launch the career of the infamous Gordon Ramsay.
6. Dude likes to throw down
Kaysen not only competed in the revered Bocuse d'Or (basically the Olympics for food), he now serves as the head coach for team USA. He was also a competitor on the Food Network's first season of The Next Iron Chef and Chopped All-Stars. "Dinner service is really intense," says Kaysen, "and when you're doing a cooking competition, the level of intensity is magnified and I just get high off of it."
7. The Chef's Grandmother is on the menu
The restaurant will feature a special family-style menu that Chef Kaysen has built in homage to Sunday night dinners with his Grandmother, which will be known as "Dorothy's Dinners". Not only will they feature simpler, family-style meals, but some of them will also be based on his Grandmother's own recipes.
8. They're already getting some serious love...
... from the likes of celebrity chef Marcus Samuelsson who's visited the restaurant and said that S&S gets his vote for best new restaurant in the country, which should totally make it one of the 11 best new restaurants in MSP, right? Check back here next week and we'll tell you.
Sign up here for our daily MSP email and be the first to get all the food/drink/fun the Twin Cities have to offer.