Meet Thrillist MSP's Chef of the Year: Steven Brown
Chelsea Eul Fresh Coast Collective
Editor's Note: This article is part two of Thrillist Minneapolis' year-end look at the best of our city's local food and drink scene in 2016. In addition to our annual Best New Restaurants award, this year, we're spotlighting the men and women behind the dishes we love to tell you to eat. The Twin Cities' chef of the year has mentored many notable chefs and created a serious community. You can also check out our picks for the rest of America's 2016 Best Chefs, and then catch up on our Best New Restaurants.
Having spent the last seven years writing about the Twin Cities food scene, I've had the privilege of meeting and interviewing a lot of severely impressive people who are, in their own rights, inspirational. These are the people who work hard so that you can play hard and eat well. They work backward schedules and sacrifice a lot of their own personal family time so that you and yours can enjoy the literal fruits of their labors and that's deeply respectable. Some have gone so far as to equate the job of a professional chef to utter lunacy, but what is it that motivates these people to work at the highest levels of the hospitality industry?
Well, first it helps to have a mentor. A confidant. A friend who's willing to sit and hear you out, answer your questions, or just listen as you vent over a pint of beer. Someone who is incredibly relatable, knowledgeable, and extremely skilled in their craft. For a striking number of chefs in the Twin Cities, that person is Chef Steven Brown, our Thrillist MSP Chef of the Year for 2016.
Masterfully motivating and mingling
Whether they've worked for him directly or just know him through the tight knit chef's community, Chef Brown is the kind of person who has helped to shape, guide, and mature many of the people responsible for developing the MSP food scene as we know it today.
His newest restaurant, St. Genevieve, which opened late last year, is not only proof that Brown knows the hospitality industry, it's also a clear example of just how motivating he can be. To enjoy the masterfully crafted, yet elegantly straightforward menu along with a glass of carefully selected champagne is one thing, but to watch as Brown bounces around the restaurant chatting up table after table of familiar faces from the neighborhood is another. He's not just table touching as some managers are prone to do, he's mingling. He's enjoying his own personal space and it's hard to not have a smile on your face as he does it. It's genuine in a way that's rarely seen these days in any industry, but serves as a stark reminder of what the hospitality industry is all about.
The same can be said for Brown's other restaurant, Tilia. Now 6 years old, it's easily just as good as it was the day they first opened. That kind of consistency is rare and due in great part to Brown's ability to build a team with "the right balance of creativity and repetition."
A chef is a study in passion
Like a lot of people in the industry, Brown's love for food developed at an early age. As soon as he learned to read, he was digging through his mother's Betty Crocker cookbook from which he made a variety of adventurous dishes for his family. He got his first restaurant job at the age of 12, worked for his family's lumber company at 16, then studied business administration and international economics in college where he also spent time working in a kitchen. Before moving on to graduate school, Brown decided to bike across the country and evaluate his life goals.
"I decided to write a list about what I wanted from work. I didn't know what I wanted to do for work, but I wanted to know what I wanted from work. What do I expect to get from my job," he said. "I wrote that I wanted to work with my hands. I wrote that I wanted something with a career trajectory. I also wanted to be able to sustain myself, I wasn't necessarily looking to make a lot of money, and I wanted it to be something that if I was successful at that I could be a mentor to other people."
Realizing that life as a chef offered all of that, Brown decided that graduate school wasn't right for him. Instead, he went on to work at and lead some of the most prestigious kitchens in the Twin Cities. At the now closed Porter & Frye, Brown ran a kitchen that featured some of the best known culinary names in the Twin Cities, including the likes of James Winberg (Travail), Erik Anderson (Sea Change, Nashville's The Catbird Seat, Brut), Josh Habiger (Sea Change, The Catbird Seat), Jamie Malone (Sea Change, Brut), and Doug Flicker (Piccolo, Esker Grove) to name a few.
It was at Porter & Fry that Steven Brown first met Mike Brown (Travail). After moving home from Arizona (where he worked the famous Binkley's), Mike Brown found it hard to find work. "When I came back to town 9 years ago there were no jobs, especially for an out-of-towner. [Steven Brown] gave me a job he didn't really have open to give," Mike said.
Mike got a permanent spot on Chef Brown's line a few weeks later, but was still "broke as a joke" after being out of work for more than a month. Brown asked Mike how much cash he needed. "I said like $300 to make rent. We then walked to Wells Fargo downtown and he pulled $300 out of his own account and said, 'Pay me back when you can.' I worked for him every day he'd let me and eventually paid it back over a month or so."
That was easily the best $300 loan, Brown said, because he considers Mike to be more of a close friend than he does a mentee -- which is how he talks about many of the people who claim him as their mentor.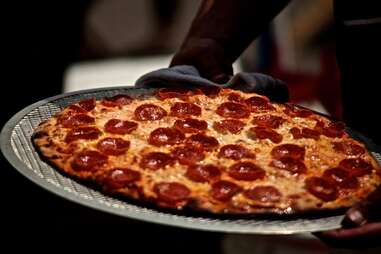 Mentoring MSP's best
In addition to both Tilia and St. Genevieve, Brown was also an investor for Red Wagon Pizza Co., one of the best pizza spots in the Twin Cities. Executive Chef and Owner Peter Campbell explained that in the early days of Red Wagon, Brown had allowed him to use Tilia's basement as a commissary kitchen and spent countless hours going over his business plans.
"I struggle to summarize the profound impact Steven has had on my life. In so many ways I would not be where I am today without him. He is a dear, dear friend and business partner," Campbell said.
Likewise, chefs Erick Harcey (Victory 44, Upton 43) and Landon Schoenefeld (formerly of Haute Dish and Nighthawks) cite Brown as a mentor figure who has profoundly impacted their careers and the MSP industry as a whole. Who knows how many other sous chefs and line cooks working in kitchens today do so because of Brown's impact. Without any stretch of the imagination, Twin Cities chefs could fill a novel with their feelings, an unending list of niceties, and learned life lessons from Chef Brown.
It's this level of knowledge and skill, coupled with an incredible capacity for generosity and hospitality, that truly allow a chef to stand out in a sea of white coats. It's with that in mind that Chef Steven Brown is Thrillist MSP's official and first ever, Chef of the Year.
Sign up here for our daily MSP email and be the first to get all the food/drink/fun the Twin Cities have to offer.
Keane Amdahl is a Twin Cities food writer who loves telling the stories of the people who inspire him. Follow along as he continues to be inspired on Twitter @FoodStoned.