The fact that it's hard to leave our houses for six months out of every year due to the weather can be really overwhelming. Fortunately, due to several modern advances in technology, we don't have to worry about starving to death while living the life of a shut-in (hooray!). With that in mind, we've gone through and put together our top delivery picks for your stay-at-home consideration.
Midway (& other locations)
Delivery service: Bite Squad

Once upon a time Chinese delivery could leave hungry eaters feeling a little... well, dissatisfied. But fortunately for everyone, we've entered into an age where we can get legitimate, fresh Szechuan cuisine delivered right to our door steps. Check out their classic dan dan Noodles, the twice cooked pork belly, or even the crispy duck.
Best Vietnamese: Vina
Richfield (& other locations)
Delivery service: DoorDash

Sometimes the only motivating factor in getting you to leave your house during the frigid months of winter is the promise of a giant steaming bowl of pho, but now you don't even have to bother putting on anything more than your favorite pair of sweatpants as it can be brought straight to you. Of course there are a lot of other options, but for now, let's just focus on the pho.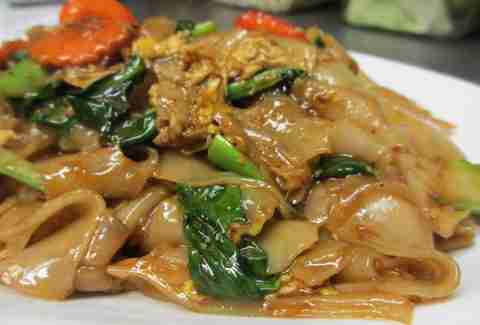 Whittier
Delivery service: Bite Squad

Thai delivery is a thing of beauty, especially when you can get it from one of the best Thai places in town. Delicious stuffed chicken wings, fresh spring rolls, spicy noodles, and a variety of aromatic curries can now be delivered directly to your doorstep which is certain to help make getting through the oncoming winter just a little bit easier.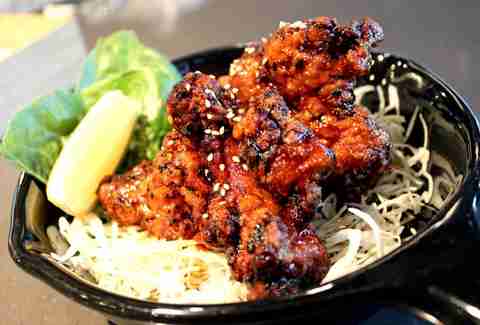 Downtown
Delivery service: Bite Squad

Japanese food can take a lot of different forms, but the folks over at Zen Box are crushing it when it comes to Japanese style bar food, which just so happens to go extremely well with a night in watching Netflix. Their wings are absolutely some of our favorites, and an order of tender, succulent grilled short ribs will never steer you wrong. You might also want to go for an order of the katsu curry or the chasu yakisoba.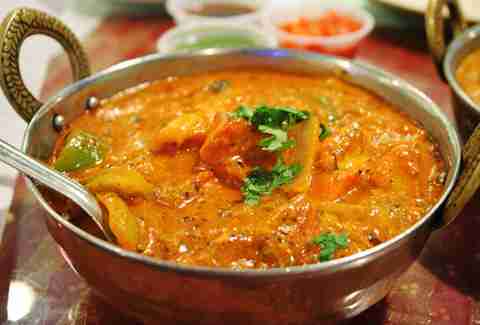 Longfellow
Delivery service: Bite Squad

A bowl of creamy, rich lamb curry or a lush chicken tikka masala with a side of crispy samosas are one hell of a way to keep your soul feeling satisfied during the cold months, and fortunately for us, we don't have to leave your house or dirty a dish to get them. This spot also has a slew of delicious vegetarian options making it a good delivery go to for the vegetarians in your life.
Phillips
Delivery service: Grub Hub

This place has a great mix of Mediterranean, Middle Eastern, and North African inspired options which is great when you're trying to mix things up a bit. The thought of having succulent and beautifully seasoned lamb shanks delivered to your door, along with hummus and pita and some delicious sambusas should keep you warm for a while.
Southwest
Delivery service: DoorDash

When you can have fresh-made pasta, gnocchi, or risotto delivered, you have to start wondering what the point of leaving your house is, especially when it's coming from one of the Twin Cities' best loved Italian restaurants. Seriously, when their Fettuccine con coniglio with house-made spinach & egg pasta and a ragu of braised rabbit legs, pancetta, white wine, tomatoes & herbs can be brought right to you, why go anywhere else ever again?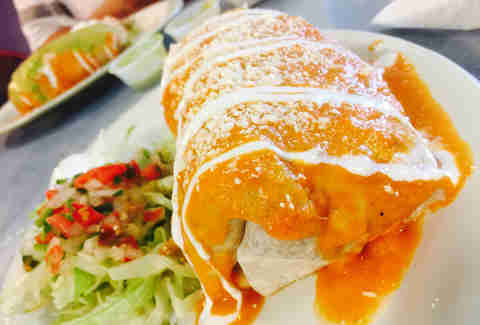 Nokomis
Delivery service: Bite Squad

We've often dreamed of the day that delicious burritos as big as our heads could be delivered to our houses, and if you didn't know this already, that time has arrived. If you're looking for something that's really going to hug your insides this winter, go with one of their chorizo burritos, in particular, go for the chorizo chimichanga.
Lyndale
Delivery service: RockIt Delivery and DoorDash

One of our favorite food trucks-turned-brick & mortar restaurants can now be enjoyed while having minimal interactions with the real world. Bangkok burritos, yum yum rice bowls, and the sweet onion stuffed falafel burger can all be achieved via bike messenger, so long as you live in the Uptown area (or you can also have them delivered via a regular vehicle if you happen to live outside of their biking radius, which is really just a win for everybody in the Twin Cities).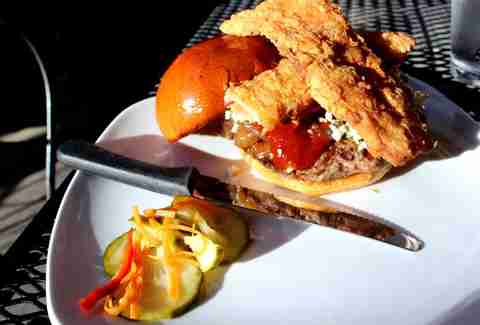 Lyndale
Delivery service: Bite Squad

Sometimes what you need is a big fat burger. Sometimes you need that burger to have chicken fried bacon on top, but what do you do when your needs might force you to have to leave your house? Well, fortunately that's no longer an issue as you can have one of our favorite Twin City burgers delivered right to you, so yeah, tragedy averted.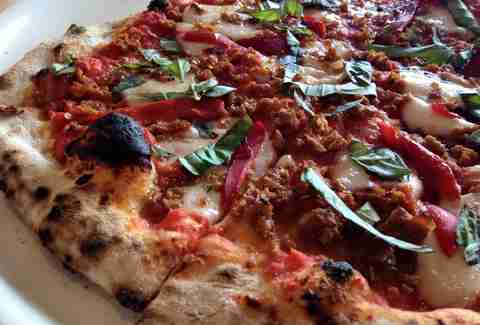 Northeast
Delivery service: Bite Squad

Pizza may be one of the easiest foods to acquire without having to leave your domicile, unless of course you're looking for a beautifully wood-fired Neapolitan-style pizza, in which case the difficulty level rises. Now, through the miracles of technology, science, and engineering, you can have all your favorite wood-fired pies brought straight to you, including the capricciosa pizza with mushrooms, artichokes, prosciutto, sausage, capers, mozzarella, and basil or the Melanzana pizza with eggplant, roasted red & yellow peppers, onions, mozzarella, goat cheese, and parsley.
Downtown
Delivery service: Dine In

That's right. No longer do you have to fry your own eggs, make your own omelets, or hash your own browns, because it can all be made and then delivered right to you. It may seem hard to believe, but doing late afternoon brunch with friends can now be done from the safety of your own couch, where the strength of the mimosas is up to you.
Sign up here for our daily Thrillist email, and get your fix of the best in food/drink/fun.
Keane Amdahl is a veteran Twin Cities food blogger who sometimes dreams of never having to leave his home. You can follow him on his path to becoming the perfect curmudgeon on Twitter @FoodStoned.