The 7 best bar snacks in the Twin Cities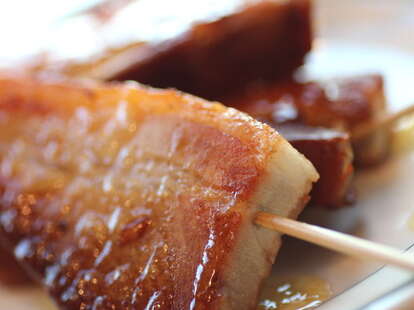 Drew Wood
Drew Wood
Consider this list of sweet bar eats -- including gourmet SPAM sliders, and caramel- & bacon-coated popcorn -- the reason you never eat communal bar peanuts again. Gross.
Best Appropriation of SPAM: House SPAM Sliders
The Torpedo Room at Eat St Social, Eat Street
Keen on the Midwest-meets-Polynesia vibe, the dudes at Eat Street Social have concocted a house made SPAM using uber-luxe Benton's Smoky Hams, and put it onto a super-soft bun, so you'll have the perfect oh-so-gloriously-salty complement to their super-sweet tikifestations.
Best Use Of An Item Available At All Gas Stations: Cheetos With Spicy Sauce
Marvel Bar, North Loop
You know what goes f-ing fantastic with a $12 Old-Fashioned or a $200 bowl of punch? Cheetos, straight from the bag with a super-secret off-menu side of spicy aioli dipping sauce.
Cleverest Follow-Up To A Gas Station Item: House-Pickled Eggs
Marvel Bar,North Loop
Because the city's odds-on best cocktail bar cannot hang their hat on specified Cheetos alone, when the mixologists aren't chipping ice and organizing their tools, they're brining their own eggs, to yellow, vinegar-y perfection.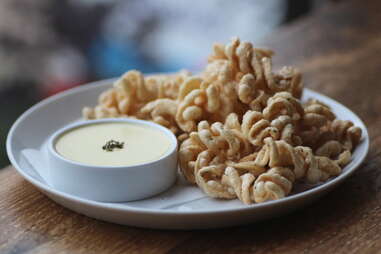 Most Addicting: Puffed Fusilli With Fonduta
Broders' Terzo Vino Bar, Lynnhurst
Apparently there's a way to cook fusilli, then dry it, then cook it again so that it becomes like puffcorn -- and the folk's at Broder's Terzo Vino Bar have figured that way out. Add to that some melty fonduta dipping sauce and you've got yourself some terrifyingly addicting biznass.
Best Version of a Grandma Staple: Deviled Eggs w/Giardiniere and Mustard Seeds
Kings Wine Bar, Kingfield
Yeah, yeah, yeah, we're sure your G-ma makes some wickedly devour-able DE's, but trust us when we tell you that Chef Andrew Kraft's epically-whipped version on Kings' new menu make hers seem like kid's play, which she should appreciate since kids don't usually have hip replacements.
Biggest Shape-Shifter: Caramel Puffcorn
Red Cow, Fulton
Red Cow's done something so deliciously simple it's sinister: they've taken store-bought Old Dutch Puffcorn, bathed it in light caramel batter, then tossed it in chopped bacon, and, in so doing, have elevated popcorn to glorious new heights.
Best Co-opting of the Tot Concept: Mason's Tots
Mason's Restaurant & Barre, Downtown
Whoever said a proper tot had to be shaped like a teeny potato cylinder is fired and replaced with the free-thinkers at Mason's, who've mashed hash-like taters into craggy lumps of flavorful-ness and added mustard cheese sauce for good measure.