The best frozen treats in the Twin Cities, from beer ice cream to old-school sundaes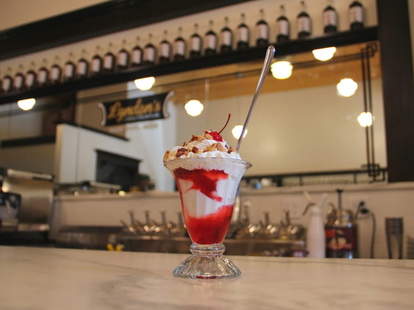 At long freaking last, it's hot outside, which means you need to consume something frozen immediately to cool yourself down/remind you what this state was like a month ago. And for that? Thrillist MSP's guide to the five best frozen indulgences in the Twin Cities.
Stout Oat Crunch Ice Cream
Sweet Science
865 Pierce Butler Route; 651.300.9333
The entire arsenal of St. Paul craft ice cream outfit Sweet Science is pretty freaking, uh, sweet, (try the Salted Caramel!) but the glory of all glories occurred when they had the bright idea to dump a bunch of Worthy Adversary (Fulton's Russian Imperial Stout) into their oat praline ice cream.
Anything from Froz Broz
FrozBroz.com
It's impossible to name one standout from the Froz Broz arsenal because the Mpls-based ice cream maker's been making/giving away one new flavor per week for the past two years. Find 'em online where they host weekly pint giveaway of flavors like Aged Gouda & Honey, and Coconut Hibiscus & Lime.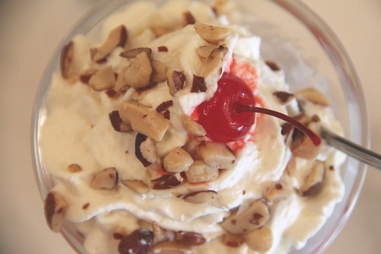 Tin Roof Sundae
Lynden's Soda Fountain
490 Hamiline Ave S; 651.235.5646
About as old-school as you can get whilst only being slightly more than a year old, Lynden's in St. Paul rocks an actual-phosphate-using soda fountain salvaged from a church basement, and serves up throwback sundaes like the Tin Roof, which's vanilla Wisconsin Chocolate Shoppe ice cream topped with Spanish peanuts and chocolate fudge.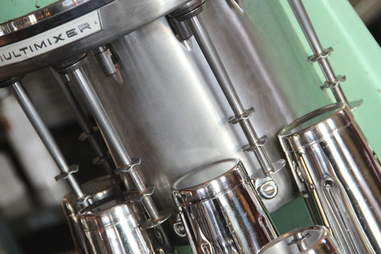 The Wonderful Ice Cream Suit
Ward 6
858 Payne Ave; East St. Paul; 651.348.8181
East St. Paul's neighborhood pub 'n grub Ward 6's adult milkshakes are whipped up by a commercial malt machine rescued from the dusty confines of some dude's garage. Try the Myer's Rum and white creme de cacao Wonderful Ice Cream Suit, though this one will cost more than a few JC Penneys.
Heggies Frozen Pizza
Heggies Pizza
1115 6th Ave NE; Milaca; 320.982.7777
Pizza that pairs with booze and gasoline is versatile cuisine. The maker of extraordinary everyman frozen pizza has its stuff available at bars and select gas stations, so get your ass to a Holiday, buy a sausage/green pepper Deluxe, house that sucker, and learn why Heggies is the truth.