It's long overdue that we point out that the Twin Cities are in the midst of a beautiful, beef-fueled renaissance (the best kind of renaissance). With the arrival of several chef-driven burgers that forgo extraneous condiments and toppings in lieu of quality beef, cheese, and little else, the art of burger making has been stacked up to a whole other level. To wit, we present you with a list of 2015's best new burgers to hit Twin Town since Matt's (or the 5-8 if you're one of those) started slinging Juicy Lucys.

Big Kahuna burger
Co-op Creamery Neighborhood Café
Address and Info
Seward
When it comes to new burgers in town, this is one of the newest, but it's also one of the absolute best. The 'Big Kahuna' burger comes with a rich grass-fed beef patty served on a buttery bun with tangy Thousand Island dressing, cheddar cheese, and crispy fried onion rings. The onions add a nice crunch and big onion flavor, which, in conjunction with the Thousand Island, plays a perfect foil to the succulent beef and melty cheese.
The Burger
Constantine
Address and Info
Downtown
This burger sure doesn't look like much, but it's the perfect play on garbage drive through burgers. The bun is super soft, yet its interior sports a golden, buttery crust. The patty is thin and seared super hard giving it an extremely caramelized crispy exterior and huge flavor. The white cheddar cheese and onions are the only accompaniment this burger needs, and ringing in at only $5, it's easily one of the best burger deals in town. It also comes wrapped in its own bar branded paper for that added drive through touch making it the perfect companion to a night of serious drinking.
Prime House ground burger
4 Bells
Address and Info
Loring Park
This is one of the more complex new additions to the Minneapolis burger scene, but despite all that it has going on, it's completely harmonious and rife with beefy goodness. Served on a soft, sesame seed bun, this patty is both rich and juicy topped with melted cheddar cheese, shredded lettuce which delivers a nice crispness, chili relish for a decent hit of heat, and a fried green tomato for added acidity and amazing crunch. This burger could easily be one of our new go to favorites.
The 2.0
Il Foro
Address and Info
Downtown
This burger is the younger cousin to the burger that started it all, the Parlour burger. Both burgers were created by Chef Joe Rolle, but this one seeks to improve upon its older counterpart by changing the grind from ground sirloin, ribeye, and brisket to sirloin, brisket, and short rib while also adding a second patty. Of course it comes draped in volcanic American cheese and served with a side of house-made pickles, but unlike its predecessor, this one also comes with a side of unimaginably crispy potato rounds.
The double cheeseburger
Nighthawks
Address and Info
Kingfield
Chef Landon Schoenefeld's flagship restaurant, Haute Dish, is widely regarded for having one of the best burgers in the Twin Cities, yet his newest follow up restaurant is plating up a worthy, yet completely different alternative. This fairly straightforward double cheeseburger (although you can order it as a single patty) comes oozing with cheese, topped with griddled onions, pickles, and a swatch of that perfect creamy and tangy special sauce reminiscent of what you might find at some bigger burger chains.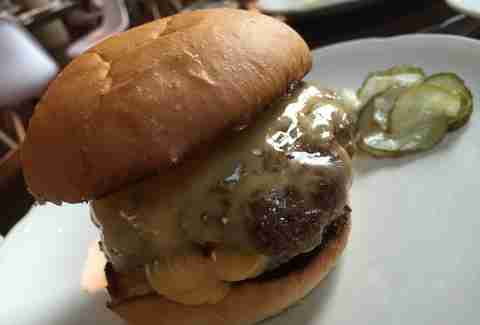 The cheeseburger
Saint Dinette
Address and Info
Downtown St. Paul
This burger is a masterclass in simplicity yet it stands among the mightiest of the griddled meat patties and is easily one of the Twin Cities' strongest showings. Simply put, it's a rich and succulent double burger engulfed in molten cheddar cheese with a side of sweet pickles. The bun is soft and the interior has a beautifully grilled, buttered crust while the patties themselves have a good hard sear leaving the inside moist and pink. You should definitely also order a side of their crispy, salty, crinkle cut fries with this to truly have a transcendent experience.
Revival Burger
Revival
Address and Info
Kingfield
If there was ever anyone that needed convincing of something otherworldly, this spectacular burger could stand as no better evidence. The soft, buttery bun holds two thick and juicy beef patties dripping with melted American cheese and a touch of mayo along with some sweet bread & butter pickles which provide a pleasant level of brightness and acidity to the burger. While the menu reads that bacon is 'optional' when it comes to this burger, it isn't. Unlike most bacon-y burgers where the bacon all pulls out with the first bite, this bacon is so thick cut and well-cooked that you're actually able to bite through it allowing you to get thick, fatty, smokey, salty chucks of bacon with each mouthful. If this burger doesn't make every single 'best of burger' list from now on, somebody's doing something very, very wrong.
Sign up here for our daily MSP email and be the first to get all the food/drink/fun the Twin Cities have to offer.
Keane Amdahl is a veteran Twin Cities food writer who could probably use a heart transplant after all the burgers he's eaten. Follow him on Twitter @FoodStoned.