The Best Spots for a Walleye Sandwich in the Twin Cities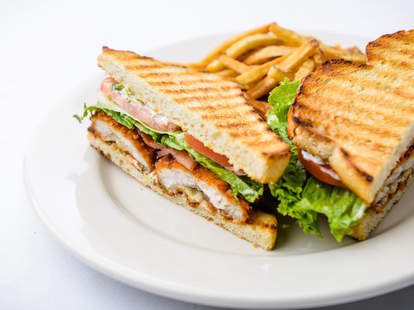 Courtesy of Hell's Kitchen
There's a ton of reverence in our area for Minnesota's beloved state fish, the humble walleye. But if there's anything we love more than hooking one in season, it's devouring one in sandwich form. And though we don't have an official state sandwich (yet), the traditional walleye version could easily fit the bill -- at least until someone makes a walleye Juicy Lucy (patent pending). But until that day comes, check out these Twin Cities tasty takes on the classic walleye sandwich.
Downtown
A fairly basic BLT might just be one of the world's greatest examples of how something simple can still be absolutely perfect. But when you stick a crispy fillet of fresh walleye up in the mix, it suddenly becomes a little more, which is exactly what Hell's Kitchen did when creating its "MN icon: Walleye BLT." Still perfect, but with that added taste of home. If you're looking to spruce up this sandwich, add some guacamole for just $1.95.
Keane Amdahl/Thrillist
Nokomis
The walleye hoagie at this South Minneapolis hot spot tows the line between old-school classic and something that's just a touch more modern -- largely because of its sauce. Hand-breaded and heartily seasoned, this perfectly fried fillet comes served on a nice, soft hoagie roll with some crisp iceberg lettuce, a tomato, and a hit of spicy, yet creamy, jalapeño tartar sauce.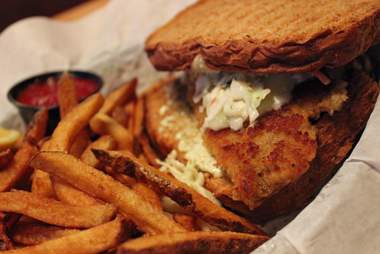 Keane Amdahl/Thrillist
Nokomis
Sometimes a classic is best served with a twist. The sandwich at Buster's on 28th is a fun play on two famed favorites -- the walleye sandwich and the Rachel -- and ultimately does both justice. Lightly breaded walleye is gently fried and served atop toasted pumpernickel bread with melted Swiss cheese, creamy coleslaw, and a hint of tartar sauce.
Downtown
Seeing as this place has been around since 1934, it should probably come as no surprise to anyone that Minneapolis' oldest family-owned bar also serves one of the best takes on one of Minnesota's favorite sandwiches. Simply battered and fried using its own beer, and served on a grilled bun with lettuce, tomato, and a side of dill-caper tartar sauce, this walleye sandwich is the perfect homage to Minnesota.
Keane Amdahl/Thrillist
Downtown
This decidedly different take on the walleye sandwich brings together a fusion of ideas into one incredibly rich fish burger, studded with bright flavors that really help to make the whole thing pop. The patty manages to retain some nice chunks of white, flaky walleye -- beautifully accented with the lemon-tarragon rémoulade -- while the acidity from the pickled slaw brings it all together. Add in the fact that it's all served on an egg bun, and you have one hell of a sandwich that's sure to perk up those tastebuds.
Summit Hill
This sandwich comes with options, and who doesn't love a little bit of choice when it comes to their walleye? Served on a ciabatta bun, you can get it either grilled, blackened, or deep-fried, and served with your choice of traditional tartar sauce, jalapeño tartar sauce, or a Béarnaise. Don't worry, the standard lettuce & tomato accoutrement are still part of the package deal. Of course, if you're not feeling the famous sandwich, Tavern on Grand offers some more walleye options: take your pick between the walleye tacos, the WBLT, or toss the fish in some fettuccine alfredo. There's also the choice to just get it as a side.
Keane Amdahl/Thrillist
Como
At the Paddy Shack you can get its fish sandwich (called the Fishwich) with either cod or walleye, but because we're good little Minnesotans, we like to go with the walleye. The beer batter is perfectly light, yet crispy enough, and the whole thing is served with gooey cheese, shredded lettuce, and a delicious tartar sauce. And should you be on one of those weird low-carb diets, you can just get the walleye as part of the fish & chips. Then again, it's still fried fish, so maybe that low-carb diet isn't so low... sandwich or not.
 
Como/Southwest
This might be the most humble walleye sandwich on our list. But seriously, do not count it out, because it's definitely one of the best. While it may come served on a dry white bun with only a few pickles and a lemon wedge, the fish is perfectly cooked, and the batter is absolutely spot-on. You also have your choice between a traditional tartar sauce or the special key lime jalapeño tartar sauce. Both are really good, and it was very hard to pick a favorite, so you'll just have to keep on going back and try them both enough times to come to an appropriate conclusion on your own.
Sign up here for our daily MSP email and be the first to get all the food/drink/fun the Twin Cities have to offer.
Keane Amdahl is a veteran Twin Cities food writer and freshwater fish connoisseur. Follow him and his fishy adventures on Twitter @FoodStoned.