If you can't get enough great burgers then... um, your pants probably all have elastic waistbands... and you've probably tried all the burgers on our list of MSP's best -- and maybe even the meat-wiches that made the lists in the Star Tribune, the Pioneer Press, and Mpls.St.Paul Magazine -- but, don't worry, there are still some you may not have tried. In fact, there're at least 10 on our list of Minneapolis' most underrated burgers...
The Appa
The Rabbit Hole (address and info)
Phillips
Chef Thomas Kim certainly knows how to throw down when it comes to burgers. This Koreatown-style spot in South Minneapolis is slinging some of the most unique and mouthwatering burgers you can get, including The Appa, which comes w/ a beefy patty, smoked bacon, bleu cheese, Gruyère, bourbon onions, arugula, tomato jam, kimchi aioli & a fried egg.
The Butcher
Hazel's Northeast (address and info)
Northeast
The burgers at this Northeast bistro haven't made anyone's list yet, but between The Butcher (made w/ a 6oz steak patty, horseradish, cheddar & pancetta) and specialty burgers like one made w/ ground bacon & pork sausage, then stuffed full of pepper jack & topped with pulled pork, they certainly make this list.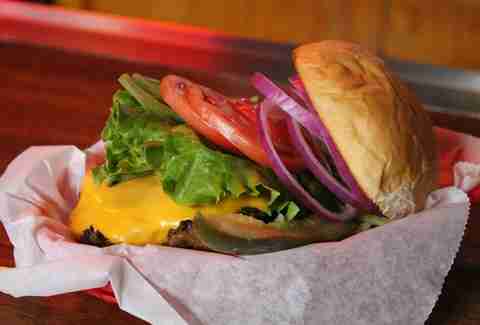 Classic Cheeseburger
Triple Rock Social Club (address and info)
West Bank
Burgers, beer, and punk rock: one of life's perfect trifectas. So load up the jukebox with that roll of quarters that you stashed away to "do laundry" and get your face, hands, and a few napkins (but hopefully not your shirt!) dirty digging into a classic lettuce, tomato & onion-topped cheeseburger, invariably served with a side of PBR!
The Burger
Kings Wine Bar (address and info)
Southwest
Just because they have "wine bar" in their name doesn't mean that this South Minneapolis establishment is too fancy for a badass burger. Their signature meat-disc comes w/ a locally sourced Gouda, smoked onions & aioli, and if that doesn't sound good they have weekly rotating burger options, so stop wine-ing.
Grass-fed Burger
Common Roots Cafe (address and info)
Uptown
One way to be sure CRC means business when they talk about being committed to local food is to check out the garden they've got out back, or just try their aioli-topped Grass-fed Burger w/ caramelized onions, roasted mushrooms & lettuce, at least some of which probably come from said garden.
Cheeseburger
Whitey's Saloon (address and info)
Northeast
This simple patty, cooked the way you want it, w/ a slice of cheese, lettuce, tomatoes & onions is a blue-collar beast, especially if you get it with a decidedly non-craft beer and the tatter-tots pictured above.
Buster Burger
Buster's on 28th (address and info)
Powderhorn
After recovering from a fire that forced them to shut down, Buster's is back to making badass burgers on buns made at The Baker's Wife right next door. Don't miss their namesake number made w/ a half pound of ground Angus chuck & pickle aioli.
French Onion
Red Cow (address and info)
Southwest
The challenge at this burger slinger is picking the best one, but we're going with the French Onion w/ locally raised, grass-fed beef, white cheddar, french onions & chive sour cream. But that's only if you can't get one of their weekly specials, which they only make about a dozen of, so... um, yeah, how 'bout that French Onion burger, huh?
The Dragon Burger
George & the Dragon (address and info)
Southwest
Getting a table at this always packed English pub is just part of your... sorry'boutthis!... dragon quest, but the effort is totally worth it for this pepper jack-/chipotle mayo-/pickled peppers-topped meat-wich that's so spicy you'll probably have to wait a while before anyone gives you a peck. Expect Peter, of course.
Eli's Truffle Burger
Eli's East Food & Cocktails (address and info)
Northeast
While there are technically two Eli's locations in Minneapolis, it's the Northeast location that knocks it out of the park w/ things like Eli's Truffle Burger, which comes w/ mushroom-leek confit, gooey provolone, and actually makes good use of truffle oil (shocking, we know!). They've also got specialty options like their onion-topped Venison Dago burger, above.
Sign up here for our daily MSP email and be the first to get all the food/drink/fun the Twin Cities have to offer.