Fried chicken & waffles w/ chipotle hot sauce in a restaurant that's INSIDE another restaurant
Grab your babooshka and head to the Russian nesting doll of restaurants, Bluestem Bar & Table, located inside the Uptown organic spot French Meadow Bakery. Just rush in to the back of FMB's dining room, and get at their crab cake Bennies and duck confit flatbreads.
When we said Bluestem was inside French Meadow, this is what we meant. See that in the back left corner? That's Bluestem's front door.
Just because they've tucked Bluestem behind French Meadow doesn't mean it's going to be tiny. Behold: one of the bigger dining rooms on Lyndale.
And just when you think you've gotten to the back... boom! A secluded dining room hidden behind a custom wine cabinet guarded by Buddha, though, since you won't see him until you round the corner, he's really more like a "BOO!ddha".
That towering Adonis is just cornmeal-breaded fried chicken on an organic corn waffle slathered in pink peppercorn syrup, chipotle hot sauce, and creme fraiche.
Like the one at conjoined sister shop French Meadow, Bluestem's menu primarly focuses on organic ingredients, and, while that can mean vegan/vegetarian, it also means an epic Crab Cake Benedict.
The literal meat of the menu is the Market Table section that's got stuff like the Grass Run Farms Steak Frites.
The microgreen flight is sourced from a farm owned by one of their bartenders. Other, uh, less vegan small plates include a Red & Green Bacon Egg Sandwich, Wild Acres Duck Confit Flatbread, and Poached Schultz Egg & Chicken Chorizo Hash.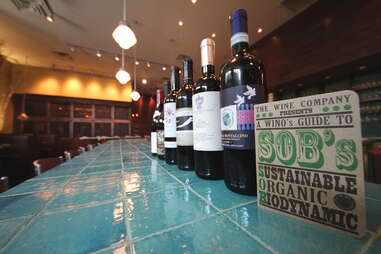 Their wines are largely SOBs, not because they think they're better than other wines, but because they're almost all Sustainable, Organic, & Biodynamic, which means they're made using zero chemicals and pesticides.
Should you be an SOB not into SOBs, they're also pouring non-organic brews, ranging from Black Butte Porter to Furious -- giving you a great many options on which to blow your nest egg.