11 reasons you must go to Heidi's RIGHT NOW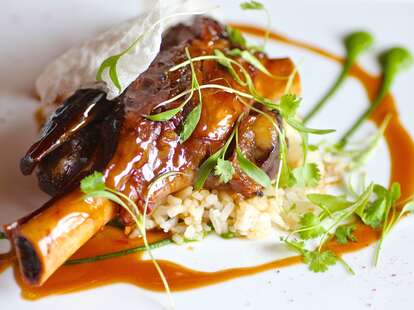 If you've never dined at Heidi's Minneapolis, it might be because you figured it was intimidating, like the restaurant version of a guy who wears sunglasses INDOORS! Well, here's a lil' secret for ya: the joint that's built its rep around peddling choice grub whilst also being unapproachable to normal peeps? It's actually a swell place for the everyman.
Here it is. The facade that's always intimidated the hell out of you. Now, here're the 11 reasons why it totally shouldn't anymore.
No. 11: The Dining Room Is Radical
Raise your hand if what you expected to see was pink chandeliers, a graffiti wall, and a hulking tree sculpture.
No. 10: They've Made Risotto Interesting
Buried deep beneath those caramelized onions is some of the most decadent damn risotto you will ever taste. It's a hefty portion, yet you will inhale it. SIDENOTE: There is also an appetizer called the Apple Orgy. Nuff said.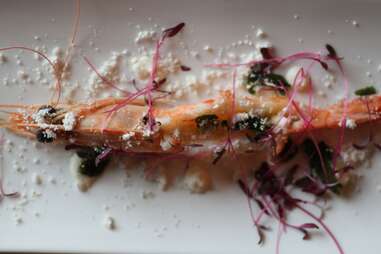 No. 9: The Four-Course Dinner Menu
That chilled, poached langoustine can be 25% of your meal if you take advantage of their pick-your-poison grid wherein you choose one of four single bites, appetizers, entrees, and desserts and call it a sub-$50 feast.
No. 8: Ridiculous Desserts
You ever tried a Hibiscus Meringue with lavender syrup sidled by spice cake crumble? Yup.
No. 7: Pickled Tongue Ravioli
Because pickled-beef-tongue black-squid ravioli is as insane-tasting as it is insane-sounding/ looking.
No. 6: Their Spectacular Patio
That wall on the right's soon-to-be covered by an Taylor Lindgren-crafted mural, but even without, their building spanning deck's solid refuge from those rapscallion Lyn-Lake cyclists.
No. 5: The Pre-Theater Menu
If resisting the temptation to spell theater "theatre" on their new $28, three-course pre-show menu doesn't show some goddamn everyman-ness, then we don't know what does. Wait, yes we do. That massive, meaty hunk of pork belly-looking seared tilefish in cauliflower sauce, which is one option.
No. 4: This Massive Lambshank
Because it's so damn primal that you'll try to pick it up and eat it like a caveman only to find that the perfectly prepared meat'll drop right off the bone and be tender enough to cut with your fork.
No. 3: The Bar Program
A tiny bar does not a bad bar make, as evidenced by mixology mastermind Trish Gavin's list of scratch cocktails that hits on everything from the Bobby Burns (Dewar's/ sweet vermouth/ Benedictine) to The Oaxaca This Guey with Sauza anejo, honey, Chartreuse, and Laphroaig rinse.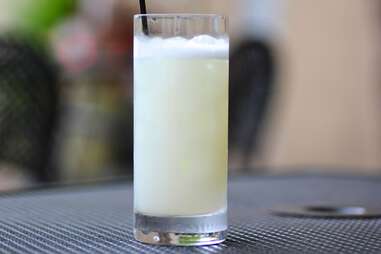 More from the bar... The $20 Ramos Gin Fizz is worth every penny as its prep takes a minimum of eight minutes.
No. 2: The Insanely Affordable Thursday Happy Hour
That plate right there? It's chicken wings, trout tacos, and a tenderloin slider, and it only runs you $8. EIGHT DOLLARS.
No. 1: This Guy
Despite what chef/ owner Stewart Woodman's "Shefzilla" persona and an admitted chip on his shoulder have led peeps to believe, he assures you his beef is not with any customers. When you go in, you're just getting his hands-down best work.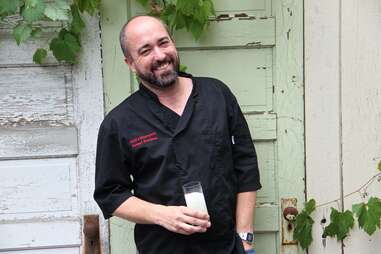 He even smiles! He just won't be doing much of it while you're at Heidi's since he'll be utilizing his outsized talent (dude's worked for Eric Ripert AND Jean-Georges Vongerichten) to prepare food for you, the dude who ate Froot Loops for lunch every day this week. So, yeah, come to think of it... maybe you're right to be intimidated by Heidi's.