Helmed by a pair of MN-born brothers who moved away to run far-flung restos (one in Hawaii, the other in NorCal), Lake & Irving is serving inventive takes on classic, edible Americana like hamburgers, pork chops, etc., but isn't actually on Lake & Irving (WTF, right?). It's actually on Lake between Irving and Humboldt. But don't worry, as you can see below, that's pretty much the only problem with this place...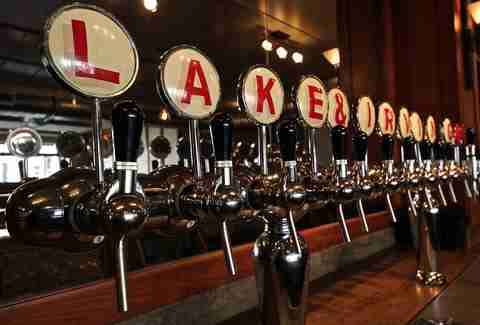 L&I is so laid back they don't even bother with traditional handles, and instead just use the taps to spell the name of the place. 
That said, ordering the second "i" in "Irving" is not a total crapshoot, thanks to this handy and colorful chart, which tells you that i2 is, in fact, Indeed's Midnight Ryder.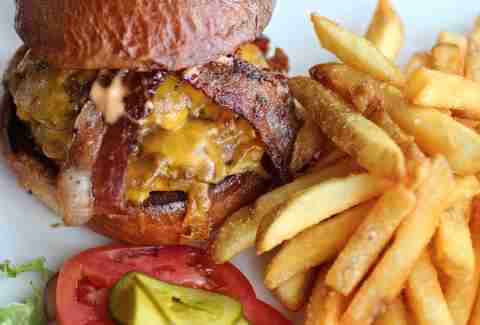 Even better than colorful chalkboards is the waistline-expanding food… like their Pat LaFrieda cheeseburger on an ungodly-fresh Patisserie 46 brioche topped with cheddar, house-pickles, and Compart Farms Duroc bacon.
Said burger was crafted in the open kitchen that overlooks the bulk of L&I's understated, elegant digs.
These seemingly-simple wieners are inspired by legendary Washington DC joint Ben's Chili Bowl and actually required a ton of R&D: the resulting Half Smokes are a half-and-half blend of Duroc pork and beef hot dog cooked to crispy-skinned perfection and topped with a super-moist chuck chili sauce.
The evening menu includes Lobster Tostada and Misoyaki Salmon, and this Smoked Pork Chop basted w/ a gochujang glaze and served on a pool of kabocha puree.
Step away from the pork chops… and over to the understated bar.
Now stare deeply into this High West Double Rye/ cane sugar/ Angostura/ orange Old Fashioned. Then snap out of it and drink it because it tastes even better than it looks.
Their gin martini is classic, but because it's made with Hayman's Old Tom Gin, it doesn't assail you with pininess, instead falling the way of subtle sweetness.
Too manly for a pink drink? Well, lucky for you, this L&I original, the Le Sureau, w/ Prairie Organic Vodka, St. Germain, lavender simple syrup, grapefruit juice & lemon is more of peach color. Whew!
Also lucky for you: this glimpse of Lake & Irving (the restaurant...  since there's, like, no way you'll ever find it if you're looking at the intersection of Lake & Irving) -- is like two whole buildings away!