This Fourth of July, you're going to celebrate America's independence from the tyrannical Brits like any self-respecting United Statesian should: by eating hot dogs and lighting illegal Chinese fireworks and drinking beers with American flags on them. In order to properly honor the first and most important of those three, we at Thrillist beset some of the nation's premier chefs with the charge of crafting the gnarliest, most badassly patriotic hot dogs imaginable. Your job? To stop ogling their wieners long enough to vote for the best in America

Representing team MN is JD Fratzke of St. Paul's acclaimed Strip Club Meat & Fish. One of the most innovative grass-fed meat-slingers in the state, who taught at least one other (cough, cough, celebrity) chef in this competition lots of what he knows, JD literally threw the kitchen at the Thousand Hills Farm grass-fed dog & crawdad & Sicilian red sauce aioli & kohlrabi & green garlic slaw behemoth he calls the Craw Dog... but which you can just call "the winner of this competition." Cast your vote (and spy the rest of the choices) right here, but first check this monster out:
The secret to the Craw Dog is the live crawdads... probably the only ones not super into this dog.
Once given a nice hot bath, they become much more amenable to their inclusion.
With the help of a magical skill called cooking, the crawdads become a slaw-like chow chow made of "pickled Cajun trinity" (bell pepper, celery, onion), mustard seeds, jalapeno, garlic, cayenne, and cumin.
Equally integral to Fratzke's wiener? Wieners. Namely 1/4lb Thousand Hills Farm grass-feds.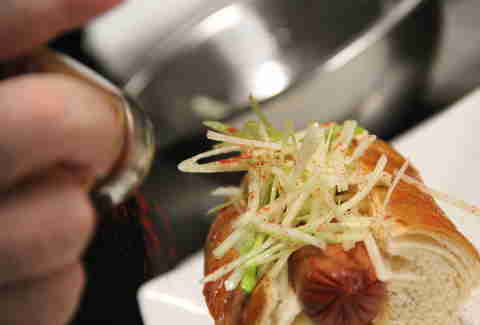 The Craw Dog's served on a Coney bun that's slathered with a Sicilian red sauce aioli, then wienered, then topped with kohlrabi and green garlic slaw... all prior to the actual chow chow.
Once the chow chow hits, it's almost time to... uh… chow chow it.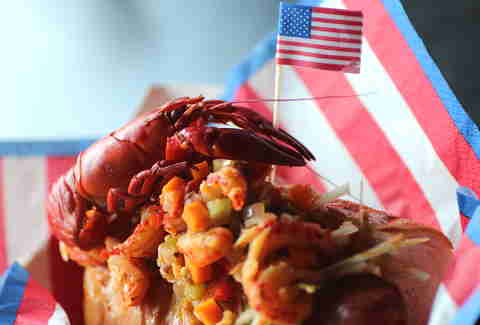 And because what's more dern American than placing an entire animal atop a 1/4lb hot dog already covered in said animal, Fratzke crowns his wiener with a crawdad clutching an American flag. How can you look that little fella with his beady black eyes and not vote for the hot dog he died to create?

Check out what the other 15 chefs from across the country brought to the table, and then come to your senses and go with Fratzke's crawdad-tastic beast.