Every year, the State Fair rolls in to begin its annual takeover of our hearts, minds, and most importantly, our stomachs. From buttery sweet corn to cheese curds, there's always so much great food to eat that it can be hard to know where to begin, so we've done the hard work for you. So loosen your belts and head on over to the fairgrounds for your annual taste of all things Minnesota!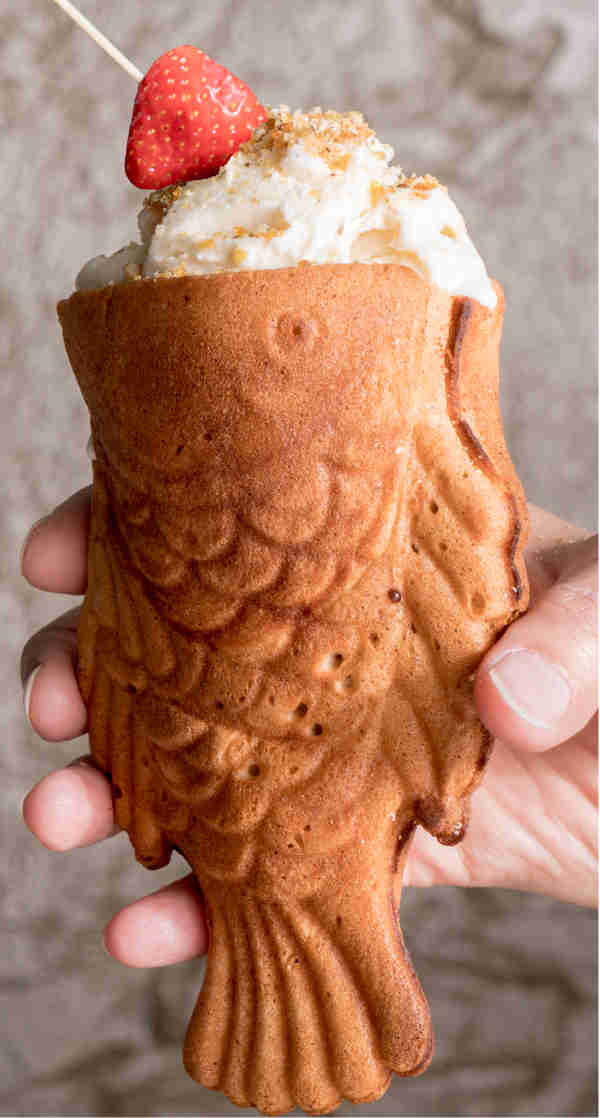 Carpe Diem
The Rabbit Hole
Starting the day with a big ol' serving of ice cream isn't ever a bad way to go at the Fair. This dish, originally introduced last year, features a fish-shaped buttermilk miso waffle cone with balsamic roasted strawberry compote and vanilla ice cream. This is the perfect way to help beat the heat, but because Rabbit Hole shares the space with other vendors, this delicious fish is only available from Aug 25th-30th.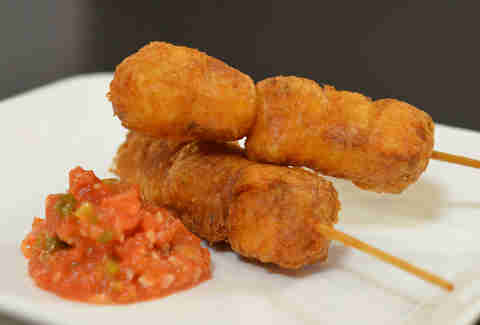 Paneer on a Spear
Hot Indian Foods
Brand new this year: fried cheese gets an Indian makeover. Skewered Indian-style paneer cheese is battered with local beer, then dipped in the fryer and served alongside a tomato garlic chutney. This latest fair addition might just become a new staple, but it's only available from Aug 31st through Sept 5th.
Scotch Eggs on-a-stick
Scotch Eggs
This little vendor puts the spirit of the UK on a stick, then serves it up with a touch of mustard. If you've never had a Scotch egg, there's no better place to start than at the Minnesota State Fair, where you'll find a simple hard-boiled egg that's been wrapped in sausage, rolled in breadcrumbs, and then deep-fried to a perfect golden brown all on a stick. Put a little mustard or horseradish sauce on it and take it to go.
Cheesy French Onion Monkey Bread
Blue Moon Dine-in Theater
The Blue Moon Dine-in Theater always has something new, unusual, and totally delicious to offer, and this year is no exception! It's serving up a cheesy French onion monkey bread, a savory, pull-apart artisan bread loaf filled with caramelized onions, cheese, and beef broth, then baked in a wood-fired oven. We'll happily eat this hot deliciousness in the middle of August.
Caramel apple cider
Giggles' Campfire Grill
While its new hot ticket item this year might be the Iron Range Meat & Potatoes (which sounds a bit heavy to us for the weather and amount of walking we're doing -- between food stands, anyway), Giggles' new caramel apple cider is what we're really interested in. Coming courtesy of the Twin Cities' favorite cidery, Sociable Cider Werks, this sweet cider is the perfect indulgence on a late summer evening.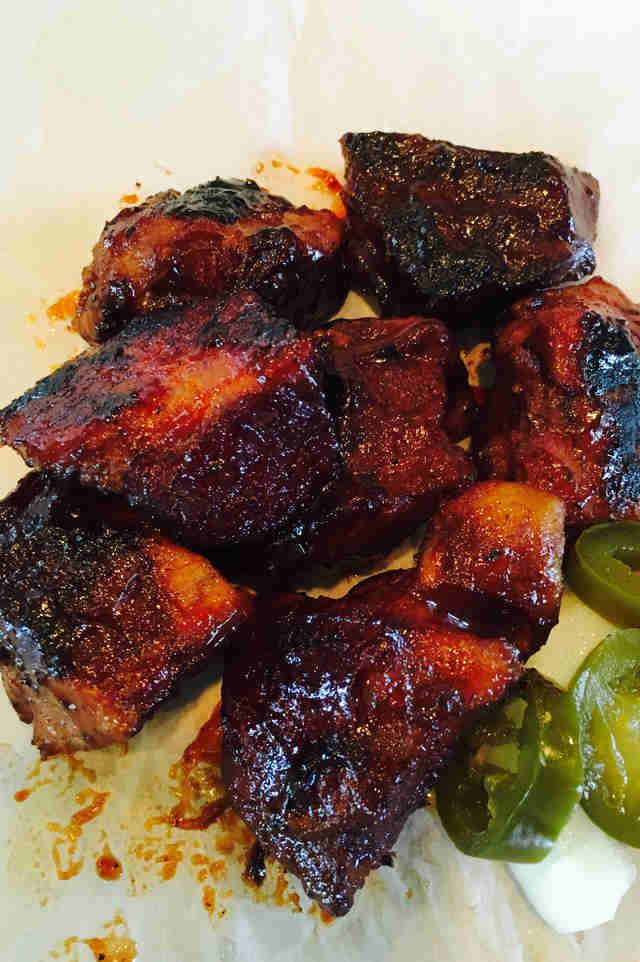 Burnt Butt Ends
RC's BBQ
RC's BBQ lives in the space that once held Famous Dave's -- but Dave's fans needn't worry, as the former FD's executive chef is still running the place. You can still expect some great BBQ, and this year, RC's is introducing Burnt Butt Ends (no, we're not talking about sunburns). These premium cuts of pork are seasoned with a BBQ rub, then smoked over oak and served with onions and jalapeños.
Fried green tomatoes
Fried Green Tomatoes
Crispy, bright, fried green tomatoes are always a must at the fair. They're hiding right outside the Food Building, and they're best Minnesota-style -- with a cup of ranch. Wash it down with lemonade for an oddly refreshing mash-up of Fair foods.
Sweet Martha's chocolate chip cookies
Sweet Martha's Cookie Jar
You've got to buy these cookies by the bucketful. Yeah, you can get the little individual cones, but then you won't have any to bring home with you. Grab a bucket and head to the Milk Barn, where you can get unlimited milk for $1. Once you've had your fill, bring the rest home for later -- assuming that you didn't manage to make it through the whole thing. No judgment here.
Oofda Tacos
OOf-da Tacos
A brand-new vendor at the Fair this year is slinging a serious, Scandinavian-influenced take on a taco. Cased in a special fry bread dough shell, these tacos are served with ground beef, lettuce, cheese, tomatoes, onion, olives, and sour cream. You can also get a vegetarian pinto bean taco for all you non-meat lovers.
Virgin Pina Colada
Manny's Tortas
This has the potential to be the single most refreshing thing at the entire State Fair and a modern-day classic. Served in a whole hollowed-out pineapple, this delicious piña colada concoction is simply summer through a straw. If you're there on Aug 26th for the Unite in Purple day event held in honor of Prince (RIP), you can purchase a purple version of this tasty treat. And while we're not expressly telling you to sneak a flask of rum into the fairgrounds, just think of the possibilities…
The Gizmo
Carl's Gizmo Sandwich
The Gizmo is truly a beautiful sandwich. Seasoned ground beef and pork are stuffed into a wonderfully soft roll, smothered with a vibrant tomato sauce, and then covered in gooey mozzarella cheese. This is consistently cited as one of Andrew Zimmern's favorite Fair fistfuls and, if you haven't had the fortune of having had one, you'll be sold after one bite.
Jamaican patties
West Indies Soul Food
West Indies Soul Food is always one of my favorite Fair stops, and its little meat-filled patties are exceptional. These lush pastries are jam-packed with beef, chicken, or vegetables (I prefer the beef) and pack a nice kick which (to get scientific about it) gets the sweat going to help cool the body down.
[BONUS] The Three Cs (corn dogs, cheese curds, and sweet corn)
Anywhere
OK, I know we said that we were listing all of the foods we were excited for aside from the standard corn dogs, cheese curds, and sweet corn, but seriously, who were we trying to kid? The classics are classics for a reason, and it just wouldn't be right to skip out on all these delicious Fair foods. Make sure you get your fill now, because those two weeks truck by fast, and it'll be a whole year before you get another shot!
Sign up here for our daily MSP email and be the first to get all the food/drink/fun the Twin Cities have to offer.