Asian fusion brunch and gigantic seafood platters on Eat St
Eat Street Buddha Kitchen & Lounge wants to make a couple of things clear: their location (Eat Street, duh!), and that, even though they're an Asian joint in Thom Pham's legendary former digs, they're nothing like Azia, starting with the fact that they totally know how to spell that word. And perhaps more importantly, they've got short rib egg foo young omelets.
Drew Wood
See? It's on Eat St and the sign says Buddha, not Azia.
Drew Wood
The totally rehashed interior includes a room-spanning pagoda bar that acts as the main bar AND the raw/ sushi bar. Initial construction began more than a year ago when Pham was going to re-open the space as Azia Market, but was finished and polished by the owners behind Wild Bill's saloons.
Drew Wood
Although the menu's 100% original, the sous chef's a former Pham guy so if you just can't let the Azia thing go, rest assured the underlying ethos will be similar. Get things started with the gigantor Chill Plate Platter loaded with 16 total lobster claws, crab claws, colossal prawns, oysters, and, uh, lots of ice.
Drew Wood
Drink break: The Violet Beauregard's not just a whiny, gum-chewing loudmouth who totally deserved what she got by eating Wonka's experimental grape gum, it's also blueberry vodka, velvet falernum, and Creme de Violette.
Drew Wood
Among the curries, lamb loins, and lobster boats spewing forth from the kitchen is this wok-cooked Mongolian beef tenderloin topped with fingerling potato frites.
Drew Wood
Drink break: Blackberry Collins, sucka.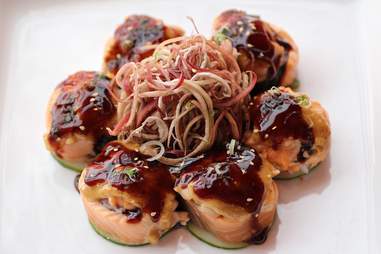 Drew Wood
While the sushi bar kicks out all the traditional rolls, it also drops its own Cali-style takes like the behemoth Buddha Roll, which eschews rice in favor of packing nori, crab, salmon, and spicy scallops into its eel-sauce-topped awesomeness.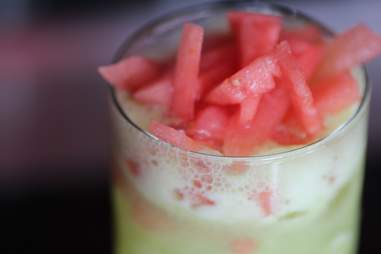 Drew Wood
Drink bre--, eh, you get it: The Sweet Pea is Prairie Organic cucumber-infused vodka, edamame and sugar snap pea puree, and lemonade topped with "melon matchsticks".
Drew Wood
The Baked Alaskan roll might not be spewing forth actual flames, but the cream cheese, avocado, spicy tuna, and crab roll is topped with salmon and a Buffalo-esque cilantro-lime sauce that definitely brings the heat.
Drew Wood
That sugary heap of tasty is the Hangar One "Buddha's Hand" Citron/ apricot brandy/ citrus juice 'tail called Tang Dynasty, aka what the cats at General Foods Corp had on their hands when NASA first got astros hooked on it.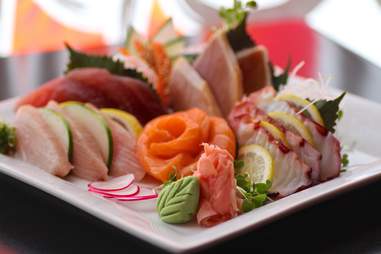 Drew Wood
These cats also run the gamut when it comes to their fresh sashimi offerings, with everything from octopus (tako) to tobiko (flying fish roe).
Drew Wood
Yes, that drink is called the Hello Kitty. Yes, it's topped with strawberries and meringue. And, yes, it's delicious enough to put your manhood on the line to drink it.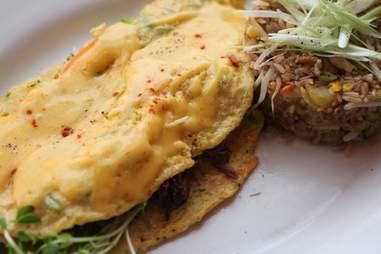 Drew Wood
We weren't lying about that Asian fusion ("East Meets West") weekend brunch. This Egg Fu Yumelette (basically Asian short rib egg fu young turned into an omelet), is just the tip of a breakfast iceberg that also includes $5 Bloodys and a short rib Benedict, all of which're definitely worthy of these cats becoming Phamous for something other than being the new Azia.