Whimsical donuts on Eat St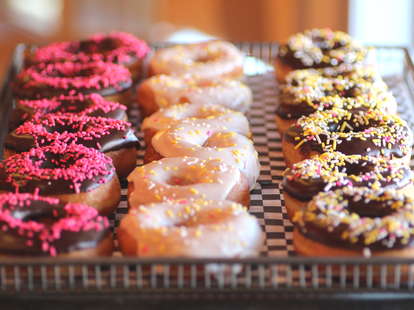 You should sit down. Both because the following photos of Glam Doll Donuts look so tasty you may faint, and because you may soon be too fat to use that chair anymore
Sidled up to and sharing part of the kitchen with The Black Forest Inn, Glam gets retro with hand-painted tile floors and vintage fixtures
Spurning the "get here early or you don't get no donuts" ethos of most craft bakeries, they pump out dozens of each flavor from morning until night (they're open 'til 2a)
One version of The Starlet, which is desperate to be cast in the role of "thing in your stomach"
This old-school raised joint is slathered in glaze and called the Sugar Kane. It will choke-slam your arteries
The wall art is also glazed
Vanilla, bourbon, and (real) apple fritters
Stare deep into the spiral of Sriracha adorning this Muenster- and Provolone-stuffed masterpiece. You are getting hungrryyyy... veryyy hungryyy..
The Calendar Girl has chocolate glaze topped with sea salt, plus salted caramel melted into the center
French "crullers" sammich lemon cream cheese
Long rumored to exist only in the government's most secretive underground laboratories, this is a mixture of peanut butter and Sriracha
This is just your basic maple long-john topped with CARAMELIZED BACON
More bacon
How many leches? TRES leches
And because what good are a million donuts without a million varietals of coffee to dunk 'em in, they've enlisted Chicago-based roaster Intelligentsia to supply their arsenal of lattes, caps, espressos, and mochas. Try 'em all, and chances are good you won't sit down again for a week.