This Alice in Wonderland-inspired eatery serves almost everything but rabbit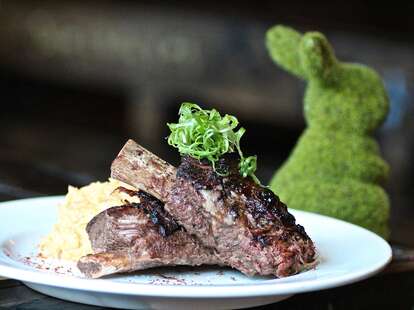 The Rabbit Hole's an LA-punk meets Alice in Wonderland-themed gin joint/ eatery from the same Cali-bred couple that dropped the flavor bomb that is The Left Handed Cook on this berg. It's stuffed with so much stylishly awesome stuff to look at/ consume that we're gonna stop Jabber(wocky)ing about it and show you these gorgeous photos instead:
You don't so much as go down this Rabbit Hole as into it, via a door within The Midtown Global Market's central lobby, where you'll find this wonderland of graffiti-strewn concrete and wood.
What kind of tour guides would we be if, before we show you the rest of these sweet shots, we didn't lace you with some refreshments, like this Dae Chu Julep, which takes regular juleps up a notch with date syrup and a dried date garnish.
And to go with that julep, here's some Banchan, which's a Korean bevy of pickled things -- in this case, cucumber kimchi, herb kimchi, and pickled daikon -- not what the Bruce Lee fan club was forced to do to Jackie after Shanghai Nights.
Ok... back to the tour. This slender, industrial space is segmented into wee seating groupings like this, which make things more intimate, but also make sure perfect strangers'll know when you get up to go... um, wee.
Funding for RH came via a Kickstarter campaign and the graffiti is actually a bunch of tags repping donors. In case you couldn't tell, Emily C. was the first to donate AND dots her "I"s with hearts.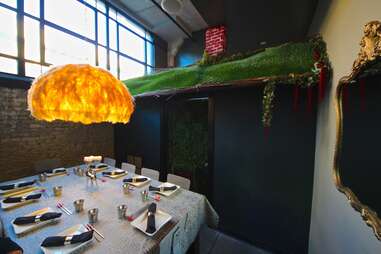 It is a simple law of the universe that private dining rooms with their own AstroTurf huts are better than private dining rooms without AstroTurf huts.
No matter where you're sitting, you're gonna want these rice cakes that are cooked in duck fat, and are the centerpiece of a dish called Duck Duck Duck, which also features duck confit, onion, a red-chili sauce called Gochujang, which, when translated means... um, something, presumably.
The grilled Kalbi might be on the bone, but that short rib's soooo tender that it falls right off of it and into the as-if-they-weren't-insanely-tasty-enough-on-their-own pile of kimchi mashed taters the moment your fork moves towards it.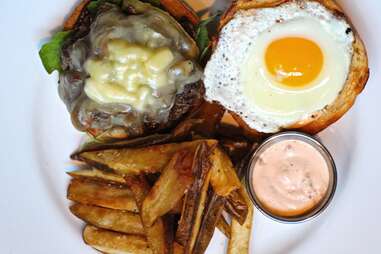 No longer just for the loudest eater in the movie theater, Goobers are also what the kids at Rabbit are calling their three-strong selection of burgers (good + burger = Goober). This one's the Appa (w/ smoked bacon, bleu, gruyere, bourbon onions, arugula, tomato jam, kimchi aoili & a fried egg) and is wayyy better than the other kind of Goobers. And Raisinets.
Did we mention there's a bar? Post up at any one of these stools and they'll ply you with a shton of craft taps (18) ranging from Green Flash Hop Head Red to Domaine Dupage, or craft cocktails like the aforementioned julep, or additional sip-ables like these...
Negroni Adult Sodas, which're bottled in-house and packed w/ gin, vermouth & Campari, and have some serious... waitforit!... pop.
Unlike other Dark & Stormy's, this blend of dark rum, ginger syrup & Angostura bitters -- like five other cocktails on the RH menu -- comes from a tap, and with a pickled ginger spear.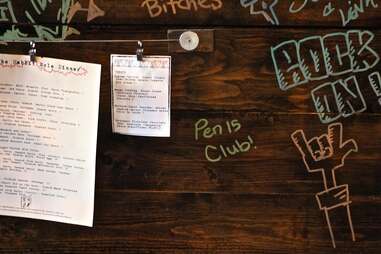 Still not convinced The Rabbit Hole's totally badass? Well, if knowing that it's a member of a pretty exclusive club won't convince you, we don't know what will.