The 16 Worst Restaurant Decisions You Can Make in MSP
Sweet new bars and restaurants seem to be opening in the Twin Cities faster than ever before, and while that means lots of amazing restaurant choices to be had, it also means that there're more possible bad decisions than ever before. Here are the 16 worst...

Biting into Jucy Lucy the moment it's served
That CHEESE IS MOLTEN, dude.
Only ordering Buffalo wings at :D-Spot
You made the monumentally sound decision of driving to a dirty strip mall in Maplewood where there're more than 500 flavors of wings, and then you ordered the industry standard... after driving all the way to a dirty strip mall in Maplewood where there're more than 500 flavors of wings!

Not driving to :D-Spot for wings
Even the dude who only ordered Buffalo wings did it 300% better than you.

Waiting three hours for Travail's tasting menu
Because you could be waiting many less hours to eat at The Rookery (Travail's other half), where the same chefs are serving small plates of incredible things like macaroni & cheese grilled cheeses and fancy mini hot dogs that are, generally speaking, just as mind-blowingly awesome as the big menu.
Bringing a vegetarian to Butcher & The Boar
Like a vampire to daylight.

Bringing a vegetarian to The Strip Club Meat & Fish
Perhaps even more egregious than Butcher & The Boar, plus the owner might actually mock your veggie diner to their face.

Not going to Origami in January to drink fugu shots
The only good decision on this list that could kill you. This is a shot made from the most lethally poisonous and notorious pufferfish on the planet, and it's only available at a few restaurants in the whole country for two months out of the year. You better believe not doing this would be a mistake.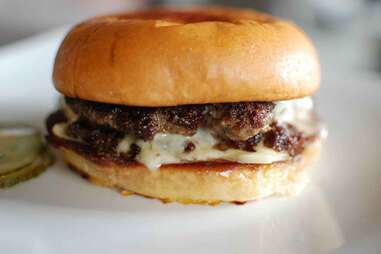 Eating at Borough... and not leaving room for a burger at Parlour downstairs
Who cares if you just had dinner? Its burger is too good to pass up.

Choosing another truck for lunch besides Hot Indian Foods...
The correct answer is always The Indurrito. Always.

... Unless Hot Indian Foods is parked next to World Street Kitchen
In that case, the correct answer is the Yum Yum Rice Bowl (double meat, extra sauce). Always.

Eating at either of the above food trucks if they're parked in front of The Blue Door Pub
In that case, the correct answer is the Jiffy Burger. Always. For real this time, we swear.
Not brunching on the W. A. Frost patio at least twice per month during the summer
It's cobblestone-y, old-school St. Paul brunch perfection.

Sleeping on Uptown Pizza
An oldie but a goodie for a classically greasy pie... especially late at night.

Not driving straight to Bauhaus Brew Labs...
When you inevitably find out Surly Taproom has a three hour wait (!). Sure it doesn't have its own kitchen, but its pretty discerning in its nightly food truck choices, and it has the best brewery space in town. Oh, and really good beer.

Standing in line/paying top dollar for the fancy new foods at Target Field
It's a ballgame, son. Roller dogs or die!

Getting the midnight hot dog buffet at Deja Vu
Seriously, that really shouldn't be what you're there for.
Sign up here for our daily MSP email and be the first to get all the food/drink/fun the Twin Cities have to offer.