10 things you didn't know about Schwartz's Deli
Everyone in Montreal likes to think they're a Schwartz's expert of sorts, but how much do you really know about the famous smoked meat deli's illustrious past? Because it's pretty freaking crazy...
1. The old deli founder, Reuben Schwartz, was a cheap and heartless jerk
Not only did he run the deli into the ground twice before it was saved by a business-savvy musician, but rumor has it that he hired kids under-aged so it would be easier to rip 'em off. Jerk though he was, the man could make a mean sandwich, so... forgiven!
2. Schwartz's was saved from bankruptcy with dowry money that was smuggled into the country in a violin case
And you thought Schwartz's: The Musical was random. Not so: concert violinist, Maurice Zbriger, bought the deli and rescued its cantankerous owner for reasons unknown in 1971, and remained owner until his death 10yrs later.
3. Céline Dion moved one step closer to Québécoise deli empiredom after her $10 million vie for co-ownership of Schwartz's last year
It gets weirder though. Apparently, in her days of youth, the diva-in-training/future founder of the Nickels deli chain could be found chowing down with Schwartz's competition, The Main. She'll, ahem, Think Twice before dining there again.
4. That friendly panhandler who opened the door to Schwartz's for you and a little spare change was nominated for an Oscar
If you visited Schwartz's before 2007, chances are you encountered Ryan Larkin who, before the darker days of substance abuse took hold of him, created the Oscar-nominated short, Walking (1968).
5. When sax king John Zorn was in town for a Jazz Fest gig and got a subpar imitator smoked meat sandwich instead of rider-requested Schwartz's, he threw the phony sandwich at the hotel wall
Then he refused to go on until Jazz Fest founder, André Ménard, personally fetched and delivered the authentic grub. That's how good Schwarz's sandos are.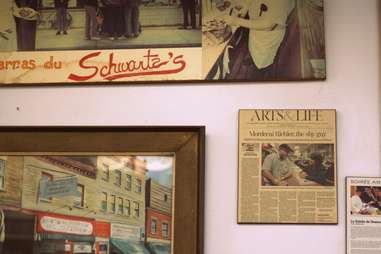 6. Among the autographed photographs and newspaper clippings that decorate Schwartz's walls is a script of CSI: New York
And it's autographed by producer and longtime Schwartz's lover, Peter Lenkov.
7. Schwartz's is a NYE baby
Way back in 1928, Schwartz's was launched on New Year's Eve. So instead of shouting "Happy New Year!" and singing "Auld Lang Syne", switch it up for "Happy Birthday" and "My Heart Will Go On" (which may or or may not be true, depending on just how much smoked meat you put away).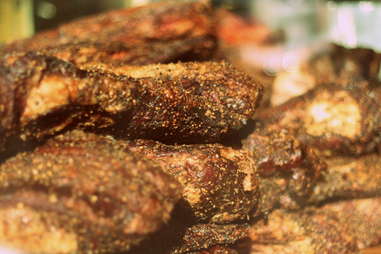 8. Schwartz's famous brisket is generally made with, (gasp) Alberta beef
What. Despite being touted as one of Montreal's staple food groups, it actually starts in the nether land prairie fields of Alberta.
9. There are Schwartz's knock-offs in Paris and New York
But, naturally, they're not up to snuff, or smultz for that matter. Schwartz's insiders cite "smultz" (the 80yr buildup of smokehouse fats and spices), as the key to Schwartz's success.
10. Between the deli-resto and the take-out counter, Schwartz's smokes through about 20,000lbs in an average week
Other things that weigh 20,000lbs: an adult elephant, a tractor, and a mobile home.