Behind the Scenes: Andrew Zimmern's Montreal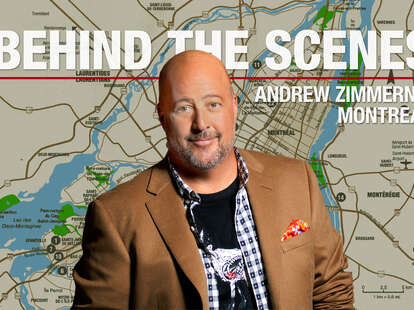 Andrew Zimmern
Andrew Zimmern
With his hit series Bizarre Foods, omnivoracious world traveler Andrew Zimmern (Twitter, Facebook, Instagram) has spent the past half-dozen years blowing viewers' minds eating stuff that would make them blow chunks. He's also made a habit of unearthing the best damn food wherever he goes. Now, he's tipping Thrillist off to the places he goes and things he does when the cameras aren't rolling, though be warned: spend a day in his shoes, and you might end up rolling home yourself.
Where to get your breakfast fix...
AZ: "As a guy who doesn't drink anymore, I take my coffee seriously. Montreal has no shortage of great coffee houses, and Cafe Myriade is my go-to spot. These guys have their finger on the pulse of the bean world, sourcing awesome, single-origin stuff from George Howell (Cup of Excellence co-founder), Norwegian roaster Tim Wendelboe, and Canada's own 49th Parallel. You never know what they're brewing here, but I can assure you it'll be crafted by evangelical coffee geeks and is going to be awesome."
A Jewish deli that rivals New York's best...
AZ: "I dream about the smoked meat (the Quebecois cousin of pastrami) from Schwartz's. Grab a perfectly built sandwich (they aren't too big or too small) and a cold birch beer. Be warned: this place could spoil your love affair with your local delicatessen. It's that good."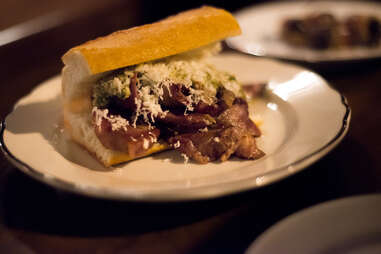 The best brunch is also the city's best hangover cure...
AZ: "You might know chef Derrick Dammann from his days at the now-defunct modernist restaurant, DNA. Dammann partnered with his former boss Jamie Oliver (maybe you've heard of him, too) on Maison Publique. In the general spirit of Montreal, the focus is meat, meat, and more meat. Check out gastro-pub staples like foie gras, charcuterie, and Welsh rarebit. You won't find a better place to chow down."
Even in French Canada, the true language of love is Italian...
AZ: "The brainchild of Liverpool House alums Emma Carderelli and Ryan Gray, the diminutive Nora Gray is an inventive ode to southern Italian cuisine. Handmade pastas are killer, with a French and Italian-skewing wine list to match. If you're doing some paleo thing, not to worry, Carderelli serves up great steaks and pork chops, too."
(Joe) Beef: It's what's for dinner...
AZ: "As a longtime fan of David Macmillan, Fred Morin, and the staff at Joe Beef, I can tell you that what they produce at any of their restaurants is more than just food. It embodies a way of looking at food and life, a zeitgeist I can't adequately describe in words. Think of it as the gastro-lumberjack movement. Gutsy, honest, meat-centric with a modernist aesthetic. Head to the original Joe Beef, their oyster and meat-forward gastropub Liverpool House, or the newly-opened wine bar Le Vin Papillon, and you'll get what I'm talking about. Remember, Bourdain, Chang, and I all rate Joe Beef as one of our top restaurants on the planet. Think about that."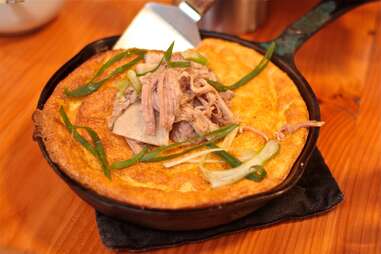 Other Foie Gras Poutines just be frontin'...
AZ: "Martin Picard is a legend and skipping Au Pied de Cochon would simply be a mistake. The menu is fit for a pharaoh, with a whole section devoted to foie gras (try the often copied but never duplicated poutine a la foie gras). I think the bone marrow with truffle is the best version of that dish I have ever had. They serve late, making it the perfect stop for second-dinner."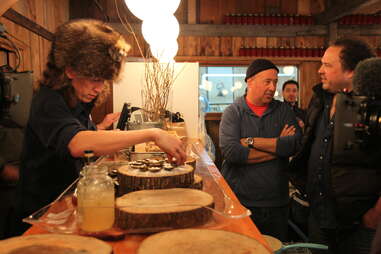 Eat ham and drink maple syrup at the source...
AZ: "Head 30 minutes outside of the city to one of my secret spots, a BRILLIANT eatery called Cabane à Sucre (that means Sugar Shack in English). This is the farm where Martin Picard taps his own maple trees for syrup and raises his own pigs. There's a fixed menu for both apple and syrup season, and trust me, you'll love whatever you're served. They steam smoked hams in the rafters over the maple kettles before air drying some more. They pile snow on your table and cool the maple 'taffy' in it. This place is the ultimate example of the hand crafted movement in the food world and shouldn't be missed."
An Irish pub grows in French Canada...
AZ: "Every great city needs an Irish pub, and in Montreal, Honey Martin is as good as it gets. Pints of Guinness, live music, and seriously enviable tongue-and-groove woodwork throughout, you can and should kick back here."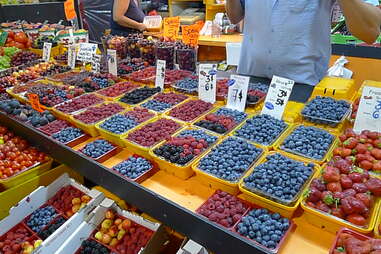 A killer food market with equine carpaccio...
AZ: "Be sure to set aside ample time to cruise the kickass Atwater Market. Meander through the cheese shops, meat purveyors (from the regular stuff to horse meat carpaccio… c'mon, you know you want to try that), and specialty food stalls. If you don't have a kitchen available, no worries -- just grab some ready-to-eat items and have an old-fashioned picnic."
Ain't nothing foul about this fowl...
AZ: "I don't know if Montreal has an actual city bird, but if they don't, I nominate the duck. I've yet to see another city that spends more time talking about, eating, and cooking duck, and my top pick for places to stock up is Brome Lake Duck Market & Bistro. Forget the t-shirts and snow globes, bring home some smoked duck, duck confit, and duck liver terrine. You won't be sorry."
Kill two birds with one stone, or one bird with a really big shotgun...
AZ: "Part hardware store, part firearms dealer, mixed in with a dash of kitchen gear is Dante Sports, one of the weirder places I've ever shopped, which is exactly why I love it."
A hotel worth visiting even if you can't afford to stay there...
AZ: "Located in the Square Mile (the small historical neighborhood built primarily between 1850-1930), I love dropping my bags at The Ritz Carlton. Newly renovated with dining by Daniel Boulud on-site, it's the perfect escape from the city. Be sure to check out the rooftop saltwater pool; the view is breathtaking. Your date will be impressed."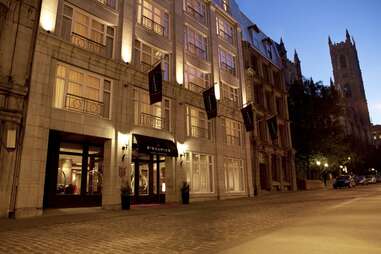 Where the cool kids drop their bags...
AZ: "Situated amongst Old Montreal lofts, cool boutiques, markets, and awesome restaurants, Le St. Sulpice Hotel manages to meld funky with luxurious seamlessly. Your girlfriend is for sure a spa geek, so she will love the on-site award-winning Scandinavian baths. If the weather doesn't suck, grab breakfast on the Sinclair Terrace. It's the perfect way to kick off your day."