Where to Get the Best Bagels in Montreal (That Are Way Better Than New York's)
Sorry, New York, but your salty, dirty city water bagels got nothin' on Montreal's bagel game. What our bagels lack in perceived mass, they more than make up for in their honey-sweetened flavor and fluffy-on-the-inside, crunchy-on-the-outside texture. Do as a Montrealer does and eat your carbs in the superior form at these essential local bagel shops slaying it all day long.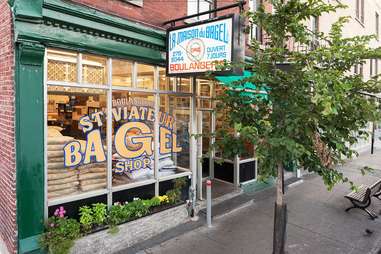 Mile-End & Other Locations
When Holocaust survivor Meyer Lewkowitz left Europe for Montreal, he followed his ambition to open a bakery that would make authentic bagels like those in his native Poland. Half a century later, customers are still enjoying the circular bread the way Lewkowitz intended them to, and his shop has become synonymous with Montreal-style bagels. The best part for patrons -- aside from eating the honey-sweetened bagels -- is watching the bakers masterfully craft each one by hand while taming the mountain of freshly baked ones from the wood-burning oven.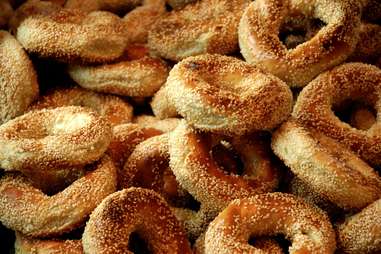 Mile-End
Fairmount Bagel has been in a feud with St-Viateur for decades in a bready battle over whose bagels are best. The bakery, which prides itself as Montreal's first bagel proprietor, opened its doors back in 1919 on St-Laurent Boulevard before moving to Fairmount Street 30 years later. While St-Viateur has expanded to many corners of Montreal and roams the city with its food truck, Fairmount remains a single, stalwart location rife with history. With a variety of bagels like onion, cinnamon raisin, flax seed, and pumpernickel that steal the show, Fairmount Bagel's classic flavors like sesame and poppy seeds are not to be passed up.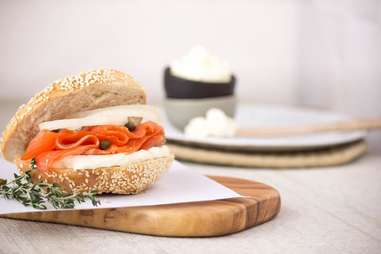 Westmount
Putting 'bagels' in the name of this spot was a bit deceiving -- yes, it's known for its fresh bagels used in its sandwiches and your typical cream cheese schmear, but first and foremost, Bagels on Greene is a neighborhood cafe. Serving Indian and Thai dishes, salads and sandwiches, it caters to both a meat eating and vegan audience. And while the bagels come in several flavor iterations, including gluten-free, the must-haves are the cheese bagel and coconut bagel.
Plateau & Downtown
Hinnawi Bros have been taking the humble sesame seed bagel and experimenting with how to fill it for ultimate deliciousness during last three years with stunning results. Whether you opt for the Londoner with smoked meat, Swiss cheese, and honey mustard, the Canadian with grilled, maple ham, brie, and caramelized onions, or the Montrealer with cream cheese, egg, ham, Swiss cheese, and lettuce, you will not be disappointed with how it's transformed the bagel you might have overlooked.
Little Italy
Walking down Beaubien Street, it's hard to resist the intoxicating aroma of the wood-burning oven that overflows from Beaubien Bagel. Blueberry, chocolate, onion, oatmeal raisin, and sesame seed are just some of the bagels that are made fresh on-site here every morning. This is no frills type of place -- just good neighborhood bagels that are lighter and fluffier than their New York counterpart.
Côte-Des-Neiges
Freshness is mighty important to the folks over at REAL Bagel on Decarie Boulevard who hand make the bagels every morning. While REAL Bagel prides itself on the execution of classic flavors like sesame and poppy seed, everyone should give the spicy, all-dressed French toast and Oreo bagels a shot. If you don't want to feel too much like a glutton for getting one of each flavor, you can specially order miniature versions of each bagel.
Côte-Des-Neiges
Shops like family-owned and operated business Montreal Kosher Bakery have been keeping the original 17th Century tradition of the Polish Jews alive and well. Opening its doors in 1976, the shop boasts three generations of bakers behind the counter, serving up tempting Jewish staples like challah bread and potato knish. Don't forget to add some U-shaped cheese bagels and full-circle whole-wheat bagels to your order before you go.
Chomedey, Laval
If for whatever reason you find yourself stranded in Laval and are in need a good bagel before making your way back to Montreal, head over to Bagelmania. Better stock up on a few daily-made bagels just in case there's traffic on your way back home. Grab some cheese and cinnamon raisin bagels before you start on your journey.
Ville-Emard
While it may be too cold to enjoy the terrace at the moment, it's never too cold to chow down on some warm bagels straight from the wood-burning oven at Ville-Emard Bagels. Moist and doughy on the inside, crispy on the outside, there's always fresh bagels on hand here with almost 40 kinds made in the morning and another batch made in the afternoon.
Rosemont-La Petite-Patrie
Baking its bagels in an oven that's a gas and wood-burning hybrid, O'Bagel has been sliding its wares down a marble ramp and into brown bags for just a year -- but don't let its age versus the other shops on this list dissuade you. Its bakers might be young, but they're full of knowledge and an energy that's taking inspiration from its surroundings at Marche Jean-Talon. Serving gourmet and natural cream cheeses, bagelwiches, and bagels to take home, O'Bagel is injecting the artisanal side of things into a classic.
Town of Mont-Royal
After purchasing Mount Royal Bagel, District Bagel's mark in the fabric of Montreal expanded exponentially. Making kosher bagels in various creative flavors like carrot, apple cinnamon, banana chocolate chip, and even vegan bagels, District Bagel is definitely a shop to visit if you want bagels handmade, without salt, boiled in honey-water, and cooked in a wood-burning oven.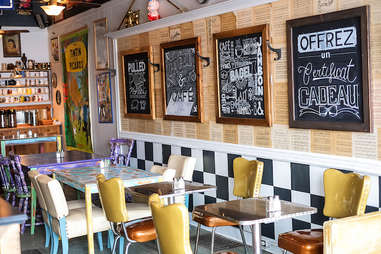 Verdun
Looking to eat a fresh bagel in a hip location on a comfy terrasse that's dog-friendly? Bagel St-Lo is the place for you. Granted, this isn't the time of year for eating on a terrasse, but dog-lovers are flocking to this neighborhood cafe that serves up the classic cream cheese and smoked salmon bagel, spicy jalapeno cream cheese, and sundried-tomatoes and bacon cream cheese on fresh, bready rings.
Sign up here for our daily Montreal email and be the first to get all the food/drink/fun in the City of Saints.
Felicia Di Palma is a freelance writer for Thrillist and a short, feisty woman who loves to eat, drink, laugh, and travel -- not necessarily in that order. Follow her though her many delicious adventures.